Florence Fogler put down her work for a moment. Mustering language simple enough for a reporter to understand, she explained her task: figuring out how to squeeze more power from coal by unraveling the complexities of thermodynamics.
Fogler's visitor dutifully took notes as she described the basics of steam extraction and how it was revolutionizing the power industry. But that wasn't the only story Schenectady Works News was chasing. Fogler herself was a story — "a pleasant mannered girl" who also happened to have a degree in electrochemical engineering from Massachusetts Institute of Technology.

That was in 1923. Fogler married fellow GE engineer Bruce Buckland and left the company for 16 years, but she returned in 1942. Known in professional circles as "the grand lady of heat transfer," according to her obituary, she retired from her position as a heat-transfer applications engineer in 1963.

Fogler was an early ancestor to what a 1956 Cincinnati Post article dubbed "the Slide Rule Sisters," a small but hugely influential group of engineers who worked on GE's first supersonic jet engine. Like the NASA women who helped put John Glenn into orbit and Harvard's "women computers" whose star-counting work helped astronomers figure out the size of the universe, they proved that brilliance knows no gender.

GE's Slide Rule Sisters — Loren Ingraham, Betty Lou Bailey, Eleanor Semple and Janet Neely — worked closely with jet engine pioneer Gerhard Neumann and used their mathematics and physics expertise to advance jet-engine design in the aftermath of World War II. "When I started going to technical engineering meetings … men just stared — a woman engineer!" Loren Ingraham told the Post in 1956. "Now when I walk in, they just sort of glance over their shoulders."

The second world war was pivotal for the women who took the place of male engineers who'd been called to the armed forces. In 1940, fewer than 800 female engineers were working in the U.S., according to the Post's profile. By the time the story ran 16 years later, their ranks had grown to 4,000.

Today's numbers are better, but they're nowhere near what they could be. Women account for 14 percent of all engineers in the U.S. and only 25 percent of information technology professionals, according to the Bureau of Labor Statistics. In the aerospace and mechanical engineering fields, women make up less than 10 percent of the workforce. GE currently employs 14,700 women in engineering, manufacturing, IT and product management, which represents 18 percent of the company's technical workforce. GE is aggressively pursuing a plan to grow their numbers even further by setting goals of having 20,000 women fill STEM roles at GE by 2020 and obtaining 50:50 representation for all its technical entry-level programs.

GE says this push builds on an already strong foundation. Its most recent Edison Engineering Development Program's class was 50 percent female — almost three times the national average of women engineering graduates. The 20-year-old GE Women's Network provides knowledge sharing and mentorship for women at all stages of their careers. GE says 50,000 employees are active across the network's 150 active hubs in 50 countries.

Of course, for women to fill these roles, they have to study engineering in the first place. Ingraham says she was the only woman in her engineering classes as an undergraduate. Several current female engineers at GE have had this experience as well. "Out of 30 students in a class, there were usually three females — and all three of us knew each other," says Amanda Breeden, manufacturing engineering leader at GE Healthcare. "So, you kind of understand when you go into the field, especially mechanical engineering, that it's going to be a male-dominated industry."

GE is tackling this side of the equation, as well. In 2011 the company launched its GE Girls program, which encourages young women to cultivate and maintain interest in STEM subjects. Ryane Bohm, a Predix developer evangelist for GE Digital who's been heavily involved in GE Girls, says the program shows potential future technologists how thrilling — and accessible — technology can be. She says it tells them, "This is the cool stuff I'm doing — and you can do it too."

So just what are some of these cool things Bohm and her peers are doing at GE? We chatted with six female technical leaders about their jobs, being a woman in tech and what drew them to GE.



LOBNA TAWFIQ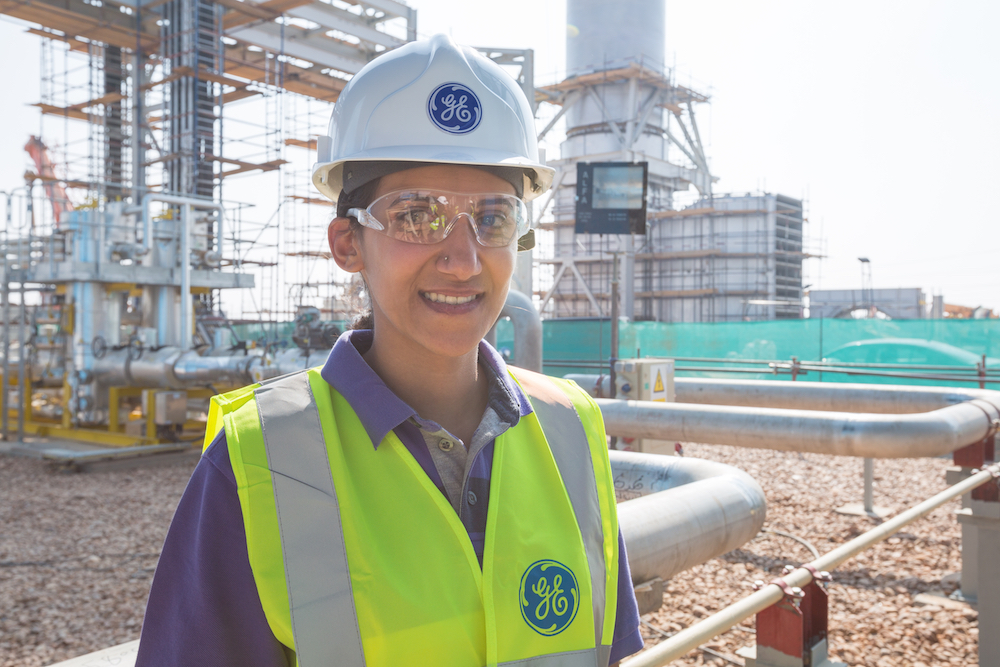 Lobna Tawfiq was the only female Egyptian engineer to work on GE's Egypt mega deal. The electrical engineer, who was based in the remote site in Upper Egypt, helped add 1 gigawatt to the grid. "The thing is, as a female, in general, we may tend to do the hard work and go the extra mile to prove ourselves equal. That's a very big benefit. [Women] have all that passion and all that will to prove themselves. That makes everything better."What do you love about electrical engineering? "What is really interesting about electricity is that it is invisible. You can't hold it; you just get a sense of it. So as an electrical engineer, you must use both your imagination and your logic."

Do you have a role model? "My family is my role model. We are three sisters and a mother. My father died while we were young. We are four independent women trying to figure things out. We are so dependent on each other but so independent of others."

What has been your experience as a female engineer working in the Middle East? "The customer, the contractors and everybody around you is not familiar with having a woman working with them. When I first joined, I was like 'OK, what's going to happen? How am I going to handle this?' But actually my GE colleagues helped me a lot during this first couple of months. It's about a can-do attitude. When you have that self-confidence, everybody around you starts to trust you."



LANE KONKEL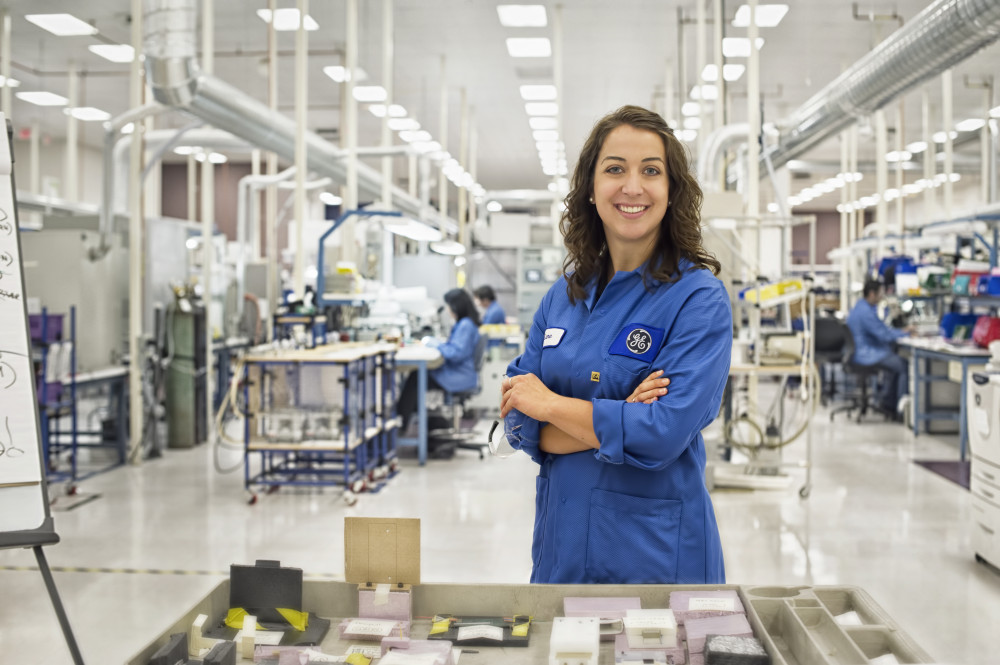 As a manufacturing lead for GE Healthcare, Lane Konkel makes process improvements and establishes product layouts at a GE factory that manufactures ultrasound probes and transducers. Forbes recognized her as among its "30 under 30" in manufacturing and industry. She initially considered bioengineering but quickly switched paths. "Whether it was my high school volleyball team or in student council or things like that, it was always very frustrating to me when things were inefficient. 'Hey, this could be done better — why don't we change that?' I was doing a lot of those things naturally, which is one aspect of industrial engineering."

Why did you choose GE? "Part of what drew me to GE Healthcare in general [is] the fact that I can impact people's lives and help make them healthier, which hopefully improves the quality of their lives and makes them happier. The culture around talent development sealed the deal."

What is your experience as a woman at GE? "When I interned with GE, I did see a lot of female role models. You see those individuals and say, 'Hey, they're doing it, and they're rocking it. I can see a future for myself in this company as well.' I look at myself as an equal in any room that I'm in, in any meeting, in any team, and I think I've been treated like that from the start, back to my first internship. I was never in a situation where I felt alone."

What advice do you have for aspiring engineers? "If you're in a group, make sure that the guys aren't trying to do all the work leaving you with project management or Power Points. You take ownership of doing that really technical part of the project."



AMANDA BREEDEN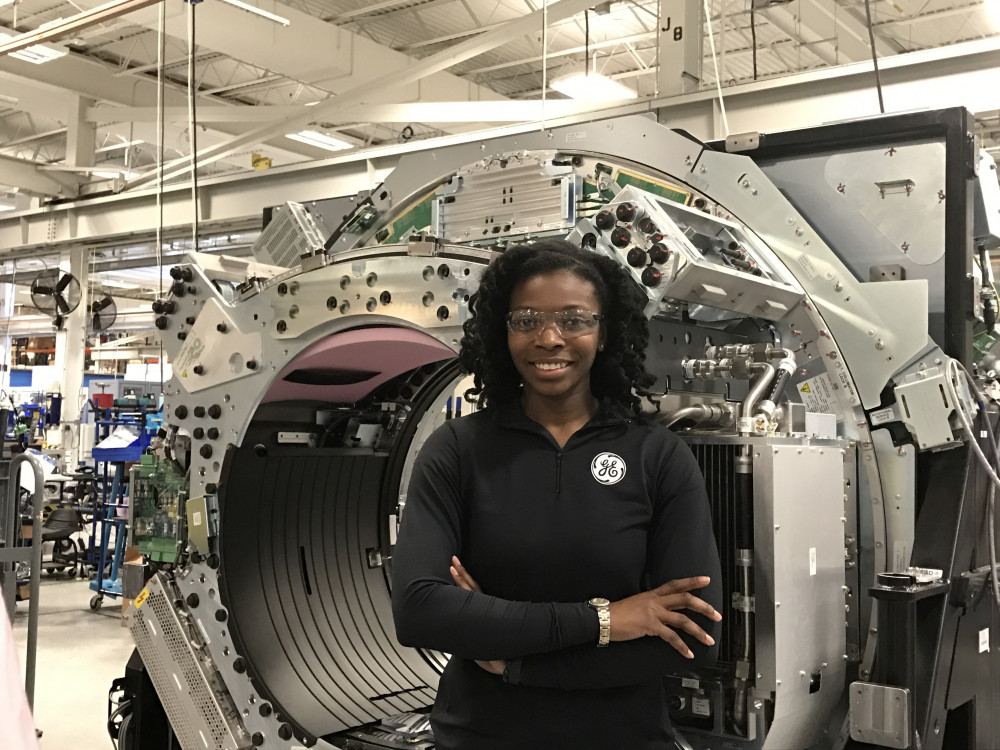 After earning bachelor's and master's degrees in mechanical engineering, Amanda Breeden joined GE through its Operations Management Leadership Program. She currently is working on the "CT of the Future" initiative, where she spends half her time doing hands-on work on the manufacturing floor. "How we're trained is you gain respect by being on the floor," she says. "You need to learn the process so it's not that you're coming in and trying to make a change and they're just looking at you as an outsider."

What's exciting to you about the CT of the Future project? "We're starting with a blank piece of paper and challenging all boundaries of what engineering designed five or 10 years ago to create an optimal manufacturing process. We're incorporating advanced tools and lean practices to manufacture and test these CT systems."

What do you see on the horizon for GE? "We're working on cutting-edge technology in all of our business segments and creating brilliant factories around the world each day, yet we still have a traditional, industrial feel in some of our businesses. Conversations at GE consist of how and why we need to transition into the digital space to win but more importantly what does the workforce and supply chain need to look like to do so. We ask ourselves, 'How do we become the new Google of a manufacturing-type business? How do we get people to realize, working at GE in manufacturing is cool. It's digital. It's bright. It's welcoming?' As we progress as a digital industrial company, I see GE's continued success at innovation being joined with efforts to be a welcoming company and attracting and retaining great talent especially among millennials, working parents and individuals seeking midcareer change opportunities."

Why do you think gender parity is important? "We are all invested in setting up the foundation and support systems for the next generation of engineers. I think having gender parity promotes all aspects of diversity and encourages more people to go into STEM fields — seeing others that look like them working for companies such as GE."



MARYSE FRANCOIS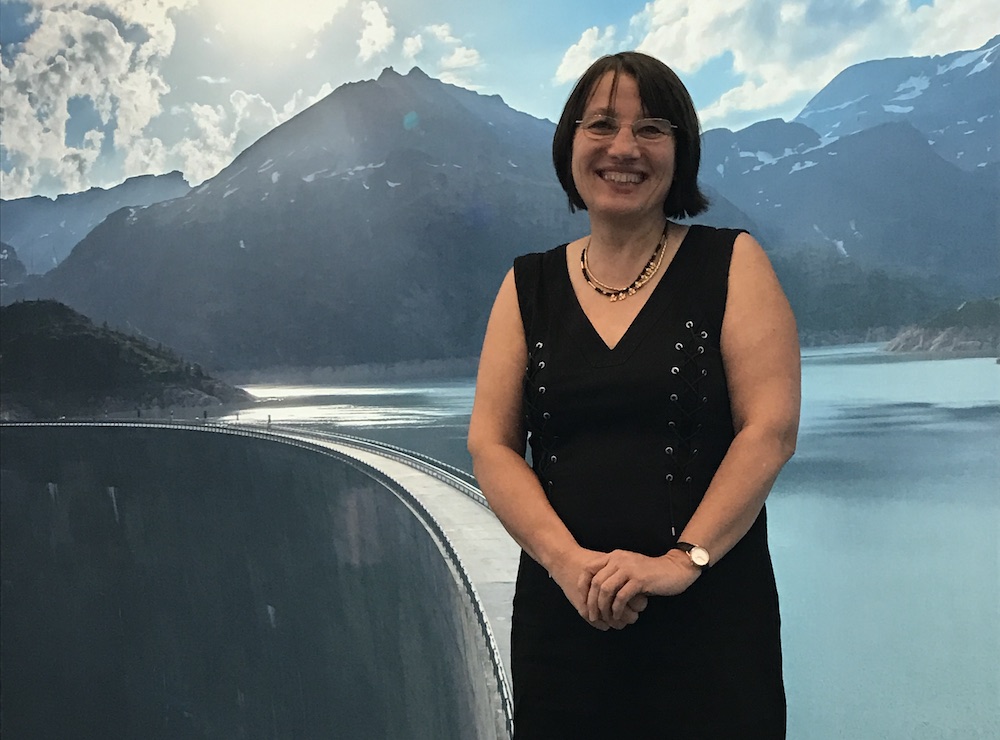 Maryse Francois is the hydrotechnology leader at GE Renewable Energy, the company whose recent achievements include building an innovative plant tucked away in the Swiss Alps. She launched a GE Women's Network hub in Grenoble, France, last year and serves as co-leader of the Western Europe Women's network. "Participating in the women's network has helped me build my GE network, to feel part of the GE culture, to think differently."

What do you love about your job? "I would say the challenge and the diversity. As technical leader, I have a lot of exchanges with customers and the technical institute, to anticipate their needs and support the R&D program but also to define the sales and marketing strategy. They are all from different countries, with different cultures and ways of working."

What excites you about the future, for your field and for GE? "We are at the beginning of a new revolution. Digital will completely change our lives and industry. Driverless cars, 3D printing, robotics — these represent a tremendous opportunity for GE, which holds a strong position in digital and has the expertise to implement clever and efficient solutions in its products. At the same time, we have to face tremendous challenges, such as climate change. Renewables will represent 50 percent of the new energy production in the coming years. With its involvement in energy, GE will be a strong player of this transformation."

What advice would you give a woman in choosing an employer? "I think it's important to feel comfortable and to like what we do. This is true not only for women but also for men. We spend a lot of time working, and we need to enjoy it."



RYANE BOHM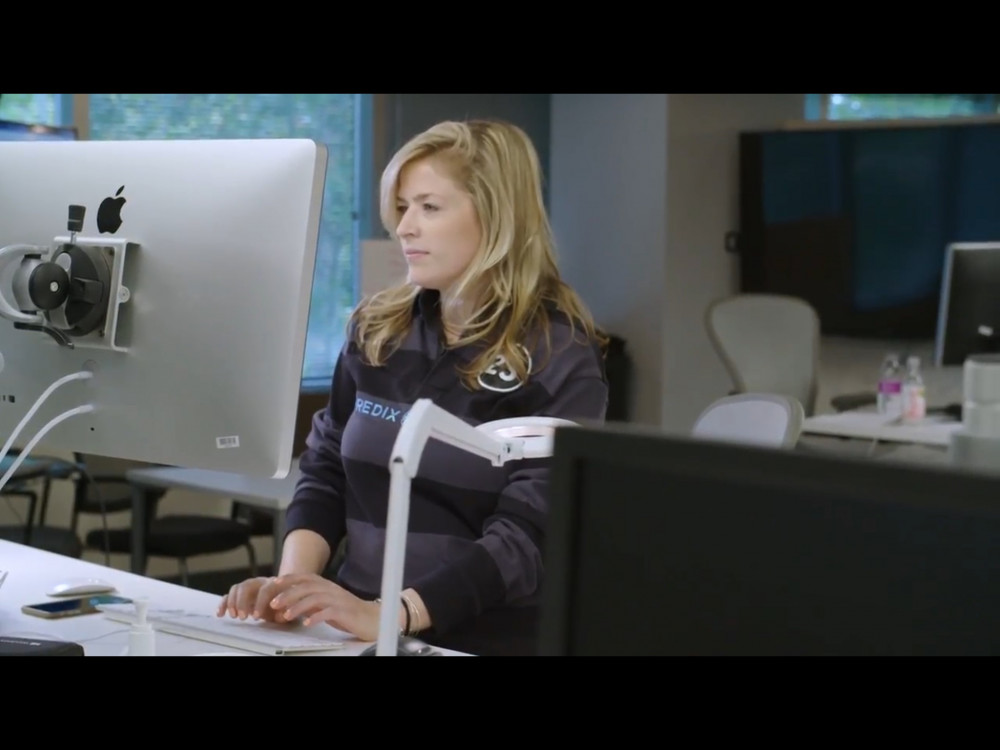 Ryane Bohm works for GE Digital as a Predix developer evangelist. Named as an emerging leader in business by Loyola University Chicago's Quinlan School of Business, she is one of the Internet of Things Institute's 50 Most Influential Women in IoT for 2016.

What excites you about working with developers on the Industrial Internet of Things? "I really love when I work with the developer and I actually see that moment where [they say] 'Oh my gosh, this makes sense. I get it, and this can be used to optimize my business.' We call what we're doing 'the startup within a very old company.' So although GE's been around forever, this is a completely new space. It's very much a startup culture — see what works, continuously improve. The product is being built day in and day out, and one day is different from the next."

What's it like working in Silicon Valley? "I love it. Being surrounded by tech is so much fun. You drive down the street and all the billboards are tech-focused. It's everywhere, and that's my jam."

How do you think gender parity will affect the future of GE? "I think it's just bringing a different perspective into the workplace. You're seeing a full, well-rounded perspective of a problem. I feel like by bringing 50/50 balance in, you're getting a more well-rounded end product."



LAURA DIAL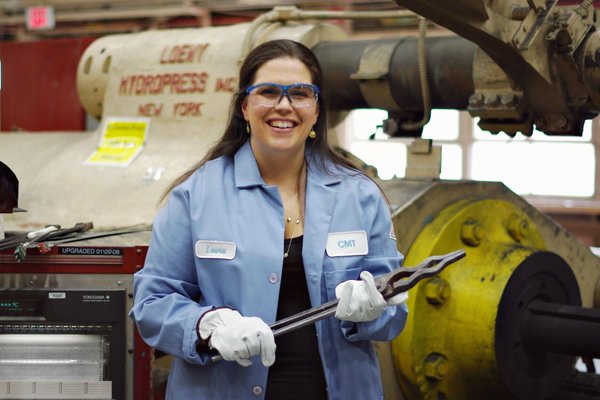 Laura Dial is a metallurgist at GE Global Research. She develops and tests metals to determine their suitability for GE manufacturing projects. She's also mother to a toddler. "This company has been so incredible to me as a new mom by allowing me a flexible work arrangement," she says. "I work four days a week at 90 percent time. That has changed my happiness level so much. I can't imagine the struggles of the folks before me who years ago basically got the ultimatum, 'You either come back full time or you don't come back.' I'm still absolutely growing my career while still not working 100 percent time."

Why industrial metallurgy? "I had actually gone to grad school expecting to become a professor. Then we were awarded a government grant to work with a small company that was looking for my research to enable some new products for them. My research project did not change at all, but I immediately became more motivated because someone knew how they were going to use it. And so I very quickly realized that what I need is product focus or a clear end goal to motivate me."

Why GE Global Research Center? "I felt like I could do the R&D that I like, research some fundamentals but also still be tied to a product need. I basically thought leaving school that this was probably my dream job."

What's to be gained by achieving gender equality at GE? "Women are often known for being 'nurturing.' I think that can be valuable in a really large organization by making people feel like they're not getting 'lost in the shuffle.' So I see the value of creating diversity at a leadership level. There's about 50/50 women in America — there's no reason it shouldn't be the same for everything else."
Categories
tags