The arrival and departure halls of major Asia Pacific airports such as Changi in Singapore, Pudong in Shanghai, Suvarnabhumi in Bangkok, and Seoul Incheon, and others in popular smaller city airports such as Hiroshima, Tribhuvan in Kathmandu, and Australia's Cairns Airport have never been busier.

Of the 3.8 billion people who caught a flight last year, 1.1 billion (35%) were passengers in this region according to 2017 IATA World Air Transport Statistics. IATA also anticipates that Asia-Pacific will be the source of more than half the new passengers over the next 20 years and expects 7.2 billion passengers to travel in 2035.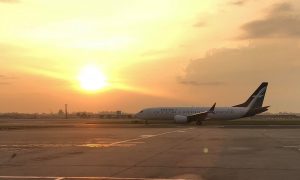 4,210 new planes worth $650 billion in Southeast Asia over the next two decades, based on an estimate of annual traffic growth of 6.2%.

Boeing's predictions are driven by factors such as a developing ASEAN Single Aviation Market, increased aviation infrastructure investment, the proliferation of low-cost carriers, and an expanding middle income class (88% of the next billion people entering the middle class will be from Asia).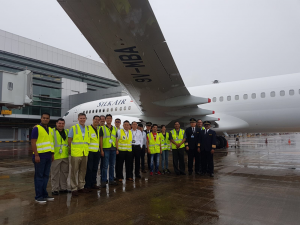 here.

The B737 MAX 8 was certified for commercial service by the U.S. Federal Aviation Administration on March 19. 2017.



CFM LEAP engines power SilkAir's regional growth plans

SilkAir's B737 MAX 8 fleet is powered by CFM International LEAP-1B engines - CFM International is a 50/50 joint company between GE and Safran Aircraft engines.

Roderick Ng, Sales Director, Singapore & Philippines, GE Aviation said SilkAir is the first Singaporean airline to use the LEAP-1B engine.

"SilkAir is an early adopter of the LEAP-1B engine and this milestone deal, along with others in the region, makes ASEAN the biggest user of LEAP engines in the world," said Roderick.

He added, "The LEAP-1B engine offers a 15 percent improvement in performance compared to previous B737 engines. This improvement, and enhanced fuel efficiency enables SilkAir's B737 Max 8 fleet to service longer-range city pairs such as Singapore-Hiroshima, and the inaugural SilkAir Singapore to Hiroshima flight took place on October 30."

"In addition to performance, service is another critical factor. In the case of the new SilkAir MAX 8 aircraft, it will be met, and inspected – wherever it lands – by an on-the-ground GE Aviation representative team throughout its first 60 days of flight," said Roderick.

The new Boeing 737 MAX 8 airplane, and 36 others to be delivered to SilkAir, is part of a 54-aircraft deal announced by SilkAir and Boeing in 2012. At the time, it was the largest order in SilkAir's history.




Categories
tags