France generates three-quarters of its electricity in nuclear power plants, but that figure is changing. The country aims to generate one-third of its energy from renewable sources. Solar and wind farms have been popping up everywhere, and now the country is reaching to a solution so groundbreaking it will never touch land at all: the floating wind turbine. "Floating wind farms are very innovative and can be a crucial part of the energy mix of the future," says Léonore Petit, strategy and business development coordinator at GE Renewable Energy.
The benefits are obvious. Fixed offshore turbines are more productive than their land-swelling cousins. But they must be installed in relatively shallow waters—up to 50 meters deep—so their foundations can sink into the ocean floor. Wind, waves and storms can pile on additional obstacles, forcing developers to design ingenious machinery that can cope with them.

The floating system, which is being developed by GE and the French naval shipbuilding and energy company DCNS, could sail past many of the problems. Instead of using towers that are embedded in the sea floor, these turbines would sit on a steel and concrete floating system, allowing them to operate in waters up to 200 meters (650 feet) deep.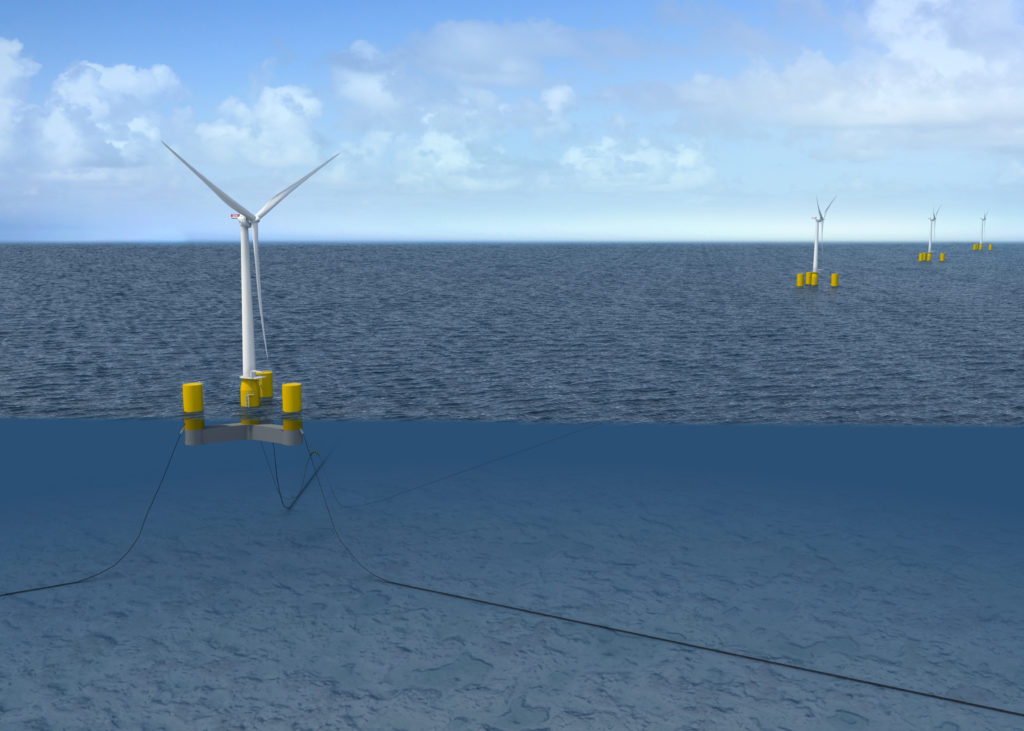 Top and above: Floating wind turbines sit on a steel and concrete floating system, allowing them to operate in waters up to 200 meters deep. Images credit: DCNS

The idea is so appealing that the French government recently announced plans for a couple of floating offshore wind farms. GE's Haliade offshore wind turbine has been announced as the preferred wind turbine for one of them, located near the island of Groix in the Bay of Biscay. The area has a reputation among sailors for fierce winds and rough seas and each Haliade can generate 6 megawatts (MW). The goal of the project to test the design's feasibility as well as its economics.

The French project joins other floating wind turbine experiments in Norway, Portugal, Japan and elsewhere.

According to the French renewable energy trade group Syndicat des Energies Renouvelables (SER), floating wind farms could supply France alone with 6 gigawatts (GW) by 2030. Petit says the technology can be developed more quickly in areas where the sea shelf drops off to deeper waters, such as Japan or the west coast of the United States.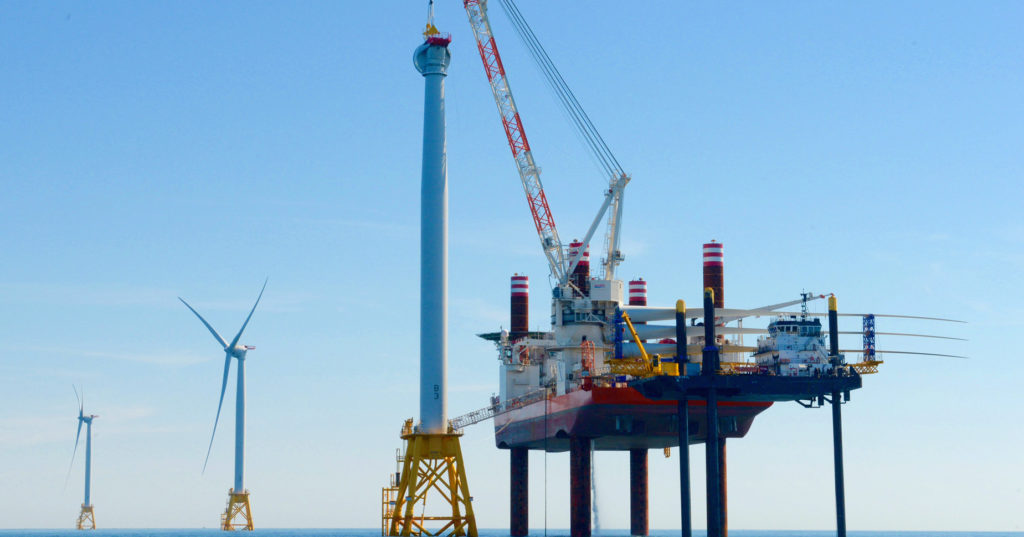 Five Haliade wind turbines power America's first offshore wind farm near Block Island, Rhode Island. Image credit: Deepwater Wind

The Haliade turbines are almost of the same type GE uses in traditional offshore wind farms, with the major difference being that they sit on half-submerged floating foundations.

Atop the floating structure, developed by DCNS, is a 330-foot-high tower—twice the height of the Statue of Liberty—holding the 400-ton power-generating nacelle and three 240-foot-long blades that weigh 27 tons each. Even with all that weight and height, the floating foundation keeps the structure stable enough to operate in the most extreme ocean conditions, Petit says. The floating foundation is tethered to the seabed by a type of anchoring device adapted from oil and gas offshore platforms. As with a traditional wind farm, electricity is sent ashore via cables.

The floating wind farm has other benefits. Workers can assemble the turbines in port rather than on the open seas, where bad weather can cause delays that result in unexpected costs. A tugboat pulls the finished turbines to their final destination. Repairs also should be less expensive, Petit says, because the turbines can be brought back to port for heavy maintenance rather than repaired by crews dispatched out to sea.

If all goes as planned, floating wind farms could become a new way to produce renewable energy in places where most people never go.
Categories
tags