The rescue effort in Sajang began as soon as the ground stopped moving.
On Aug. 5, a 6.9-magnitude earthquake struck the mountain village on the Indonesian island of Lombok, leaving behind chaos and rubble. Search-and-rescue teams pulled their first survivor, a man named Hendri, from the ruins of his home as a crowd cheered: "God is the greatest!" Not long after, a 10-year-old girl was found alive and rushed to a local hospital.
Such scenes were repeated throughout Lombok, a tropical island known in happier times for pearl production and as a more relaxed alternative for tourists seeking respite from the hustle and bustle of nearby Bali. This year the island was hit by a pair of devastating temblors. One struck in July, killing 16 people. The August quake was much worse, leaving more than 550 people dead and 1,300 injured on Lombok alone. (In September, the Indonesian island of Sulawesi was hit by another strong quake, and subsequent tsunami, that devastated the city of Palu.)
The recovery from such an event starts with the search for survivors, but the work continues for months. Even today, the effort to rebuild Lombok and provide basic staples such as food, clean water and electricity for more than 350,000 displaced residents is an urgent matter. "We are in emergency mode to help our brothers and sisters in Lombok and Palu," Susanto Samsudin, national director for Habitat for Humanity Indonesia, said in an email this month.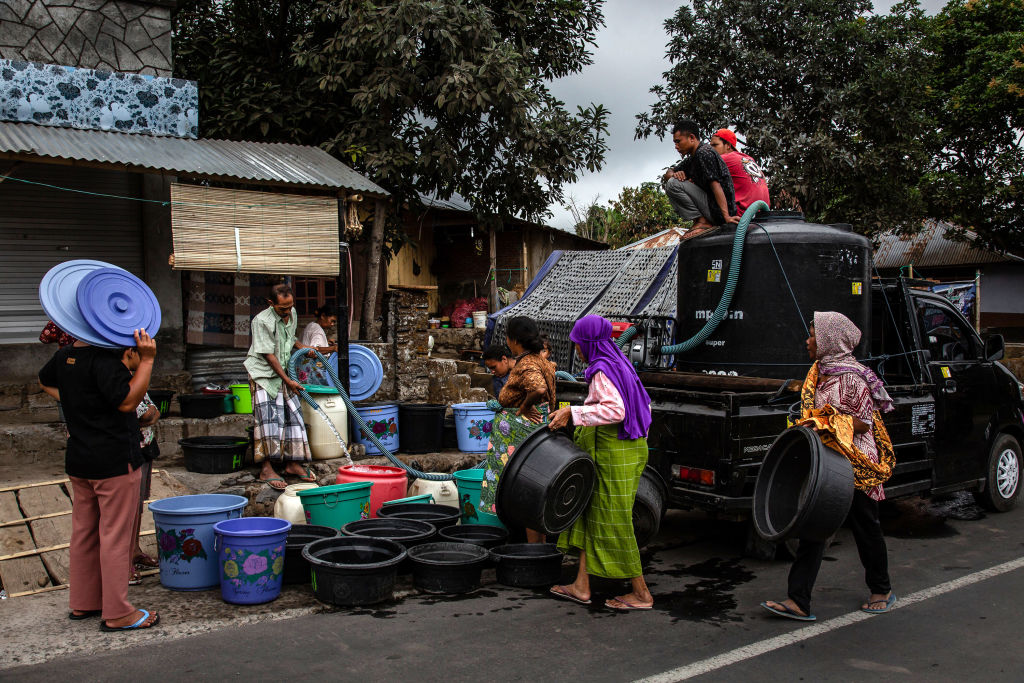 Above: Villagers queue to fill water in Sajang on August 23, 2018. Top: Sajang residents spent days living in tents following the August earthquake. Images credit: Ulet Ifansasti/Getty Images.
GE is among the many organizations helping Lombok recover. Because the quake shattered Sajang's water main, that help includes a grant to help ensure the availability of clean water, along with a less obvious but still crucial form of assistance: reliable electricity from GE turbines that power the island.
Rescue teams are using the $250,000 grant from the GE Foundation to restore drinking water to Sajang's 3,450 residents. Habitat for Humanity Indonesia began construction in November on new pipelines to get water to homes and farms from Propok, a spring at the foot of Mount Rinjani, a 12,224-foot active volcano towering over the village. The pipes will also link to a new reservoir built after discussions with residents and local authorities, Samsudin said.
One of the GE Foundation's goals is to help organizations such as Habitat for Humanity launch emergency disaster-recovery programs. In 2017 alone, the foundation committed $2.4 million to similar disaster operations worldwide.
About 100 kilometers away on the opposite side of Lombok, at the Jeranjang power plant, workers scrambled immediately after the August quake to prepare for a tsunami that could follow. Fortunately, no wave came. "Some workers asked to take turns taking a short leave during the day to check up on their homes and their families. But they all returned back to work immediately," said Erik Erdiana, the site manager for PLN, the state utility.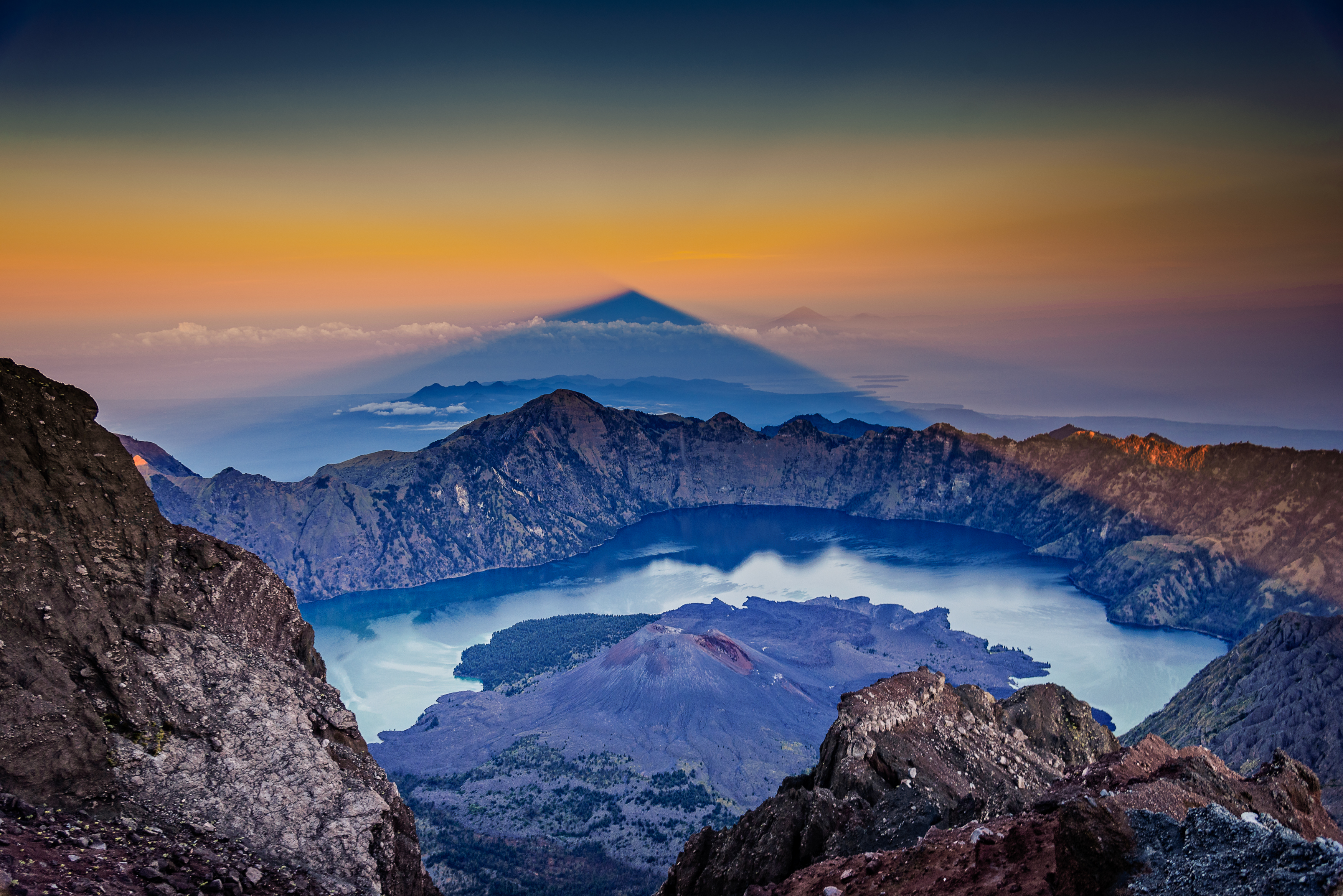 Sajang sits below Mount Rinjani, a 12,224-foot active volcano. Image credit: Getty Images.
The fact that the Jeranjang plant stayed online has reduced the overall impact of the disasters, Erdiana said by email. The plant is powered by two GE TM2500 natural gas turbines, essentially a ground-based version of the GE CF6 jet engine that powers numerous Boeing 747s, but re-engineered to generate electricity.
GE TM2500 plants generally are designed to provide mobile, truck-mounted emergency power where needed — Mexico use them to recover from a hurricane in Baja in 2014, for example. But they were installed permanently in 2016 to bring more power to Lombok, one of Indonesia's more than 18,000 islands.
The Jeranjang plant provides power for about 250,000 homes there, with each turbine capable of supplying 25 megawatts. Across Indonesia, the government plans to deploy enough of these turbines to generate 500 megawatts, with 100 megawatts already installed on Sulawesi, one of Indonesia's major islands, about 200 miles north of Lombok.
During the July quake, which registered a 6.4 magnitude, the plant performed so well that the quake didn't even trigger a precautionary reduction in power. The units also operated without interruption during the second quake, even as other power plants of different designs went offline, Erdiana said.
The presence of continuous electricity isn't a luxury — it enables hospitals, emergency services and infrastructure such as water pumps to perform in a humanitarian crisis. Longer term, reliable power helps a community rebound faster economically, Erdiana said.
Staying online has been "very vital for the continuation of businesses and lives in Lombok," he said. "A lot of industries, particularly tourism, are dependent on it."
Categories
tags