In 1984, Lee Dillon walked through the doors of GE Aviation's Edison Engineering Development Program with a clear path and an airtight plan. Armed with a brand-new bachelor's degree in mechanical engineering from Tufts University, she would finally see her passion for aeromechanics — the science of how the movement of air and other gases affects physical objects like airplanes — take off in the real world.
The program rotates its participants, known as Edisons, through multiple job placements over two to three years. Dillon, of course, applied for an assignment in aeromechanics, but she didn't get the job. Unfazed, she reapplied, but was disappointed again. For her third and final rotation, Dillon found herself stuck working in stress analysis — the one subject that bored her to tears in college.
But as it turned out, she was not only good at it, she thoroughly enjoyed it. Always a practical person, Dillon liked determining exactly how much stress engine materials could safely withstand in flight. And this time, the hands-on work and tangible results really mattered. "It was so exciting to see your ideas make a difference. So much fun!" she says now, just as enthusiastic today as she was 36 years ago. That revelation led to a 20-year specialization in stress and life analysis, inspired her to try out new areas — like writing a global technical license and overseeing the operations behind introducing a new product — and compelled her to return to work after raising four children.
Then, eight years ago, Dillon made an even bolder move: dedicating her full attention back to the Edison Engineering Development Program, the place where she got started at GE. Since its launch, the program has funneled a pipeline of top engineering talent to all of GE's core businesses, where they've had a hand in creating powerful jet engines, wind turbines, medical imaging and treatment devices, and advanced technologies like 3D printing. The development program, GE's largest, currently trains 650 Edisons at 60 sites across 28 countries. A committed senior leadership team keeps them productive and fulfilled. Lee Dillon is one of those leaders.
In a role she calls "the best job ever," Dillon oversees 66 engineers at GE Aviation's headquarters in Lynn, Massachusetts. "I wear a lot of hats," she explains. "I'm part admissions officer, guidance counselor and [an] HR executive who looks at compliance and fulfilling the needs of technical leaders."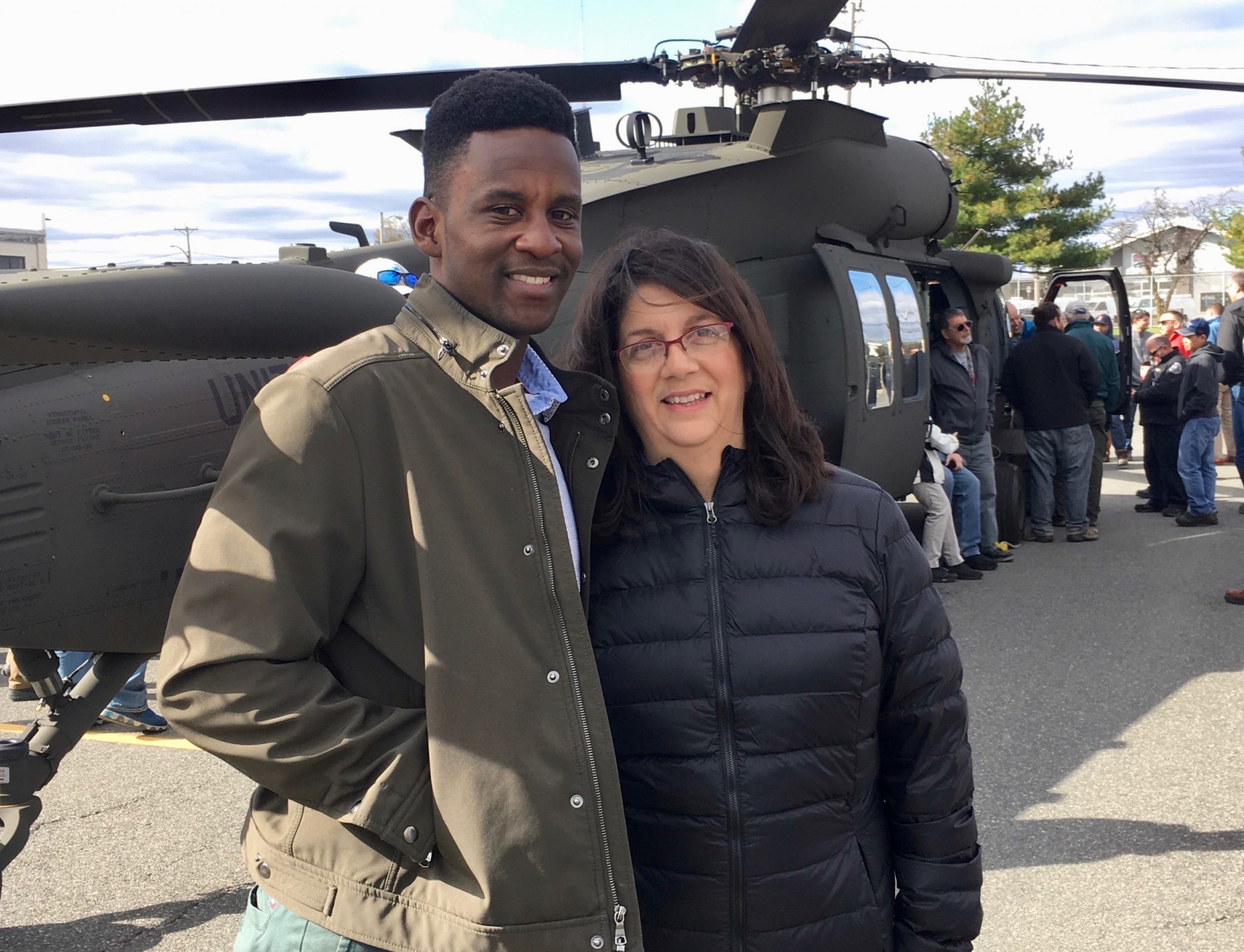 Lee Dillon, right, with Edison engineer Patrick Ntwari at a 2018 Blackhawk helicopter fly-in in Lynn, Massachusetts. Dillon currently oversees 66 Edisons, as they're called, at GE Aviation's Lynn headquarters. Top and above images courtesy of Lee Dillon.
The mission behind each of those roles is to keep attracting, and successfully retaining, the same level of talent that has fed into GE Aviation in the past. Achieving that is a far bigger challenge now than when Dillon signed on in the 1980s. Technical experts, including mechanical engineers, are in hot demand these days, especially around high-tech hubs like Boston. On top of that, today's young talent are more apt to leave their jobs if they're unsatisfied. "Being a 'lifer' is not part of the vocabulary in this generation," Dillon say. She's seen this shift firsthand as her own children enter the workforce.
Last January, Dillon spent three chilly days addressing this very issue with 60 other Edison leaders at the storied GE Research campus in Niskayuna, New York — birthplace of many GE innovations. There, they spent the bulk of their time in panel discussions, lectures and smaller groups debating: What do engineers need to thrive in this rapidly changing world?
They all agreed the Edison program is structurally well-suited to prepare engineers for current market demands. "Production cycles are getting shorter and shorter," Dillon remarked at the event. "Technology is speeding up how quickly customers expect results." By training in various specialties — while also earning their master's degrees, if they so choose — Edisons learn the versatile problem-solving skills they'll need as engineers to keep projects moving apace.
Still, Edison leaders want to do more. During their breakout session, some used the time to hash out new ideas, like tweaking an annual design competition or adding a new community outreach element to the program. Others combed through surveys to find opportunities for improvement, like building a stronger sense of community. Another group debated the best measures of Edisons' success down the line: promotions, retention or awards.
These strategic conversations almost always circled back to mentoring. One leader shared his advice for nudging Edisons to solve problems on their own. Dillon, for her part, tapped into her own experiences as a young Edison, landing in a field she thought she wouldn't find interesting. By this example, she guides her engineers to adapt to disappointment and embrace risks: the strengths that kept her grounded and led her on a path that worked for her.
So far, her strategy seems to be working. Despite the rigors of the Edison development program, every engineer Dillon has shepherded through has finished the program and gone on to a career in engineering. She lights up when she mentions this fact: "I haven't lost an Edison yet," she says.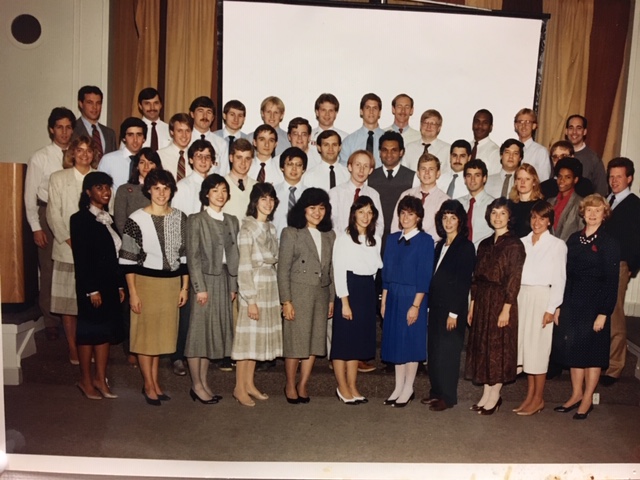 Taken in 1984, this photo shows Dillon as she was just starting out as an Edison engineer — she's in the front row in blue. Now Dillon is part of the Edison program's senior leadership team, in a role she calls the "best job ever." Image courtesy of Lee Dillon.
Categories
tags