Growing up in the flight path of Reagan National Airport in the Washington, DC, area, Shawn Newman became fascinated by the planes that flew over his house. In middle school, on days when the sun lingered into the evening, he was sometimes able to pursue them to their destination. "The best days were when I had time to ride my bike an hour to the airport to get a closer look at the planes taking off and landing," Newman says.
He went on to study engineering at the University of Cincinnati and 28 years ago landed at GE Aviation, which has its headquarters in the Ohio metropolis. Now working as a senior systems engineer, he's helping local students pursue their passion. For more than 15 years he has volunteered as a mentor and tutor at Lincoln Heights Elementary, which is just a mile from his office. "I had role models when I grew up that looked like me, which I feel helped get me through college and the early days in my career, and I feel that it is important to do the same," Newman said. "Whether it's focusing on math, science, or reading, these subjects are essential to problem-solving and anything children decide to do in life."
Newman is paying his passion for science forward together with his GE colleague Corwin Angel. Angel found his love of engineering through a plastic brick playset and later discovered aerospace engineering at a middle school career fair. Subscribing to the adage, "You can't be what you can't see," they are both trying to spark the same interest with the children of Lincoln Heights Elementary.
It is an urgent task. Lincoln Heights is a historic African American community in Ohio. But today, almost 50% of the families there are living below the poverty line. "I want the students to see someone like me being successful," Angel says. "As a Black male, it doesn't matter where you come from or what you look like, you can do what you put your mind to."
Newman and Angel are among thousands of GE Aviation volunteers who give back to their communities around the world. But with COVID-19 restrictions in place, this group had to get creative. They logged more than 25,000 hours of online mentoring, tutoring and introducing students to STEM through remote programs.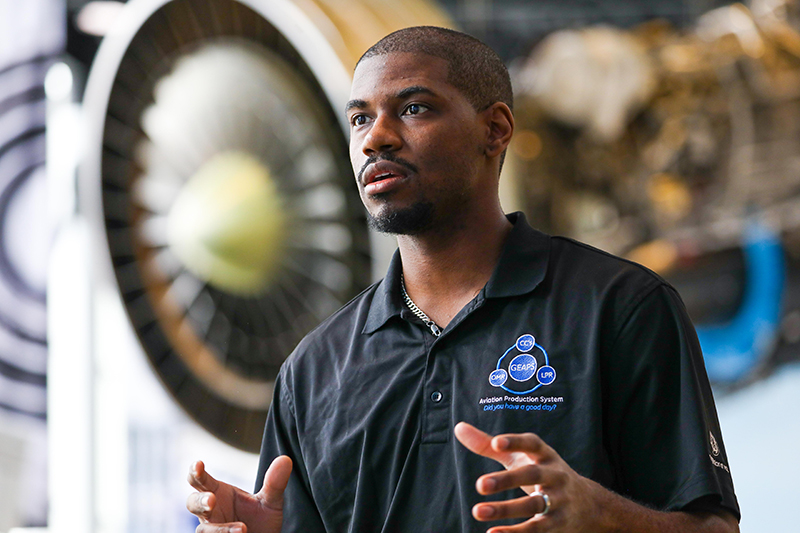 Newman and Angel recently led a unique virtual experience for their Lincoln Heights Elementary students. They talked about their careers and read the children's version of the book, "Hidden Figures," to several classes. The book tells the story of a team of Black female mathematicians who were instrumental in NASA's early years of space exploration. The women — Dorothy Vaughan, Mary Jackson, Katherine Johnson and Christine Darden — helped the U.S. rocket ahead in the space race.
Students in grades 2 through 5 received a personal copy of the book thanks to a donation from the Aerospace Industries Association, of which GE Aviation is a member, and First Book, a nonprofit committed to equal access to quality education.
Lincoln Heights Elementary Principal Dawn Bailey tied the book reading event to Black History Month. "I have a desire to instill a love of reading in our students and having others read to them excites me," she said. "The staff here is amazing. However, our students need to see and engage with folks outside of our school community."
The students were energized by the session and some noted how inspiring it was. That enthusiasm reminds Angel and Newman how they felt when they discovered their passion for aviation, reinforcing why the work they do in the community is so important to the future of these children.
Angel says in the end, their volunteering is not about whether the students choose a STEM field "but that they have someone who looks like them in their corner rooting for their success." Says Angel: I want them to know that someone, besides their parents and teachers, cares about their success."
Categories
tags