One late-summer day in 2011, a woman was bicycling along the West Side Highway trail in Manhattan. A pedestrian ambled into her path, and she swerved to avoid him, crashing her bike and smacking the ever-loving heck out of her right quadriceps muscle in the process. Two days later, she noted with some alarm that her leg was swollen from the knee down. She hightailed it to the doctor, who immediately ordered an ultrasound to determine the cause and sent her limping home to wait for the results. Three days later, he called with the good news from radiology — no evidence of a blood clot or damage to the blood vessels — and ordered her to ice the wound and elevate the leg.
Had that accident occurred today, the woman might have gotten the all-clear the same day with the help of GE's LOGIQ E10, an ultrasound system powered by artificial intelligence technology and advanced algorithms that produces high-quality images and uploads them instantly and securely to the cloud for review.

Healthcare is just one industry where GE's digital savvy is paying off. Aviation, energy and transportation customers are also benefiting from the smart coupling of data and analytics. The company started moving into the digital space in 2011, investing more than $1 billion and building new digital headquarters in San Ramon, California, across the bay from Silicon Valley. GE Digital now has 4,000 employees globally and works with customers such as Exelon, BP and Invenergy. Last year, the unit brought in $5.2 billion in orders. "A few years ago, the notion of a digitized industrial company was just an idea — with no precedent or playbook," says GE Digital CEO Bill Ruh. "Today, it is a reality."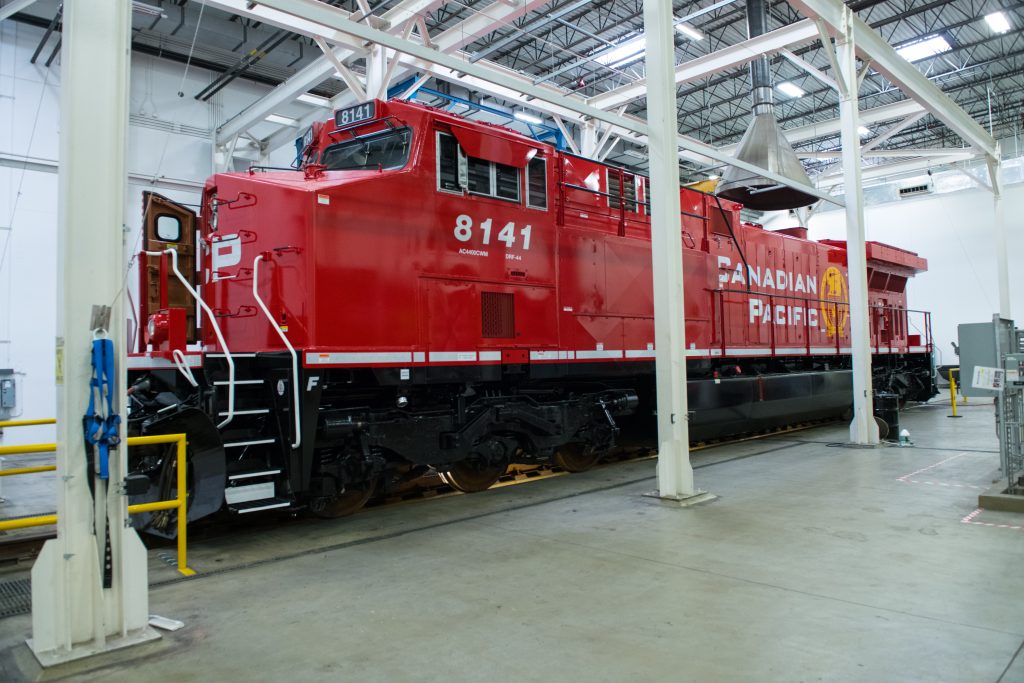 giving aging locomotives an extreme digital makeover. The overhaul includes equipping some units with sensors for measuring engine temperature, vibration and other parameters, plus digital systems that crunch the data they collect. Image credit: GE Transportation.

One of GE's earliest digital applications was in the railroad business. For many, the word "locomotive" may bring to mind old-school industrial elements — cold steel, diesel and brute strength — but GE is bringing these beasts of burden into the modern era and helping trains get from point A to point B more efficiently, in Alabama, Angola, Australia and elsewhere around the world.

For example, workers at GE's plant outside Fort Worth, Texas, are giving aging locomotives an extreme digital makeover. The overhaul includes equipping some units with sensors for measuring engine temperature, vibration and other parameters, plus digital systems that crunch the data they collect. This enables engineers working at one of GE Transportation's four digital service centers — located in Fort Worth; Erie, Pennsylvania; Brazil and Kazakhstan — to monitor, track and troubleshoot roughly 17,000 locomotives in real time for customers as distant as sub-Saharan Africa. More than 2,000 locomotives from nearly 30 customers around the world have already received similar GE overhauls. The GE Transportation team in Fort Worth spruced up 170 machines last year alone, and it has roughly 1,000 more orders on the books from large railroad operators like Norfolk Southern and Canadian Pacific.

Factors such as train length and weight, track grade and conditions, and driver behavior can affect the speed and efficiency of freight delivery. An onboard digital control system called Trip Optimizer (TO) removes much of the guesswork. TO functions much like an airplane's autopilot — learning the train's characteristics, monitoring details such as speed, wheel slip, engine health, rail quality and wind effect, building the profile of an optimal trip and then automating throttle and dynamic braking to limit fuel burn. In the past, drivers based such decisions on their own knowledge and instincts, resulting in variances in speed and performance. "It was up to them to make a decision on when to throttle up and down, and it's based on their institutional history," says Gretchen Hosler, technical support specialist at the center. "TO does a good job of running those algorithms in the background and giving the recommendation 'You should throttle up, throttle down,' and it will actually do it automatically."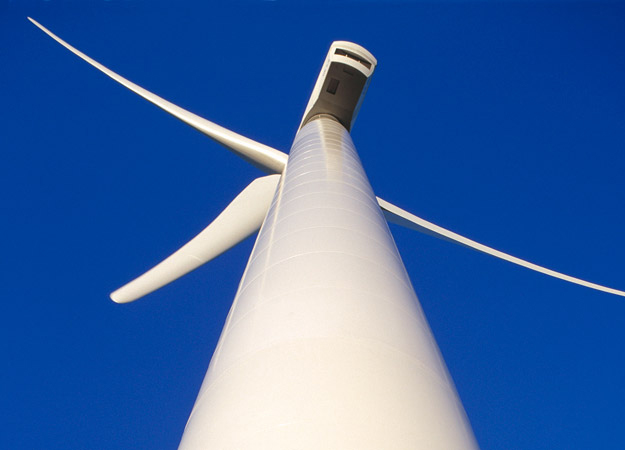 3 to 17 percent. Once the trains have reached their destination, GE's Yard Planner analyzes rail yard capacity, inbound and outbound scheduling and other variables to keep traffic running smoothly and on time. Together, these apps deliver big savings. Reducing wait times at stops by just 1 percent can save $2.2 billion, and a 1 mph rise in speed can save $2.5 billion, GE says.

Software is also transforming the energy sector, from New York to California to Mexico and other points around the globe. For example, GE apps are helping the largest state public utility in the United States evolve into the world's first digital utility. The New York Power Authority's spanking-new "mission control" center in White Plains is a 25,000-square-foot digital treasure trove. The center collects and processes gigabytes of data from NYPA's 16 plants plus its transmission network. An 81-foot video wall displays analytics from a host of apps: Asset Performance Management (APM), which uses data from the plants' equipment to predict potential problems and recommend maintenance when it is the least disruptive; one that monitors boat traffic near NYPA's subsea power lines; and another, called NY Energy Manager, that evaluates data from 11,000 buildings and pieces of equipment and identifies cost-saving strategies for customers. The system also allows NYPA to build "digital twins" — virtual representations of its equipment that can alert NYPA to any abnormal readings that merit a closer look. Digital twins also enable operators to model various scenarios and outcomes. NYPA President Gil Quiniones says the center, which opened in December, has already helped the utility save $3 million, with $1 billion in efficiencies expected over the next decade.

While apps are helping customers make the most of traditional power sources, they're also becoming vital to the way we manage renewable energy. Solar power is increasingly popular in sunny California, but there's a catch: Solar panels supply much of the state's energy during school and work hours, when demand is low. When the sun sets and people settle in for the night, flipping on lights and cranking their ACs, power plants have to quickly ramp up their fossil fuel plants to meet demand and avoid outages.

The fluctuations in renewable energy can create inefficiencies for operators in managing power loads and demand. This is where a GE app called Dispatch Optimizer comes in. It lets power plant operators monitor what's happening within their plants and on the grid. It also enables them to optimize operations. This means that when demand rises and electricity costs more (information that energy traders can also use to their advantage), operators know to fire up the gas turbines that power their plants. Conversely, when demand and price fall, they can ease off their turbines, limiting wear and tear. The app could bring an 800-megawatt power plant an additional $1.5 million in additional annual revenue, according to Justin John, controls engineer at GE Global Research.

Data-driven insights are also extending machines' life spans. A new combined-cycle power plant called Norte III in Mexico's Ciudad Juarez will rely on GE's APM tool to keep its turbines in prime condition for pumping out power to 1.5 million residents. The Predix-based app will gather data from the Norte III plant's equipment, analyze it, predict potential problems and recommend when best to perform maintenance to limit downtime.

GE software is also working in the air. A plane will produce as much as 30 million data points during just one flight between Texas and London. Multiply that by an entire fleet, and you can see why airlines are thirsting for software that can make sense of this data deluge. Take AirAsia, for example. The fast-growing carrier recently signed a four-year agreement with GE to digitize its aircraft and systems. Two crucial components of that project are apps called FlightPulse and electronic Flight Operations Quality Assurance (eFOQA). FlightPulse is GE's mobile data and analytics software for pilots that merges flight data with crew scheduling.

The app, which began as a collaboration between GE and Qantas, shows pilots data from every flight of their airline, including fuel savings and areas for improving fuel efficiency. "FlightPulse was designed by pilots for pilots," Captain Mike Galvin, head of fleet operations at Qantas, told GE Reports. "It provides pilots with flight data in a very visual way, allowing them to see firsthand the amount of fuel used at different stages of a flight and how they can help to reduce carbon emissions."

Complementing FlightPulse is eFOQA, a cloud-based service that provides fleetwide information, which data scientists can slice, dice and compile to study various aspects of an entire airline. Together, these tools can help pilots make smarter decisions about fuel use and safety, and they give airlines the insights they need to run more smoothly and efficiently. AirAsia expects this digitization to reduce fuel costs by 1 percent, which would translate to millions in dollars saved — not to mention emissions.

As in other sectors, GE's digital twins — there are some 1.2 million already working in the field — and APM — the baby aspirin of industrial software — help airlines monitor their fleets' health and efficiency, schedule the optimal times for maintenance and keep planes in service longer.

Digitization helps GE's customers, certainly — but it's bigger than that, according to Ruh. "It is about entirely new ways to power the world, heal the sick, build our economy, and transport people and goods safely and efficiently," he says.