Energy is on the Australian parliamentary agenda, and Liberal Senator for New South Wales, Andrew Bragg is doing his own boots-on-the-ground research into technology that is central to decarbonising Australia's electricity system, as well as a significant contributor to regional economies.

"One of the things I try to do in my role is try to visit as many of these generation facilities as I can, because the more you do that the better you understand the issues, the network issues, and the transition issues," says Bragg at Infigen's Bodangora Wind Farm on the outskirts of Wellington, a town of some 4,100 that was until only a few weeks ago ravaged by drought, and plagued by dust storms.

Today, after significant rainfalls, Bodangora is lush green and its 33 turbines are scooping up the region's legendary wind resource, driving similarly green, clean energy into the grid at a rate that can power 49,000 New South Wales homes each year.

The Senator, who grew up in regional Victoria, is in his element getting to know his still fairly new constituency — Bragg was elected in the May 2019 Federal Election.

"Whether I'm visiting a wind farm, or a solar farm, or a coal-fired power station, or a coal mine, my experience as a new member of Parliament is that these are some of the most productive days I've had in office," he says.

His first impressions of the GE 3.43 MW turbines, is "How quiet they are." He can't help but repeat and also later similarly tweets that, "They're beautiful and they're quiet." These attributes can come as a surprise, given the turbines' majestic tower height of 85 metres, plus the 63.7 metre length of the blades that add the height of the Sydney Opera House to each structure.

https://twitter.com/ajamesbragg/status/1237282922094186496?s=20

GE Australia country leader Sam Maresh and Australian Liberal Senator Andrew Bragg pose with a clean-energy generator.

Touring the hilly wind farm in hi-vis, in the company of GE Australia country leader Sam Maresh, and GE Renewables site lead for Bodangora, Isaac Machisa, Bragg says, "It's hard not to be impressed," by the speed of wind technology development; and by the fact that, "The wind farms GE is building now in other parts of NSW are going to be more powerful."

He's referring to Australian wind farms soon to be announced which will deploy the revolutionary Cypress 5 MW platform. GE's largest onshore wind turbine, Cypress features blades that are transported in two pieces making previously inaccessible sites not only accessible but more productive due to the extra length that the two-section technology enables. With a sweeping diameter of up to 158 metres, each Cypress turbine has a nameplate capacity of up to 5.3 MW, and is capable of powering 2,500 homes each year.

With just 20 turbines capable of generating the same capacity as Bodangora, Cypress will further reduce the cost of renewable energy generation, which was shown this month by the Carbon Tracker Initiative to already be lower than that of half of Australia's existing coal-fired power plants.

That said, Machisa emphasises that Bodangora, which became operational in February 2019, is not only performing to expectations but is also about to benefit from GE's philosophy of continuous improvement, which harnesses data analytics and R&D to drive performance efficiencies over the lifetime of installations such as Bodangora.

He says early performance of the wind farm had been affected by dust storms kicked up in the drought-stricken landscape, but now things have settled into a more routine pattern of operations and maintenance, and the facility's first annual service is about to begin — in the company of curious livestock fattening in fields that for many months have yielded farmers only the "rent" they receive for hosting Infigen's turbines.

Seven farming families are Wind Farm participants. Says Bragg, "From what I've seen today, and from the information I received from GE, these are very happy farmers to receive an income for the turbines being on their land.

"It's not going to be for everyone," he adds, "but from my point of view it's a very effective way to balance out the competing interests of farming life."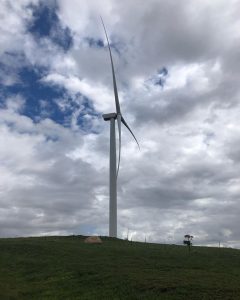 tags