Patti Beyer is a positive person by nature. But the 64-year-old retired educator was concerned after she requested, and received, a breast ultrasound-screening exam. After years of normal mammograms her doctor said she needed to follow up with a needle biopsy. Something was wrong.
She got the dreaded news a few days later while waiting for her luggage in the Washington D.C. airport: it was invasive breast cancer.

Now, five months later, Beyer is so grateful for the ultrasound machine that detected a small stage 1 tumor hidden in her breast. Because it was caught so early, Beyer was able to choose between a mastectomy and lumpectomy and her lymph nodes were cancer-free. Doctors in her home state of Illinois treated her with a lumpectomy, no chemotherapy and only 16 sessions of targeted radiation rather than whole-breast treatment.

"From my standpoint, this is a life-saving machine," says Beyer. "Without it, I'd be walking around with cancer right now, because the screening mammogram and the three follow-up diagnostic mammograms, did not see the cancer — even though it was there."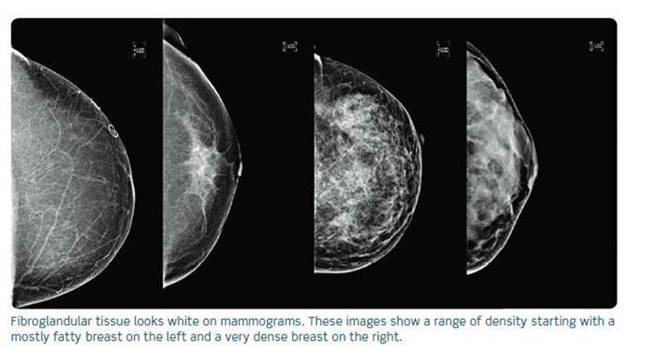 Beyer was fortunate that the NorthShore Center for Breast Health, where she has her annual mammograms, is one of the growing number of breast care centers in the nation using GE Healthcare's 3D Automated Breast Ultrasound (ABUS).

A new study in the June issue of the American Journal of Roentgenology shows ABUS finds more cancers when used in addition to a traditional mammography.

That is particularly important for the 40 percent of women who, like Beyer, have dense breasts. Dense breast tissue often makes it difficult to find and diagnose tumors with mammography. 

Beyer's sister, who also has dense breast tissue, revealed that her doctor always ordered an ultrasound with her yearly mammogram and urged Beyer to request an ultrasound at her next exam. 

By including ABUS in a screening, doctors have a much greater chance of finding early stage tumors.

Dr. Maryellen Giger of the University of Chicago (who is not Beyer's doctor), and her team ran a recent study with women who had dense breasts. The study found a 29 percent improvement in detection when ABUS was used alongside a mammogram.

Roughly four out of 10 women have dense breasts, but typically they'll only find out they have them once they've had a mammogram. Making matters more complicated, women with dense breasts are four-to-six times more likely to develop breast cancer, yet the dense tissue can hide cancers on a mammogram.

GE's ABUS is the first ultrasound technology for screening women with dense breasts that has been approved by the FDA. As with any new test, there's always the risk that ABUS could increase the number of false alarms in screening. But Giger believes the benefits of early detection outweigh the risks.

"When you think about it, almost half of women have dense breasts," Giger says. "So these women might be screened with mammography, and if there is no finding, they might be told to go home and return for routine screening, whereas if they also had an ABUS exam, there is potential for finding some cancers earlier."

Beyer's experience has made her an evangelist for the technology: "If women have dense breasts, I strongly encourage them to find a facility with an ABUS machine."

Top image: Patti Beyer and her husband Bud Beyer, pictured in Spring 2012.
Categories
tags