By the time you're done reading this story, heart disease will have killed nearly 40 people in Europe. The picture elsewhere isn't much different. The World Health Organization reported earlier this year that more people die from cardiovascular disease than from any other cause.
The grim statistics is what keep scientists like Anja Brau motivated. "Cardiovascular disease isn't just a European issue, it's a human issue," says Brau, director of global cardiac magnetic resonance at GE Healthcare. GE Healthcare and Arterys, a privately held company specializing in cloud based intelligent medical imaging, have been quietly working in partnership together to deliver an end-to-end solution that radically changes how the heart is imaged by MRI and then analyzed automatically in the cloud. The partnership was announced at this year's RSNA conference.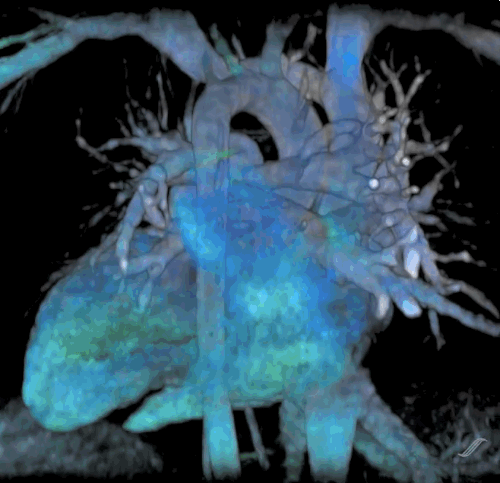 Their technology, ViosWorks* can do the job in 10 to 15 minutes, rather than the more typical 45 minutes to an hour. It displays the results in 7 dimensions - 3 in space, 1 in time, and 3 in velocity direction - showing the actual blood flow in the heart as a moving image.

[embed]https://www.youtube.com/watch?v=IcooATgPYXc&feature=youtu.be[/embed]

GE Healthcare and Arterys brought the technology to this year's meeting of the Radiological Society of North America (RSNA), which is taking place this week in Chicago. RSNA is the world's largest gathering of radiologists, drawing an expected 60,000 visitors.

ViosWorks* can help physicians distinguish scarred or damaged tissue from healthy heart muscle and tell them whether blood is flowing through the heart the way it should be.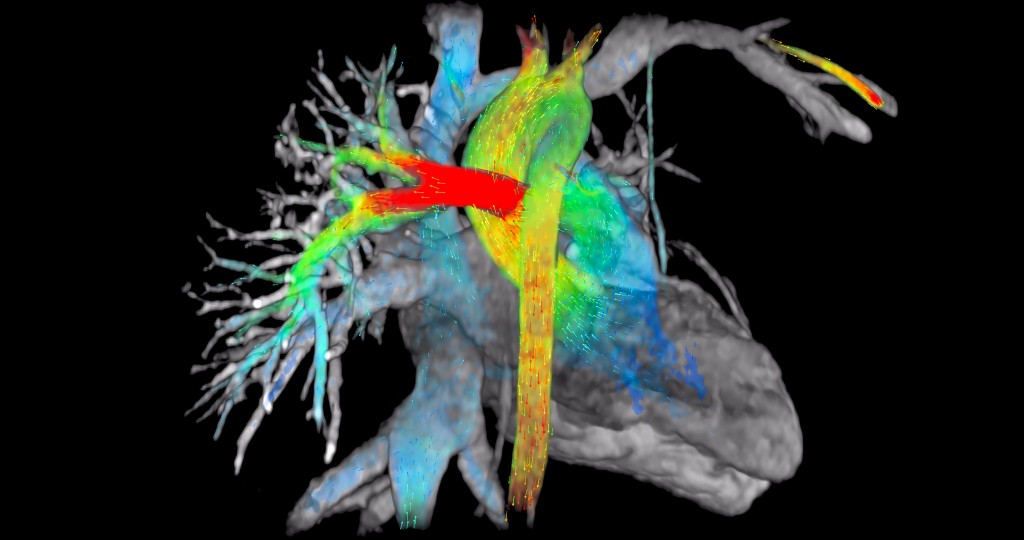 Top GIFs: ViosWorks* combines 3D cardiac anatomy, function, and flow in 1 free-breathing, approximate 8 minute scan. It enables visualization of the whole chest and beating heart from any vantage point – any structure, in any plane – simultaneously seeing ventricles contracting and accurately quantifying blood flow. Above: Vector image demonstrates the directional flow of blood in the heart and vessels. Color depicts velocity of blood flow. For example, red may indicate accelerated flow in areas of valvular abnormalities *7 dimensional viewing capabilities of the heart; 3 in space, 1 in time, 3 in velocity direction. Image and GIF credits: GE Healthcare

Every second counts. Doctors need to assess damage as quickly as possible to administer the right treatment, prevent death, speed recovery and reduce healthcare costs. The CDC Foundation estimates that by 2030, annual direct medical costs associated with cardiovascular diseases will rise to more than $818 billion, while lost productivity costs could exceed $275 billion. For comparison, the U.S., which has the world's largest defense budget, spends on the military about $600 billion annually.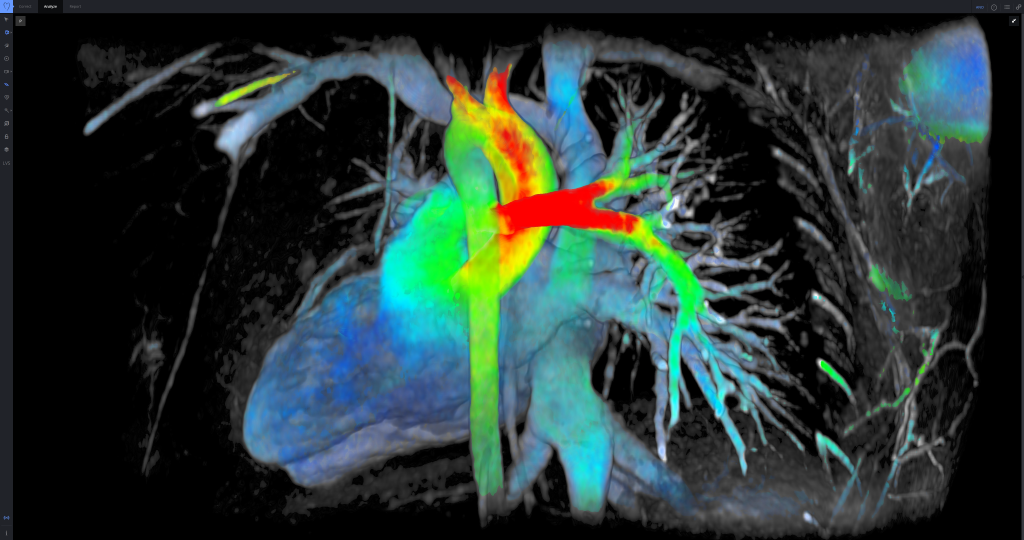 ViosWorks* demonstrates extraordinary resolution, previously unattainable with conventional imaging and post processing technology. ViosWorks takes the large image datasets of the whole chest and uses the power of cloud computing to post-process and evaluate the data in real-time to deliver advanced analytics in a fraction of the time. Image credit GE HealthcareThe good news is that new medical technology can make the costs go down by making faster and better diagnosis, and choosing the right treatment the first time around. On the basic level, MRI uses powerful magnets to create detailed images of internal organs - the brain, abdomen, heart.

But it's not so easy. MRI works by "acquiring" the image of the organ one thin slice of tissue after another – kind of like rebuilding a salami stick from individual slices. However, the procedure can take up to an hour and patients have to remain still. This is doubly difficult when imaging body parts like the heart, which keeps moving.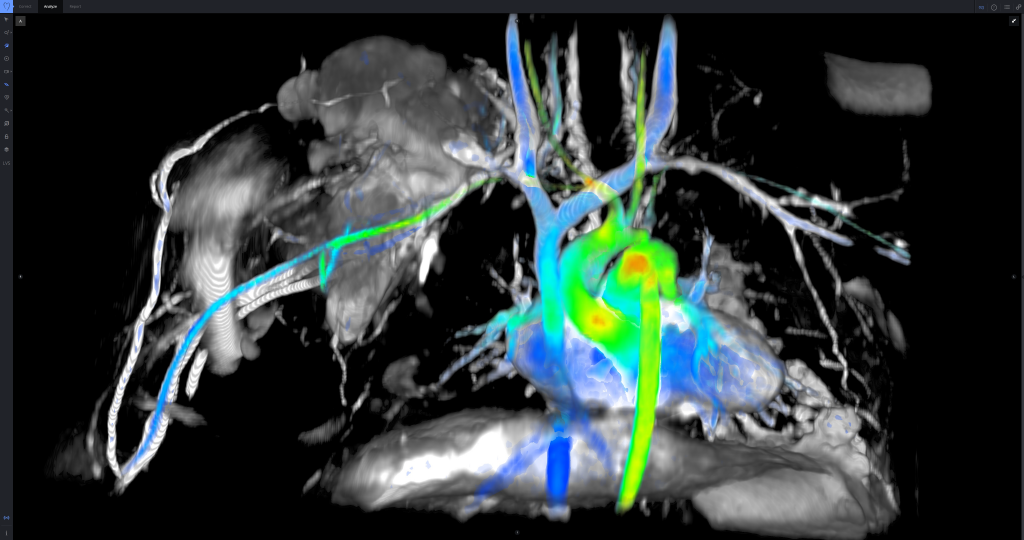 ViosWorks* delivers a three-dimensional spatial and velocity-encoded dataset at every time point during the cardiac cycle, yielding high resolution, time-resolved images of the beating heart and a measure of the speed and direction of blood flow at each location. Image credit: GE HealthcareThe software and algorithms that GE Healthcare and Arterys developed and integrated into the ViosWorks solution serve to speed up the process. They will allow doctors to get faster, high-quality images, provide patients with a more comfortable experience since they no longer have to hold their breath, and improve staff and equipment utilization since the machines can now theoretically serve four times as many patients.

Says Brau: "As exciting and encouraging as these breakthroughs are, they are also just the beginning of what we can achieve."

*Not yet commercially available
Categories
tags