Britain's coast is way more than white cliffs, cold beaches and crisps-stealing seagulls. It also boasts some of the highest tidal ranges in the world, measuring between 23 and 40 feet. Twice a day, like clockwork, the moon's gravity makes the seas ebb and flow. All that moving water is also a huge reservoir of reliable, renewable and carbon-free electricity. "Tidal could potentially supply up to 12 percent of the U.K.'s energy generation," says Mark Elborne, president and CEO of GE UK. "This is energy generation that is predictable, never-ending, zero carbon, has a long lifespan and is easy on the eye. And, importantly, it is very British."
That's why Elborne's business has committed £20 million ($25 million) to tidal power in the U.K. and will manufacture generators, transformers and electrical transmission equipment on the British Isles. It's also helping U.K. build the world's first power-generating tidal lagoon in Swansea Bay, off the coast of South Wales. The lagoon will cover over 4.2 square miles (11 square kilometers) — an area more than three times the size of New York's Central Park.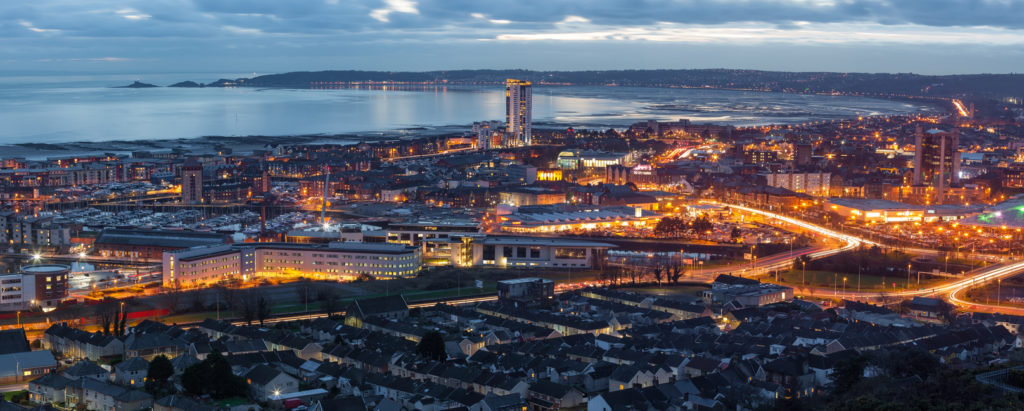 Top image: After wind power and solar power, we now have moon power. The moon's gravity tugs on the ocean near the Mumbles lighthouse at the end of Swansea Bay and produces predictable tides that run like clockwork, twice a day. Above: The city of Swansea and Swansea Bay at low tide. Images credit: Getty Images

As the tide flows into and out of the lagoon, it will power giant underwater turbines generating enough power for a whole city — over 155,000 homes. When finished, it's expected to generate 320 megawatts. That's equivalent to 90 percent of the area's annual domestic electricity use.

GE's Power Conversion unit worked both on the power-generation technology and also on power transmission to the shore. The company's large induction generators and variable-speed drives will work in tandem with the lagoon's 16 hydro turbines. The GE technology is already powering other renewable energy applications such as onshore and offshore wind farms, mining, oil and gas installations, and ships. The Royal Navy has also used similar technology inside many vessels over the past 10 years.

The project could also save the equivalent of 236,000 tons of C02 each year and turn tidal energy into a source of low-cost electricity. And that's just the beginning. GE's Elborne says that the lagoon is "a prototype for a series of much bigger lagoons across the U.K. Because bigger lagoons are able to pass far greater volumes of water through their turbines, they are guaranteed to generate far cheaper power." He says that large future lagoons using improved technology enhancements "will also see an increase in generating power, helping to deliver a cost saving of up to 30 percent, compared to the Swansea Bay Project." Elborne says that electricity produced by the Welsh project is currently priced at "very competitive" rates between £60 and £70 ($73-$86) per megawatt-hour.

Elborne says he wants to make the U.K. GE's "global center of excellence for tidal" power. "This is about seizing the first-mover advantage in a new global industry valued in the tens of billions," he says.


Categories
tags