When a pregnant woman in New York City or London goes into labor, her family typically calls her doctor and summons a cab, and they all head to a hospital. Yeshialem Endalew, a 24-year-old teacher living in the Ethiopian highlands, didn't have it so easy. Her husband drove more than 60 miles to a rural clinic so she could give birth to their first child. As arduous as the trip was, it saved the baby and her life.
The expectant mother was past due and fully dilated, and her water had broken, but an obstruction made vaginal birth impossible. Fortunately for Mom and baby, the hospital was equipped and staffed for the emergency caesarian surgery she needed. The medical team administered anesthesia, and she soon gave birth to a big, healthy boy weighing 10 pounds. He cried quickly, and a midwife swiftly cleaned him up while the doctors finished their surgery.

By many accounts, Endalew was very lucky. Of the 136 million women who give birth every year, 30 percent need medical or surgical intervention, according to the World Health Organization. The WHO also reported that a woman dies from pregnancy-related complications every minute, and some 15 million women suffer a disability as a result of childbirth every year. "No woman should die giving life," said Leslie Mancuso, president and CEO of Jhpiego, the Baltimore-based nonprofit affiliated with Johns Hopkins University that helped train workers at the Dangila Primary Hospital where Endalew gave birth. "Safe surgery should be a right, not a luxury."


2015 study by The Lancet. An estimated 17 million people die from conditions that require surgery annually, more than AIDS, tuberculosis and malaria combined, according to the same research. Some 81 million people who seek surgery also face falling into poverty as a result every year.

The clinic where Endalew gave birth is located in the mountainous Amhara region, about 50 miles from the source of the Blue Nile. It benefited from programs run by Safe Surgery 2020, a partnership between Jhpiego, Assist International, the Harvard Program for Global Surgery and Social Change, Dalberg and the G4 Alliance as well as Ministries of Health, Regional Health Bureaus and local professional associations and universities. The initiative is funded by GE Foundation, which is focusing on making essential and emergency surgical care available in remote areas of Ethiopia.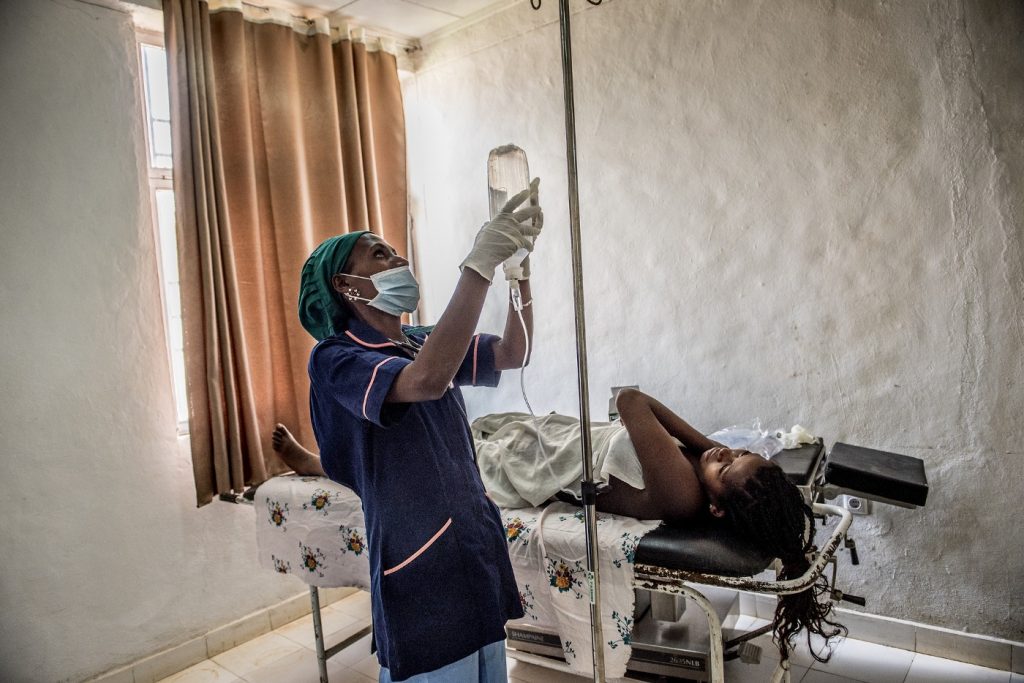 World Health Organization's "Safe Surgery Checklist," which focuses on procedures such as gathering basic information about the patient, starting with her name, plus estimating blood loss and sterilizing equipment. "It sounds incredibly simple," said Timothy Evans, senior director of health, nutrition and population at the World Bank Group. But it has to be universal, he said, likening it to "the hard-wiring safety we have in the airline system today" and pointing to the checklist pilots must go through before they take off.

Evans also cited examples of innovations in healthcare and surgery from Kenya, including digital "health wallets," which allow patients without health insurance to pay for healthcare with an e-wallet on their mobile phone. The wallets, which limit payments to healthcare expenses at accredited clinics, can be funded by family and friends. "This is a simple way to make sure that financial burdens will not keep people from safe delivery," Evans said.

Participants in a panel discussion, which included a surgeon from Ethiopia and also representatives from industry, academia and the nonprofit sector, agreed on the importance of scaling up the use of checklists and gathering data such APGAR scores — which measures how a baby is doing after birth — to improve results. "Without measurement, you cannot manage," said John Meara, professor of global surgery and director of the Program for Global Surgery and Social Change at Harvard Medical School.

Pierre Theodore, vice president for medical devices at Johnson & Johnson, pointed out the importance of focusing on supply chain, logistics and management, and cautioned countries not to despair if results aren't immediate. He said that poor resources and cuts to administrative layers to save money can worsen the problem and lead to a vicious circle. Added Meara: "Do not get discouraged. These cultural and educational changes take time, but they are important."

Jhpiego reported that before June 2016, when it started working with the Dangila clinic where Endalew's baby boy was born, the staff lacked the skills and equipment, such as x-ray and ultrasound machines, to diagnose and treat surgical cases. With the group's mentoring and training, surgical volume has grown by over 50 percent, and surgical referrals caused by infections picked up during procedures dropped by more than 75 percent in just five months. The local community also raised $13,000 to help pay for an ultrasound machine.

World Bank's Evans urged everyone in the room to stay focused on how critical surgery is for maternal health. "There's no person more important to a society than a mother," he said. "We have no time to waste."
tags