Just as the brakes in identical cars identical wear at different rates depending on driver, usual terrain and traffic lights per typical journey, GE LM2500 gas turbines powering the Royal Australian Navy's surface fleet experience performance differences and repairs at varying intervals.
Why does one gas turbine perform somewhat better than another? Why does the timing of engine repairs on one ship differ from those of an engine of the same age on another ship?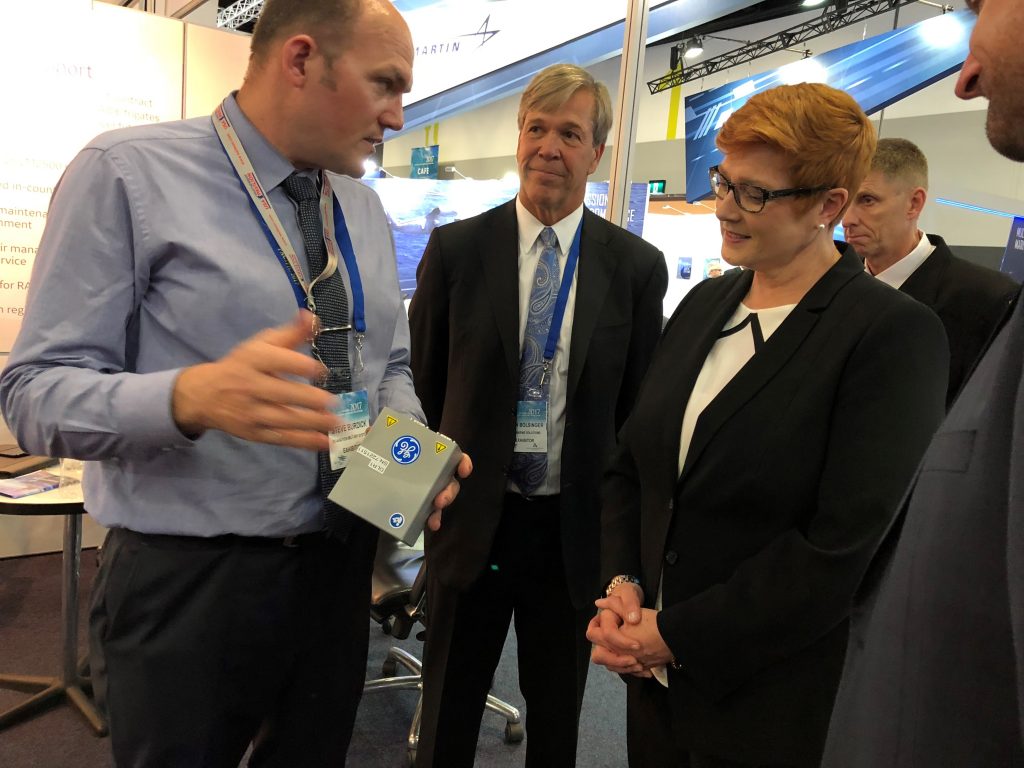 GE's Steve Burdick (left) and Brien Bolsinger (middle) with Australian Defence Minister Marise Payne at Pacific 2017 in Sydney. GE data loggers will begin gathering data this year by secure monitoring of GE LM2500s on the Royal Australian Navy's new Canberra Class vessels.

Until now, the RAN has had no definitive way of knowing, but a new collaboration between GE and CSIRO's Data61 will generate data views that  provide operational insights to manage costs of running the engines while also maximising reliability and availability.

"It's never been done before," says Tom Durick, Data61's manager of business development and commercialisation, of the collection of data from Australian naval engines.

The project will improve operational efficiencies of the RAN fleet, and also represents an innovation learning for CSIRO's digital research network. One of Data61's primary aims is to help Australia create new technology-based industries that can find a global market.

"In the long term there is enormous potential for further advanced data analytics tools to be developed here in Australia that can be applied to other GE-designed military and commercial marine engines," says Brien Bolsinger, vice president of GE Marine.

GE Marine gas turbines are used by 35 navies worldwide, including the United States, New Zealand, Japan and South Korea. More than 1,450 LM2500 engines have been delivered; and have collectively more than 15 million operating hours in service. They reliably operate the world over in the most arduous conditions.

Originally developed from the GE CF6 aircraft engine, the marine gas turbine was designed for an industry that demands durable light-weight components and superior fuel efficiency from its engines.

The LM2500 is continually updated with the latest technology, and has become the navy powerhouse of choice in an environment where its attributes are prized. Of particular note is its superior weight-to-propulsion ratio.

The aim of the GE-Data61 partnership is to "continually monitor the performance of each engine, with the resulting analysis yielding significant fuel savings, increased time between repairs and improved reliability across the fleet," says Steve Burdick, program manager for GE Aviation Marine in Australia.

To this end Data61 will develop an application to process data captured from an array of sensors on the LM2500 gas turbines. Collecting readings such as temperature, pressure, flow and vibration, and using advanced predictive analytics to identify where improvements can be made.

Durick says the algorithms developed by Data61 will be based on "normal readings for each sensor, deviations from the norm and known indications, and the deep domain expertise that Steve Burdick and his team of service engineers have amassed" in their support of the RAN's marine gas turbines.

Through a multi-year support agreement with the RAN, GE also provides onsite field service, warehousing and inventory management of spare parts as well as depot-level maintenance provided in partnership with Air New Zealand Gas Turbines.

It covers the LM2500s on the RAN's eight Anzac Class frigates, the remaining three Adelaide Class frigates, and the two Canberra Class Amphibious Assault Ships (also known as Landing Helicopter Dock or LHD ships).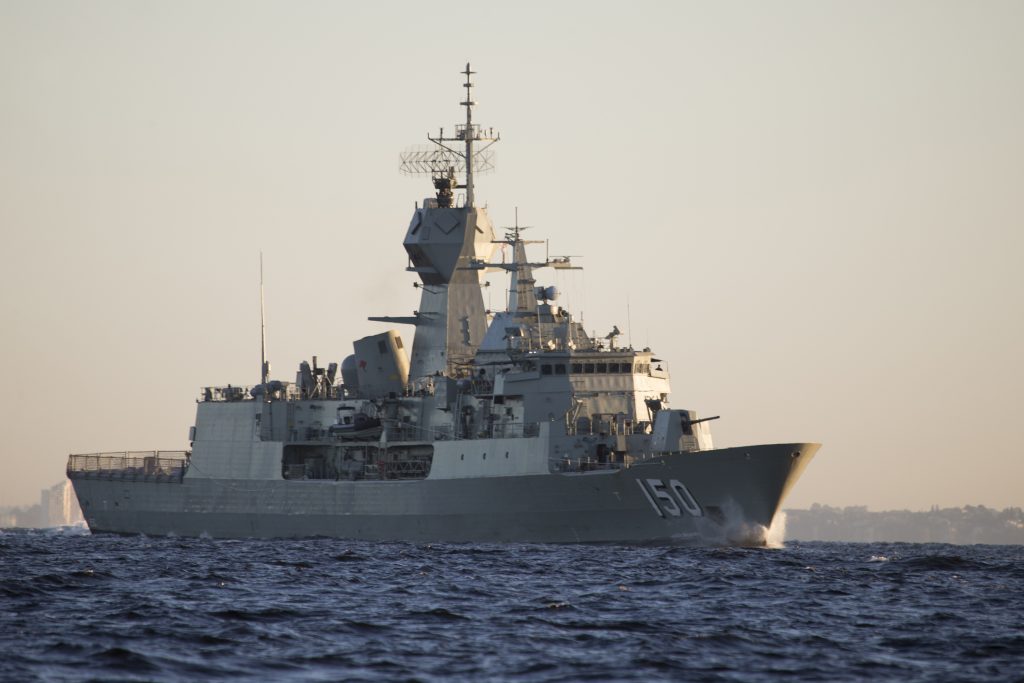 GE supports the Royal Australian Navy's LM2500 engines on its eight Anzac Class frigates, remaining three Adelaide Class frigates, and the two Canberra Class Amphibious Assault Ships (also known as Landing Helicopter Dock ships). Photo credit: Royal Australian Navy
The GE-Data61 project will begin gathering data this year by secure monitoring of the LM2500s on the RAN's new Canberra Class ships.
Even the data from one engine can, over time, offer insights to improve performance of engines across the fleet. "It may be that more frequent water washes of the turbine can be shown to result in significant fuel savings," says Burdick, referring to a maintenance procedure used to clean the turbine blades, vanes and other surfaces of atmospherically acquired particulates that create resistance and reduce power.
"When we start looking at the data and developing these useful tools, we're going to find insights along the way," adds Burdick. "With programs GE has in aviation, they may have started by looking at the data for compressor efficiency, but then they'll find a spin-off from that — another connection will reveal itself. We want to try to get the obvious things, but we're intent on uncovering the innovation side of this."
In addition to reduced fuel consumption and enhanced performance on the water, the data analysis is expected to highlight opportunities, such as improved performance, increased reliability due to enhanced understanding of component durability and functionality, and lower maintenance costs.
Adrian Turner, CEO of Data61 said at the launch of the project at this year's Pacific 2017 industry exhibition, "This partnership is a great example of how insights from data can be used to transform existing industries like defence, where cost savings from operational efficiencies can provide significant economic gains as well as serving the national benefit."
tags