As Murray Adams, manager of operations, analytics and reporting at Qantas walked back through the great tech hall of
Minds + Machines 2016
, last Friday on his way to dinner in San Francisco before hopping a flying kangaroo for Sydney, he checked for: tickets, passport and valuable takeouts from the two-day festival of digital-industrial ideas and insights. Here he shares five of the standout messages he'll be unpacking for colleagues back on home ground.
Delegates explored the digital developments in other industries—and there were ideas aplenty to steal—in the main technology hall of GE Minds and Machines 2016.
1. The digital-industrial world is connected!
"When I walked through the door of the main tech hall at Minds + Machines, I saw booths and displays from the different GE businesses—all demonstrating their capabilities. It gave me a great overview of what's happening in GE Digital across a vast range of industries," says Adams.
"One of the really beneficial aspects of this for me," he continues, "was seeing, not just what's happening in aviation, but what's going on in oil and gas, renewables, rail and manufacturing."
In the Intelligent Environments space he observed how GE's recently formed
partnership with Schindler
, the global manufacturer of elevators, escalators and travelators (moving walkways) had lifted the game on analysing data for greater fault prediction and improvements in uptime of the company's assets. Around a million of Schindler's people movers have been connected using Predix, GE's cloud-based software and analytics platform to securely store and sift the data for multi-layered insights.
Adams most liked what he saw in the made-for-Schindler digital dashboard: "The way the data is presented could translate across any industry," he says. In aviation, the overview of aircraft movements and performance is already well represented, says Adams, "But if we could connect some of our other systems and inputs — like catering trucks and baggage carts — with data feeds, we could get that whole-of-operation picture on what's happening and how the operation is performing."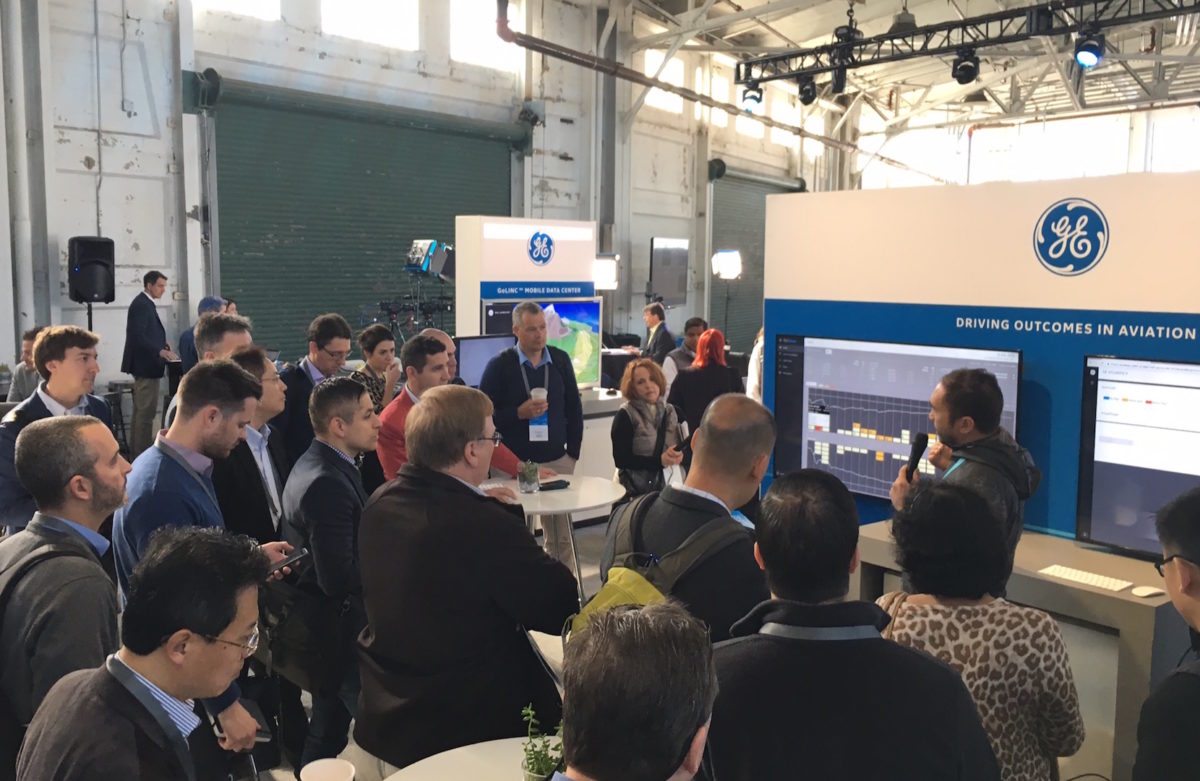 Andy Rector, senior director of Software—Intelligent Airports at GE Aviation, Digital Solutions demonstrates Aviation Digital apps for airlines.
2. Data is the competitive edge
Adams says one of his lasting impressions of Minds + Machines will be "the power of the speakers". He recalls
Beth Comstock
, global vice chair of GE, opening the conference on Tuesday with an address titled
The Art of Transformation
.
"She was talking about the pace at which industry and the digital world is changing, and just how quickly business needs to be continually evolving—not only to keep up, but to be ahead of the curve, leveraging it to your advantage.
"That," he says, "is a really powerful message." As Comstock referred to the volumes of information being produced by the industrial world and how only a fraction of it is being interrogated and productively applied, Adams says, "It made me think, what are the possibilities if we were to use more of the data that's available?"
"The volume of data that's currently coming off aircraft, and the way in which GE can take that data and turn it into insights, allows us to see what changes we could make. Without the GE tools, we wouldn't be able to do that as quickly." Murray Adams, Qantas
3. Dubai is a fascinating stopover
One Minds + Machines session—
Airline flight disruptions: Get back on track faster with
Predix
—would have caught the eye of any frequent flyer, and had particular resonance for Adams.
"It showed how FlyDubai and GE had worked together to understand flight disruptions, the cost of those disruptions and how they could be better managed. The analysis took into account if there were multiple flights disrupted which of those had the highest impact in terms of misconnecting passengers and the costs to the operation.
"It was a really interesting application of bringing in multiple datasets and truly understanding more than one component," says Adams. He adds that the analysis by software running on Predix, GE's operating system for the Industrial Internet, allowed FlyDubai to discover that "Where it had often cancelled a particular route, intuitively thinking that it had the smallest impact on the airline's operation, the impact actually varied from day to day, based on the number of passengers with connecting flights."
Such insights, says Adams, are only possible when multiple streams of information are combined. And that data load can now be managed where the Industrial Internet, cloud computing and domain expertise meet.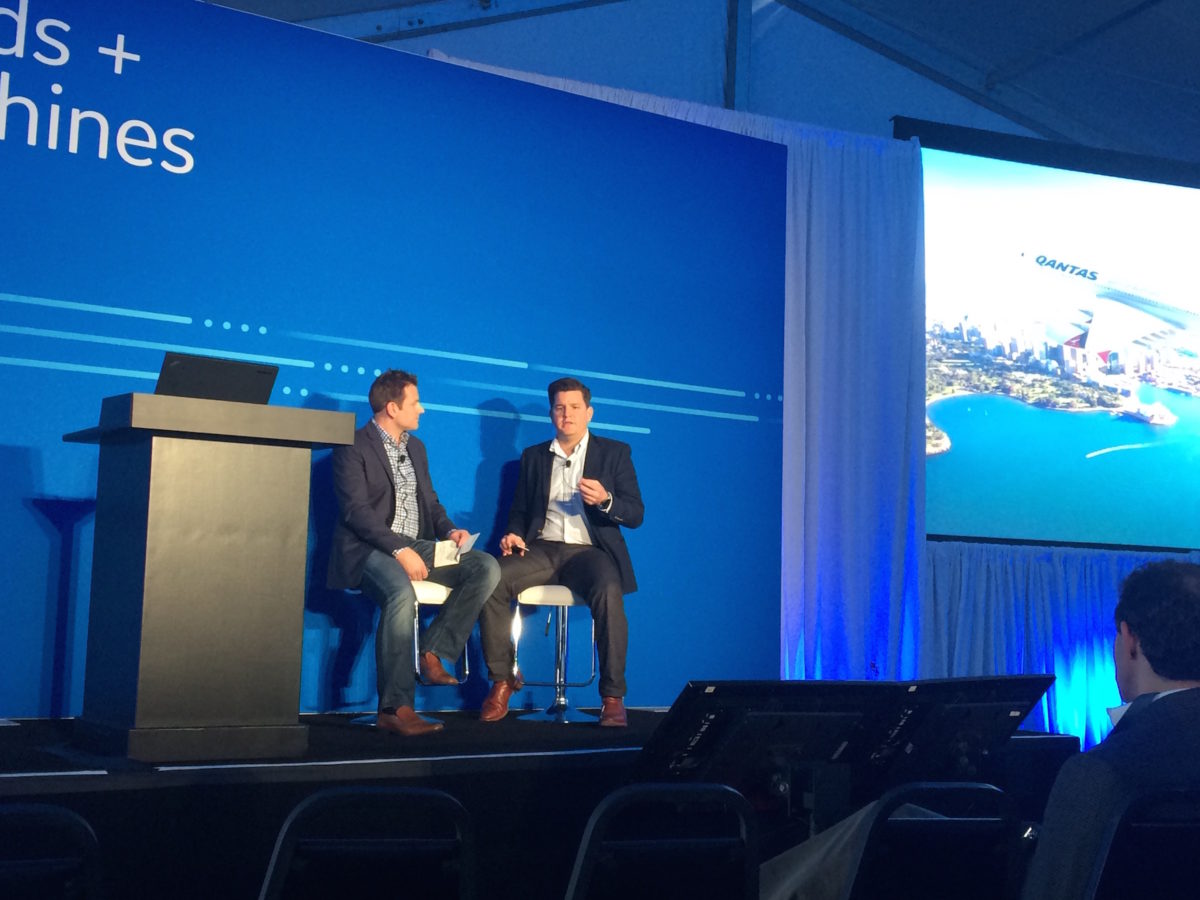 Murray Adams, manager of Operations Analytics and Reporting at Qantas, onstage with GE's Joel Klooster at Minds + Machines 2016, discussing the fuel efficiencies and operational benefits that have resulted from the airline's long partnership with GE.
4. Partnerships fly higher
A pilot app that keeps captains and co-pilots in the efficiency-driving data loop and provides them ongoing, easily assimilated insight into the airline's operation, is the first of several projects that Qantas is working on as the foundation partner in
GE Aviation's digital collaboration centre
inaugurated in Austin Texas in September this year.
It was just one of the aspects of the Qantas-GE partnership that Adams discussed onstage with GE's Joel Klooster in the Q&A session
Driving disruptive outcomes in aviation,
at Minds + Machines 2016.
He explained that fuel-efficiency programs aren't new to Qantas. Decades of in-house programs and collaboration with GE to optimise engine performance and flight paths meant that, "The easier wins are gone!
"Now it's about how we can harness data to make smaller but repeated gains that add up to a large overall saving." He says there was recognition at the conference that even small gains in fuel efficiency can add up to significant cost and emissions benefits when multiplied across a fleet, whether that's a fleet of aircraft, or of trucks and mining machinery, or trains in a rail network.
5. Software is no longer OSFA
One-size-fits-all, or off-the-shelf applications don't cut it for extracting deeper benefits from data analysis, says Adams. There may be thought processes, or modules of code that can be applied across industries, but he says, "being able to come to the table with GE in a collaborative way, working with design thinking and considerations of user experience" that are tailored to Qantas's systems and workforce, delivers the results Qantas needs.
"Being able to talk to the GE team about some of the examples I've seen at Minds + Machines, ways of using data in lifts and in renewables, and cherry picking the benefits for translation into to solutions that address challenges in aviation—I think that's the real power of our collaboration."
Lead image: Delegates explored the digital developments across industries—from aviation to manufacturing—in the main technology hall of GE Minds + Machines 2016.
tags