Two innovative corporations are better, bigger and more influential in solving global problems than one. GE today became a foundation partner in the
Qantas Future Planet Partnership,
which aims to both reduce and offset carbon emissions and encourage wider participation in a sustainable future. It's not the first time the two influencers have collaborated to shift the gauges on fuel burn, emissions and optimism.
"GE is one of our greatest sustainability partners—GE and Qantas know how to collaborate," says Alan Milne Qantas head of Fuel and Environment at Qantas. Milne has worked with GE for some 12 years in his previous roles as head of engineering, head of maintenance and as 747 fleet manager.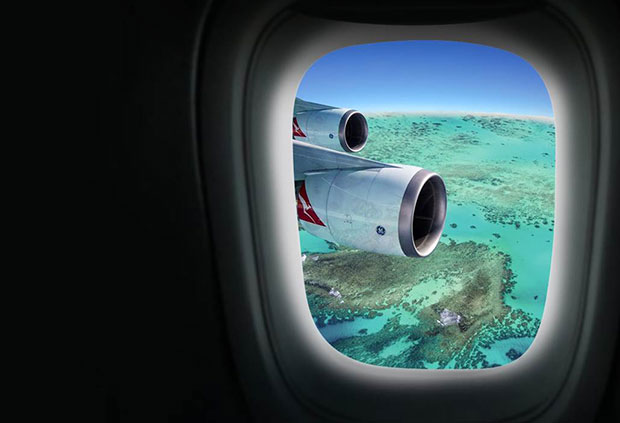 GE's initial commitment to the Future Planet partnership is to offset all emissions from the company's global Qantas-ticketed corporate travel. In turn, through the partnership, it will gain access to more than 40 verified, accredited offset projects around the world, such as protecting Papua New Guinea's rainforests, developing renewable energy sources and restoring catchment areas that contribute to the health of the Great Barrier Reef.
"Successful sustainability initiatives empower customers, employees and investors, and create ways for them to feel more satisfaction from their association with the company." Professor Michael Hiscox, Harvard STAR Lab
Both GE and Qantas are leaders in reducing carbon emissions. Qantas has offset its own corporate travel and ground-fuel emissions since 2007. From 2009, it was the first airline to
offer customers
the ability to offset their share of carbon emissions of every flight through a certified program. Its combined programs have so far offset 2.5 million tonnes of emissions.
At the same time, Qantas, with more than 95% of its emissions generated by burning jet fuel, leads the airline industry in strategies to reduce its fuel burn. GE engines power two-thirds of the Qantas fleet and Qantas-GE collaborations have delivered steady incremental efficiencies in engine and flight operations.
"GE's overarching global sustainability initiative,
Ecomagination
, was introduced in 2005," says Max York, managing director of GE Aviation in Australia, New Zealand, Indonesia and the South Pacific. Since then, the company has invested more than $US17 billion in clean R&D.
The
GEnx
aircraft engine, which powers Boeing 787s used by Qantas offspring Jetstar, and is on order to uplift Qantas' new 787-9 Dreamliners, is one of many Ecomagination products that "represent a step change in either energy consumption, emissions or both", says York. "The GEnx is 15% more efficient than its predecessor, and also delivers a really big reduction in noise, which is another a key environmental impact."
"Qantas engages with consumers, big business, government, and the financial and not-for-profit sectors. We're in a unique position to reframe sustainability for those audiences." Alan Milne, Qantas



Deploying GE technology is part of Qantas' strategy to maintain one of the world's most up-to-date and therefore fuel-efficient fleets. Qantas also uses GE's

Required Navigation Performance

(RNP) system, to reduce fuel burn by optimising flight paths. "GE is focused on improving the efficiency of our customer operations. RNP calculates the most direct and fuel-efficient paths, particularly for take-off and landing," says York.





This year, Qantas and GE took their collaboration deeper into the possibilities offered by digital analysis on an industrial scale, when Qantas became the launch partner in GE's new

Digital Collaboration Centre

in Austin, Texas.





Apps built on GE's Predix platform will explore hitherto hidden pockets of inefficiencies in fuel burn of aircraft in the air and during airport operations on the ground. Even small percentage fuel savings can make a significant difference to carbon emissions and operating costs when multiplied across Qantas' entire fleet and global airport network.





Neither company, says Milne, "is sitting back and just offsetting here and there". Sustainable operation has become part of their core business models and their brand identities.





Qantas Future Planet carbon-offset partnership, like

GE Ecomagination policies

, has been designed to be transparent and effective. Qantas identified the steps to sustainable leadership as: scientifically measuring the company's carbon footprint; continually reducing emissions and resource use wherever possible;

offsetting where possible when resources can't be saved, and inspiring others to act.



Joining with other similarly motivated organisations, "serves as a much stronger signal of the importance of the endeavour. It also offers more potential opportunities for exciting cross-sector innovations that will touch multiple parts of our lives," says Michael Hiscox, Clarence Dillon Professor of International Affairs at Harvard University in the United States, who has for the past five years been

collaborating with and advising Qantas on formulation of its sustainability policies and projects.





For both partnerships and the community, says Hiscox, "Operational transparency and open accountability are key to creating trust."

His research with the Harvard Sustainability, Transparency, and Accountability Research (STAR) Lab has shown that trust is the essential ingredient to influence public buy-in.

"Corporations need to find ways to 'show the work' that they are performing in ways that are not completely controllable or manipulable by them."





Funds generated by Qantas partner and customer offsets are directed to independently verified projects that adhere to rigorous scientific methods of carbon reduction, capture or minimisation.





The North Kimberley

indigenous fire-management project

, for example, supports indigenous landowners in the region to reduce carbon emissions through traditional fire-management techniques that avoid the catastrophic release of emissions by extreme wildfires.





"Such programs must have a strong governance process that shows they are actually providing the outcomes—community outcomes and emissions outcomes—that Qantas, its partners and its customers desire," says Milne.



"An effective campaign must also have a strong emotional appeal – or multiple appeals – that generate pride, joy, hope, surprise, amusement, and excitement." Professor Michael Hiscox, Harvard STAR Lab
The flow-on effects of corporate leadership in sustainability, and telling the stories of independently verified successful projects are multiplied through more engaged and satisfied customers, and employees, says Hiscox. Trustworthy sustainability programs developed by large, innovative companies send a strong signal that can effectively combat drop-in-the-ocean mentality. Hiscox describes the feeling: "I'd like to do something, but whatever I do it's going to be so small compared to the problem that I'm not sure it's worth it."
Hiscox says, "One of the great things about major companies coming together with big platforms is it offers more hope and excitement for individuals to see that there are solutions and that they can be a part of those solutions."
Since 2007, Qantas has offset 2.5 million tonnes of carbon emissions. This video gives you an idea of what that looks like.
tags