GE released second quarter results today. Industrial operating plus GE Capital verticals earnings reached $0.51 per share, up 65 percent compared to the second quarter of last year. GE Chairman and CEO Jeff Immelt also reaffirmed the company's operating framework for the year.
The company also announced that it has returned $18 billion to shareowners for the year to date, including $13.7 billion through a share buyback and $3.7 billion through dividends. In the quarter, GE's backlog of orders grew to a record $320 billion, up 17 percent since the 2Q'15.

Immelt credited GE's "strong and balanced" portfolio, saying that its "diversity and scale … enabled the company to perform despite a volatile and slow growth economy." Strong performance of GE's Power, Aviation and Healthcare businesses relieved heavy market pressure on GE's Oil & Gas and Transportation units. Just last week at the Farnborough Air Show in England, GE and its partner companies—primarily its joint venture with Safran Aircraft Engines of France, CFM International—announced orders and commitments valued at $25 billion at list price.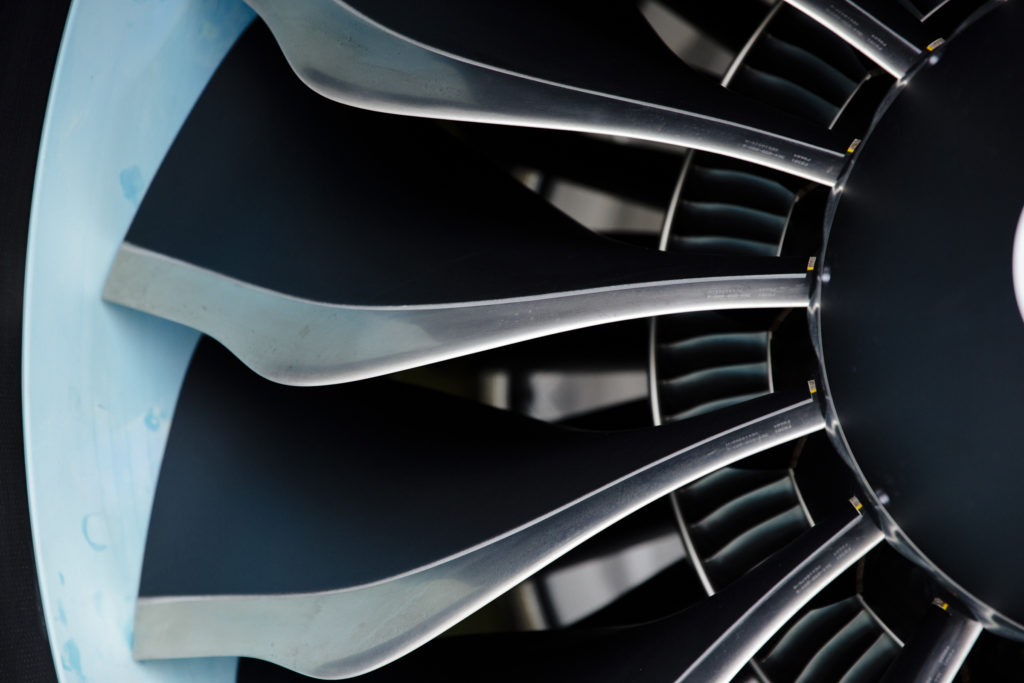 Boeing debuted its next-generation Boeing 737 MAX last week at Farnborough. The planes use two LEAP jet engines with 3D-printed parts and space-age ceramics. The engines were developed by CFM International, a joint venture between GE and Safran Aircraft Engines of France. Below: A close-up of the carbon-fiber composite fan on the LEAP-1B jet engine. Images credit: Adam Senatori for GE Reports

The latest GE and CFM jet engines, such as the GE9X—the world's largest jet engine— and the LEAP, are benefitting from innovations such as 3D-printed fuel nozzles and parts made from ceramic matrix composites. These technologies help the LEAP, which will power Boeing, Airbus as well as COMAC planes, achieve 15 percent more fuel-efficiency than other similar engines made by CFM. It's also quieter and emits less pollution. To date, CFM has received orders and commitments for more than 11,300 engines valued at nearly $160 billion. The first delivery of a LEAP-powered Airbus A320neo to a commercial airline took place this week.

In the quarter, GE Power was also awarded the Guinness World Record for power plant efficiency in a power station featuring its latest 9HA gas turbine. The EDF facility in Bouchain, France, hit 62.2 percent efficiency—the power generation equivalent of besting Mike Powell's "jump for the ages."

The turbine's performance is also good business. In just this year, GE signed 11 HA turbine orders. Together, the could power the equivalent of more than 4.5 million homes.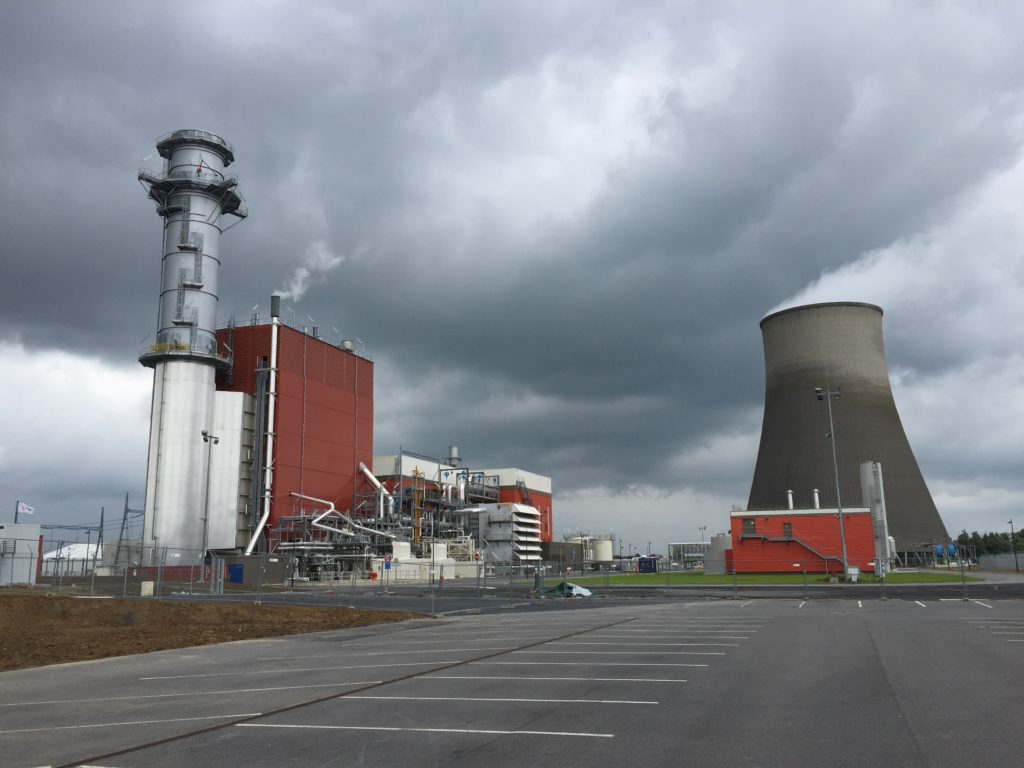 The world record-breaking power plant in Bouchain. Image credit: Tomas Kellner/GE Reports

Other GE Power innovations such as GE's ultra-supercritical technology, which it acquired with Alstom, and software for coal-fired power plants will allow utilities in Asia and other parts of the world to operate more efficiently and help customers meet climate goals. A deal to provide technology for a 2,400MW ultra-supercritical coal plant in Dubai, for example, will efficiently increase the city's total power supply by a 25 percent.

Power plants are also a good example of GE's transformation into the world's top digital-industrial company. Its "digital twins" of wind farms and power stations, neural nets for coal-fired boilers and other software are the result of GE Digital's $1 billion investment to develop Predix. The cloud-based software platform allows GE businesses and their customers to connect locomotives, medical scanners and entire "brilliant factories" to the Industrial Internet, collect and analyze data and make them run more efficiently.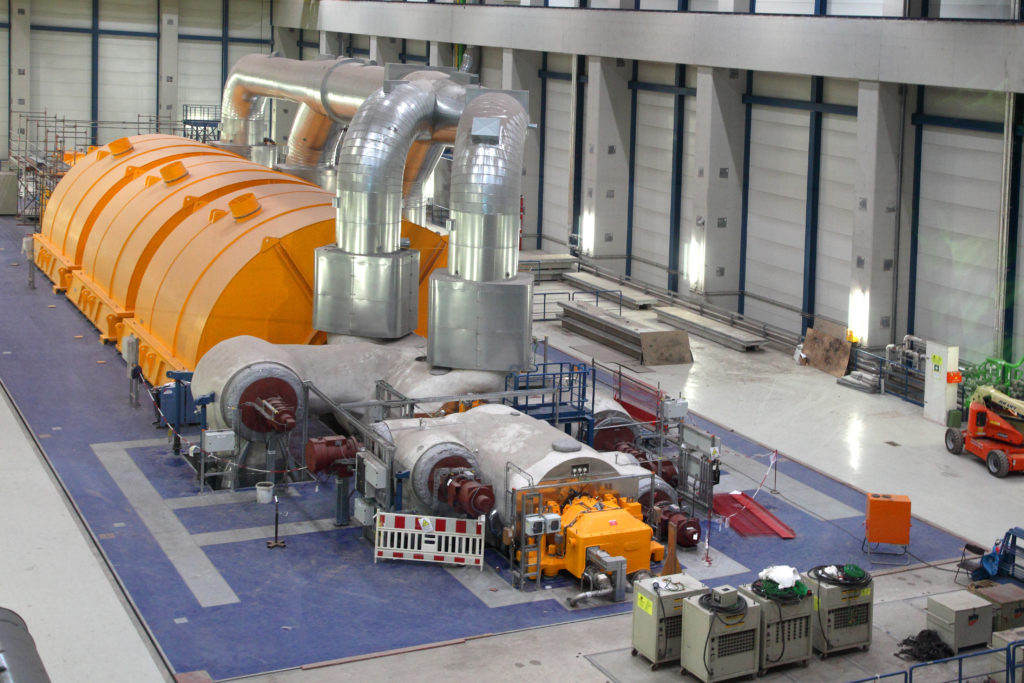 An ultra-supercritical steam turbine at the RDK8 power plant in Germany. RDK8 is the world's most efficient coal-fired power plant. Image credit: GE Power

Earlier this year, GE Digital opened Predix to outside developers in the first quarter and currently has close to 12,000 developers registered to use the platform, on track to reach the 20,000 developers target at the end of the year. GE has also partnered with companies like Microsoft and Intel.

GE's digital transformation is happening at the same time as the company is leaving the lending business. Through the second quarter, GE Capital has signed deals to sell assets valued at $181 billion, ahead of its original plan. The company expects the deal total to reach $200 billion by the end of the year.

Since 2012, GE Capital has reduced its assets from $549 billion to less than half of this size. On June 28, the Financial Stability Oversight Council "de-designated" the financial unit as a Systematically Important Financial Institution (SIFI). "Our de-designation gives us more balance sheet flexibility," Immelt said. "We will continue to invest in key growth initiatives such as GE Digital, while returning about $26 billion in cash to investors through buybacks and dividends."

Subscribe to GE Reports and receive more stories from GE.


Categories
tags