I arrived in Lagos a few weeks ago as part of Points of Light's partnership to support GE Garages Nigeria, an initiative through which GE is using the leading edge of its business—principles of open innovation and technologies in advanced manufacturing—to spur job growth and build entrepreneurship in Nigeria.
The launch platform in which I participated was a pop-up, three-week innovation and manufacturing center where aspiring makers, entrepreneurs, and students could go to develop new skills and learn about advanced manufacturing technologies.

Points of Light's job is to help connect the volunteer skills, talent, leadership, innovation, and compassion of GE employees to the development of the power-sector workforce and the growing number of tech manufacturing entrepreneurs in the country.

GE understands that building Nigeria's human capital will be critical to solving the near 25,000 MW shortfall of power generation capacity in its recently privatized power generation sector—a critical issue that GE has also committed to address.

The last time I was in Africa was nearly 15 years ago when I was working for Deloitte as a strategy consultant in the energy sector. It was there that my passion for volunteering took root through a connection I made with Paradise for Street Kids, a shelter for 120 boys age 4-18 in the heart of Johannesburg, South Africa. I helped with math and English homework, got other colleagues involved, and adopted a "little brother," Tinashe, who is still part of my family today. It is uncanny how life has brought me full circle.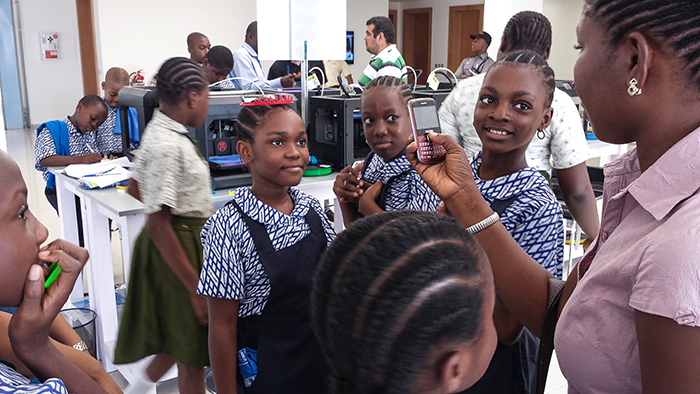 During the week I spent as part of the Nigerian Garage, I was privileged to witness the powerful beginnings of a social change initiative that exemplified the best of what companies can do to address broader social issues where they do business.

GE Power & Water executives met with government ministers and business partners to discuss their shared commitment to building both infrastructure and human capacity in the country. Tech entrepreneurs and angel investors met within the Garages space to develop strategies for catalyzing start-up growth with the support of GE resources.

Leaders from one of Nigeria's top technical institutes and Dangote Foundation formulated plans with GE for the long-term skills-building initiative that the three-week Garage will launch. And school children designed a lighter-weight prototype for a generator they had created that converts urine to power. They also prototyped easy-to-make tiaras.

All the while, GE field engineers, operations managers, power generation salespeople, and HR and finance professionals worked on plans to engage the skills and passion of GE Volunteers, 300 strong in Nigeria and 60,000 strong around the world, to improve the lives and capabilities of the mechanical and electrical engineering trainees, tech entrepreneurs, and students.

The currency across all of these connections—and something that had not been known to me—was how quickly Nigerian people are to laugh. Many times throughout the days, ebullient outbursts drowned out the noise of the manufacturing equipment.

It's clear to me that there is a lot of work to be done. It's also clear that there is excitement, creativity, passion, and laughter—in equal measure—to sustain this effort along the way and to ensure its success.

Gared Jones is vice president of global service at Points of Light, the largest organization in the world dedicated to volunteer service.



tags