Just a decade ago, the idea of 3D printing metal parts directly from a computer file seemed like science fiction to many people. But the technology is quickly growing up. There are few better examples of its promise than the GE Catalyst, a new advanced turboprop engine GE Aviation started testing in December. More than one-third of the engine will be 3D printed from various metals.
These parts are no knickknacks you can put in your pocket. They weigh several pounds each, and one — a case for a gearbox — is as large as a lampshade. They were all printed at GE Aviation's Additive Technology Center in Cincinnati. The ATC is one of the world's largest and most advanced additive manufacturing factories. The 150,000-square-foot facility employs 300 engineers, designers and technicians and holds more than 75 3D printers, including six of the largest printers in the world. "I was a little skeptical at first because the technology is so new," says Massimo Giambra. "But when I finally went there, I was completely astonished."

Giambra is an engineer at Avio Aero, an Italian company that GE Aviation acquired in 2013. At his office on the outskirts of Turin, Giambra and his colleague Fabrizio Bussi are responsible for designing some of the GE Catalyst's key 3D-printed parts, including the accelerator, a gearbox, and the combustor swirler, which mixes fuel with air in the engine. They are both 36 years old and like most engineers exploring additive manufacturing, they didn't study 3D printing at university. "No one did," Giambra laughs. "When I was getting my engineering degree, there was not a single additive course. We are all learning on the job."

In many ways, that can be a benefit. "You don't have to follow some true-and-tried path because it's always been done that way," Bussi says. "Additive is so new and so revolutionary. When you embrace it, it frees your mind and frees your hands. It's exhilarating."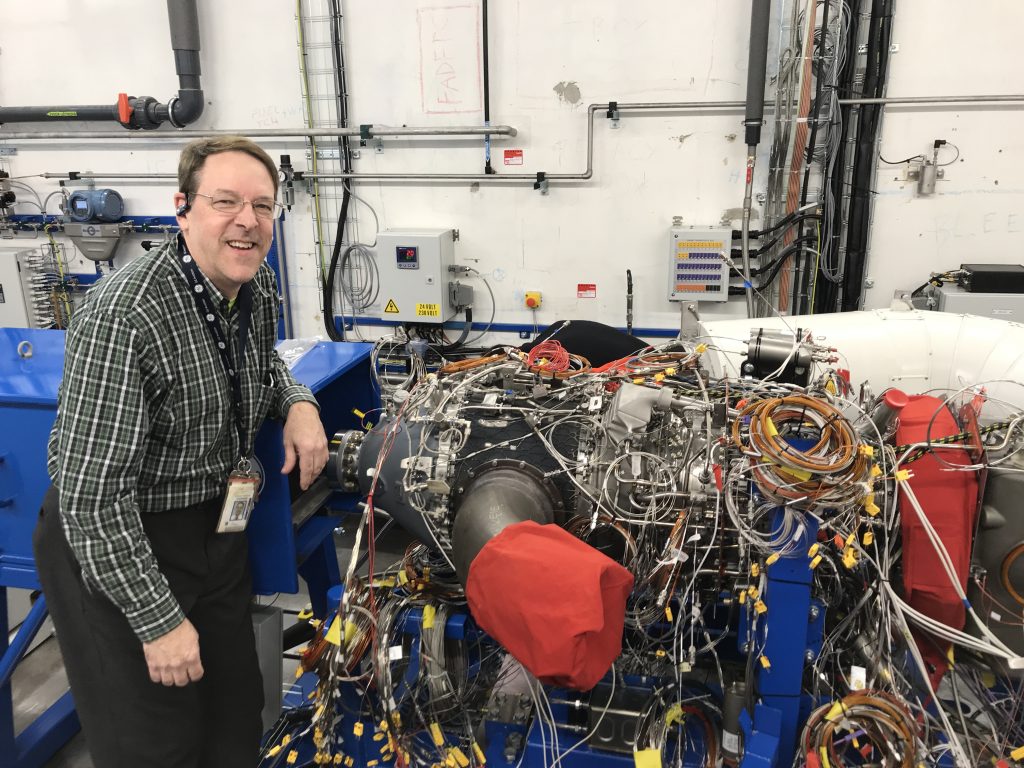 Top: Bussi (left) and Giambraare are both 36 years old and like most engineers exploring additive manufacturing, they didn't study 3D printing at university. "No one did," Giambra laughs. "When I was getting my engineering degree, there was not a single additive course. We are all learning on the job." Image credit: Yari Bovalino for GE Reports. Above: Test engineer Steve Erickson with the GE Catalyst at a test stand in Prague. Image credit: Tomas Kellner for GE Reports.

The pair and their team didn't resort to 3D printing because they wanted to play with a shiny new thing. The technology allowed them to speed up development by printing viable prototypes, testing them, tweaking them and repeating the process in just weeks. They could also come up with designs that were previously too expensive or impossible to make. For example, they used it to print the swirler as a single piece, instead of building it from four components, shaving off weeks during development. "In the past, design engineers were always asking themselves: Can the factory actually make this?" Bussi says. "Those constraints are gone, and shapes that in the past looked too fancy are perfectly possible now. The benchmark for us now is achieving the most optimal design."

Traditional manufacturing techniques like drilling and milling remove material to finish a part. Achieving complex internal shapes, for example, can be difficult. But 3D printers for metals can print hollow, lattice-like and other intricate shapes directly from a computer file, layer by layer.

Bussi's 3D-printed cover for the gearbox, for example, features tiny ribs and ridges on its surface that give the part structural strength and also allowed the designer to make the walls of the part as thin as 1 millimeter. As a result, the component weighs 15 to 20 percent less than a traditional part. "We were able to achieve thickness that would be impossible with forging and casting," Bussi says.

3D printing also allowed them to zip through development, iterating new designs in as little as three weeks. "For me, there's absolutely no comparison to traditional forging and machining," Giambra says. "Now you have one machine for everything, no more expensive casting and forging forms or specialized machines."


Jennifer Cipolla is GE Additive's global leader in charge of customer experience centers. She says that says that "within two very short years, the conversation around 3D printing has shifted from 'Why should I get into additive manufacturing and why is it important?' to 'Oh my gosh, my competitors are doing additive and I'm behind! How do I catch up?'" Image credit: GE Additive.

Giambra and Bussi say that Avio Aero and GE Aviation both had a head start in additive manufacturing. A decade ago, the Italian company acquired ProtoCast, a 3D-printing shop located near Turin. It also partnered with universities in the Italian city of Bari and in Turin to develop new 3D-printing applications and look for new ways to work with the metal powders used for printing. A few years later, it partnered with the polytechnics to build two labs: one for additive repair solutions in city of Bari, and another to study process and metal powders in Turin. Across the ocean, GE Aviation bought the American additive manufacturing pioneer Morris Technologies.

Still — despite all the progress the companies have made in Turin, at the ATC in Cincinnati and at Engineering Design Center in Warsaw, Poland — engineers on GE's 3D-printing vanguard say they are just getting started. "We knew that this isn't going to be an easy journey and we are still at the beginning," Bussi says. "But we are all working together, in Europe and in the U.S., and the results have been amazing." In fact, Avio Aero will open a new additive facility in Southern Italy inside its Brindisi plant in Apulia. It will print parts for the GE Catalyst on new machines from Concept Laser, a maker of 3D printers GE acquired.

On the GE Catalyst, for example, 3D printing allowed the designers to combine 855 separate parts into just 12. This breakthrough-- together with digital controls that allow pilots to fly commercial turboprop planes like jets and other new designs and technologies--will reduce the engine's fuel burn by as much as 20 percent and give it 10 percent more power compared with engines in its class. The GE Catalyst is launching a new era of turboprop aircraft design before it even takes off.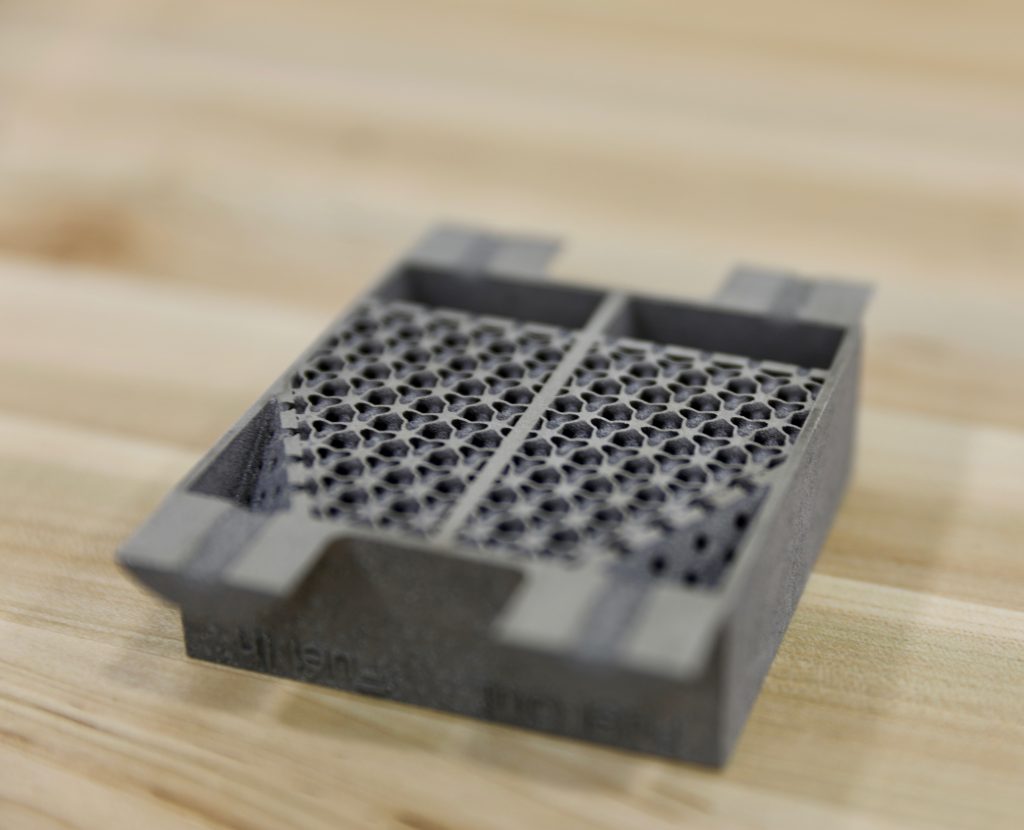 Traditional manufacturing techniques like drilling and milling remove material to finish a part. Achieving complex internal shapes, for example, can be difficult. But 3D printers for metals can print hollow, lattice-like and other intricate shapes directly from a computer file, layer by layer. Image credit: Tomas Kellner for GE Reports.
Categories
tags