The power grid — the world's largest machine — got its start when Thomas Edison turned on the generators at Pearl Street Station in Lower Manhattan on Sept. 4, 1882. That breakthrough gave us light after the sunset, healthcare beyond pills and a doctor's hands and, eventually, became the lifeblood for our phones and computers. Public safety, communication and commerce all depend on reliable and sufficient electricity and arcane features of the power system most of us never think about, like grid stability, are more than a matter of convenience — they can be a matter of life or death. And with our increasing reliance on unpredictable, intermittent sources of renewable energy such as wind and solar farms, things are getting trickier than ever.
These challenges will be front and center this week in Paris when CIGRE — the International Council on Large Electric Systems — hosts its biennial conference at the Palais des Congrès. Thousands of visitors, industry experts and top scientists will meet to review hundreds of research papers discussing the future of the electric grid and the power-generation industry. They will examine large high-voltage electric systems, which allow electricity to be transported in bulk with minimal power loss, and discuss ways to increase their reliability. Experts will also debate the latest advances in storing renewable energy for when it is needed on the grid to power our televisions and air conditioners, and how to modernize transmission and distribution systems.

"The power industry is going to change more in the next 10 years than it has in the last 125 — in the way we generate, transport, distribute and consume electricity," says GE Power Chief Digital Officer Steven Martin. "Digital is one of the most important ways we'll rise to meet these challenges — with new software, new technology innovations and new digital solutions to tackle the world's toughest energy problems."

At CIGRE, GE Power's Grid Solutions will demonstrate the culmination of its more than a century of technology advances, such as intelligent digital substations, through a variety of immersive virtual reality experiences. Visitors can don headsets and then virtually "fly" over a power system to see high-voltage direct current (HVDC) technology deliver wind power to shore, for example, or see what happens when an underground transformer fails.

GE is also showcasing products and services to make the grid transmit more renewable energy. A big part of that is creating new "electrical super highways" for the modern economy using HVDC electric transmission lines. While alternating current (AC) has long been the dominant method of shipping power over long distances, in recent years direct current (DC) has been used to transfer three times as much energy over longer distances more efficiently.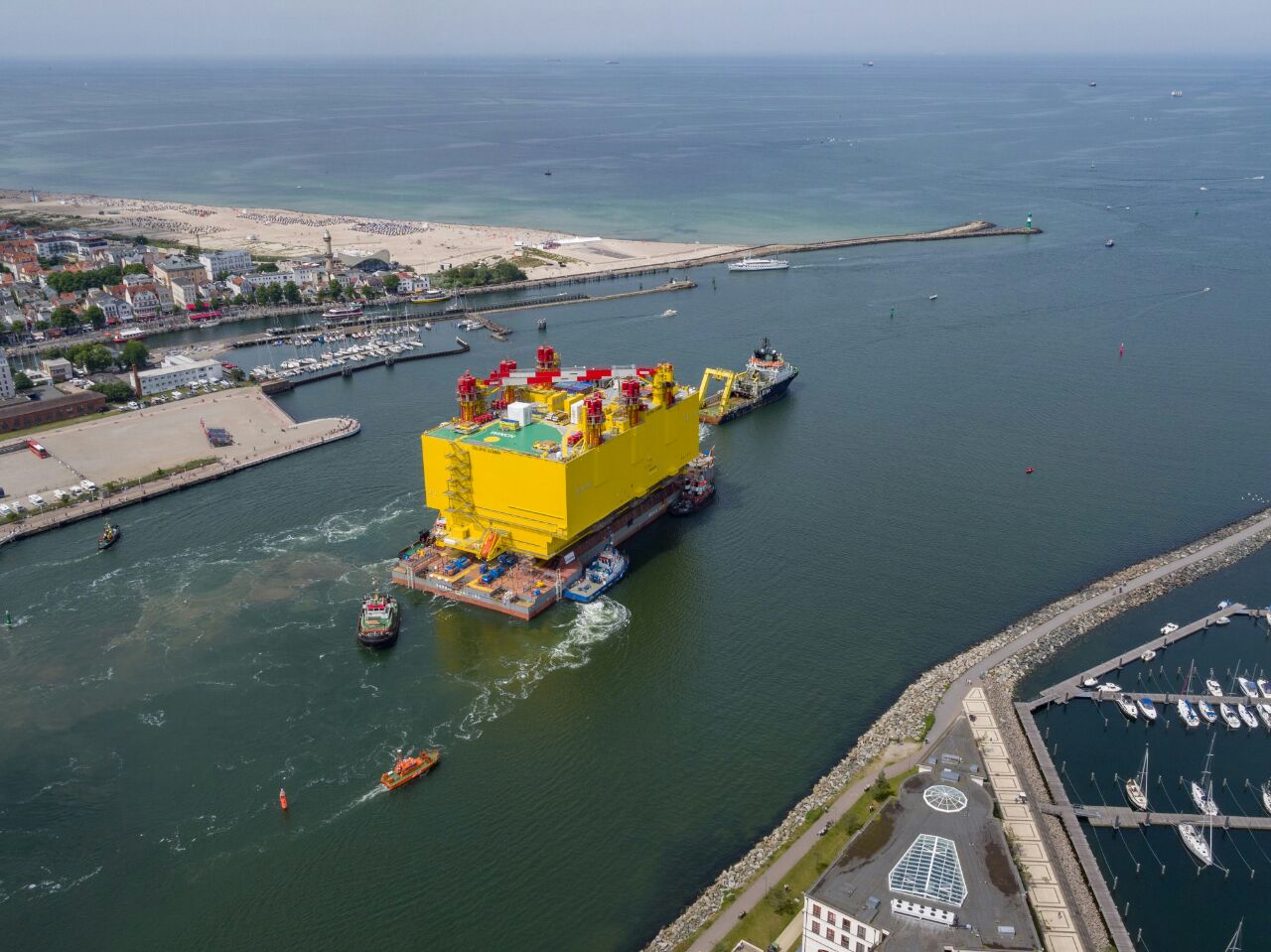 DolWin3 offshore wind project. The platform will switch alternating current (AC) generated by offshore wind turbines to high-voltage direct current (HVDC), sending enough energy back to shore to power about 1 million German homes. It took three tugboats to move the roughly 18,000-ton station to its destination in the German North Sea. Images credit: GE Energy Connections. Top: CIGRE is talking place this week in Paris. Image credit: Getty Images.

GE Power is at the forefront of this DC renaissance. For example, wind turbines in the German North Sea send electricity to a massive GE offshore substation, where it is converted from AC to DC. It's then transported over 50 miles of HVDC lines before being converted back into AC to power homes and factories. The technology is particularly useful in getting large amounts of electricity to shore from mammoth offshore wind farms because it has significantly lower electricity losses over long distances. This approach conserves more energy and can be more economical than long-distance AC transmission. The global HVDC market is valued at $6.2 billion per year but is forecast to reach nearly $14.4 billion by the end of 2026, according to research and consulting firm Future Market Insights.

Of course, if you're adding more renewable energy to the grid, it makes sense to transmit that energy using a method that does not emit high levels of greenhouse gases. So, GE is promoting a greener approach to insulating high-voltage equipment, using a special gas called g3 – or green gas for grid — as the insulator. That gas mixture replaces SF6 — a powerful greenhouse gas with high global warming potential that is commonly used as an electrical insulator — with far less impact on the environment.

GE is also presenting a variety of digital technologies that will help bolster the grid. Modular energy storage solutions store energy until it's needed — a growing necessity as more renewable energy flows into the grid. Flexible AC transmission systems add stability to the electric grid, among other things. Intelligent digital substations analyze real-time data coming from all the equipment in a substation so that grid engineers can move quickly if there is a problem. And new utility software can boost the operational efficiency of the grid by helping operators predict possible failures, schedule maintenance to happen at the least disruptive hours and even compare notes with colleagues in the field.

Like Wi-Fi, the electrical grid is one of those things that go unnoticed until they're not working properly. But it is the backbone of the energy value chain. "It is playing an increasingly more central role in enabling a growing footprint of clean energy resources in our generation mix," says Rathin Basu, chief commercial officer for GE's Grid Solutions. He says our rapidly changing energy landscape poses complex challenges.

"CIGRE is the world's most important transmission and distribution conference, where technical gurus of the grid from all stakeholder groups share best experiences and technologies," Basu says. "We're excited to be a part of this conference, connect with our customers and showcase our solutions for the global grid of the future."
Categories
tags