A few years ago, when Peter Green was recovering from shoulder surgery, he was determined to bounce back fully, insisting on getting the maximum physical therapy his insurance allowed. His exercises with a physical therapist after the procedure went great, but when it came time to do the strengthening exercises at his home in Helsinki, he just didn't do them. "Physical therapy is boring," Green says. "It often hurts. It's not motivating."
He's not the only one who feels that way. Multiple studies show perhaps only a third of patients fully adhere to physical therapy regimens, a percentage that gets worse with self-guided exercises at home. For Green, CEO of a family-owned digital marketing company, Sensing Ltd., his uninspired experience provided a flash of inspiration: Why not make a game of physical therapy as a way to seduce people to do their prescribed exercises?

The result is Rehaboo! a company that is testing physical therapy-based games at a large children's hospital in Finland with an eye toward improving health outcomes. Eventually, Green sees the company expanding to make a game of brief, beneficial exercise for the elderly and office workers.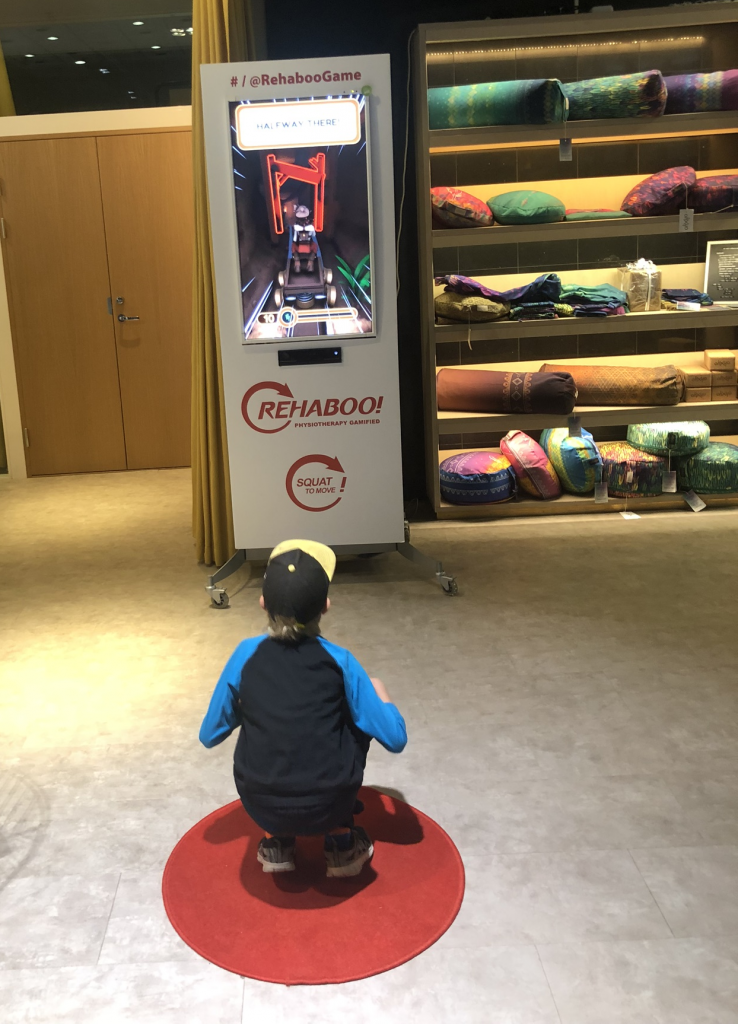 HIMSS & Health 2.0 Europe digital health conference in Helsinki this spring, getting even the vice minister of the Dutch Ministry of Health, Welfare and Sport to stretch and squat.

Gamification — making a game of something with a goal beyond entertainment — has been around in some form for at least a century, harkening back to when companies began giving loyal customers stamps and similar tchotchkes toward future merchandise. Over the past decade, gamification itself has become a multibillion-dollar business as organizations use video games as an enticing way to counter drug abuse or improve workflow in factories.

For Green, the opportunity to get Rehaboo up and running came when Helsinki University Hospital held a hackathon contest in 2016 on the theme of making its new children's hospital a happier place. Rehaboo won and started piloting with children there this May. Another health care pilot is starting in August at Finland's South Carelian Health Care District.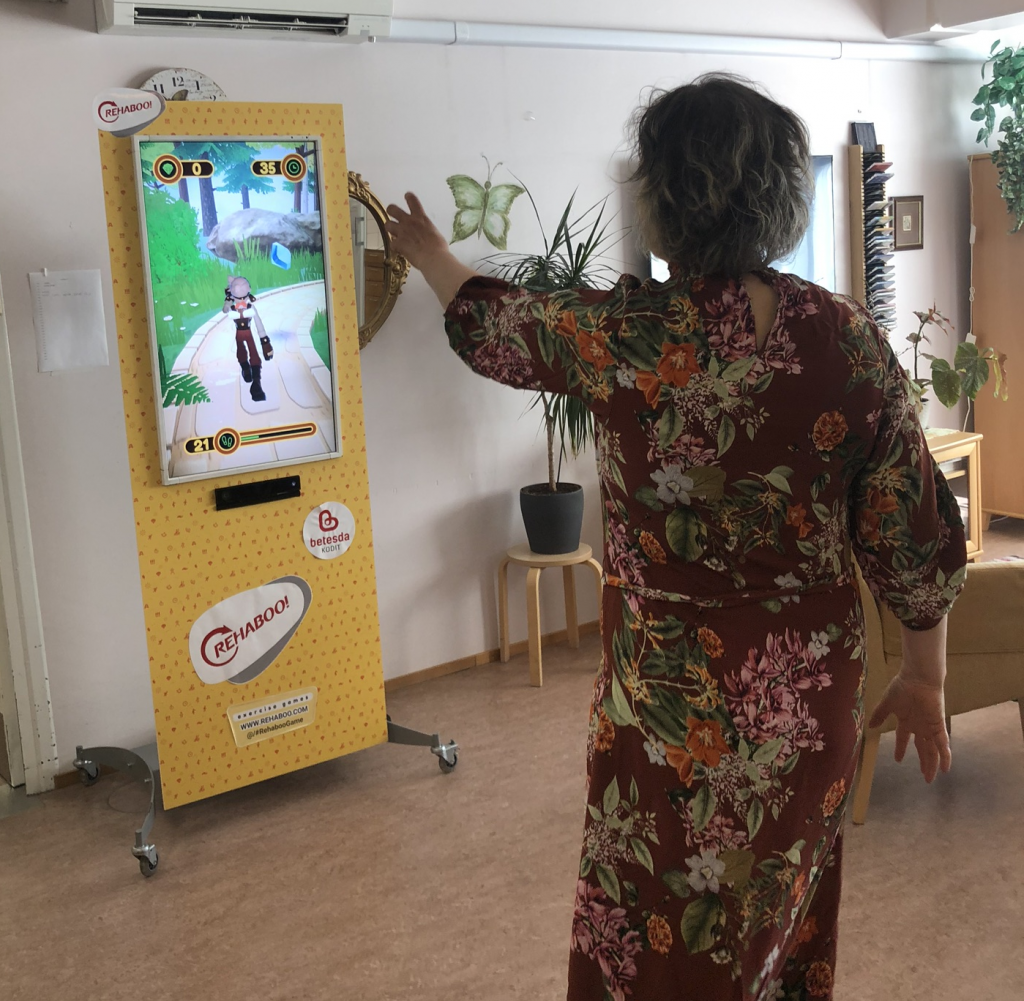 Health Innovation Village. The village is an incubator inside GE Healthcare's Helsinki offices, replete with meeting rooms, a basketball court and coffee bar. GE opened the facility in 2014 and now hosts more than three dozen startups all looking to shake up some aspect of health care. "Apart from being a really nice and innovative co-working space, one advantage is that GE Healthcare is right there," he says. "We can have a meeting with them and ask them about regulatory stuff and we can even join GE Healthcare people in their customer meetings sometimes, which is really a win-win."

At HIMSS & Health 2.0, GE even lent Rehaboo some space where it could show off its therapy games. As with most companies in the Health Innovation Village, the GE connection is simply collegial — Rehaboo is independently owned, with Green just having closed a recent round of venture capital funding with local investors.

Green hopes the children's physical therapy pilot will be a step toward European Union regulatory approval, which would make it simpler to sell into medical establishments. In the meantime, he plans to open offices in Denmark this year and in Austin, Texas, in 2020 as part of expanding Rehaboo into exercise games for assisted living facilities and corporate environments. A just-started pilot at an elderly housing facility in Finland is showing positive results, with two-thirds of its residents reporting they feel refreshed and empowered after playing, according to Green. Longer-term, the office market is expected to be the largest segment, as Rehaboo bets employers will see benefits in getting workers to perform some exercises at their desks or around the office every hour or so.

That means physical therapy could end up being the smallest business segment for Rehaboo by far, but no matter, Green says it will stay the core of the business. "The children's hospitals are the most important audience because we want to make an impact," he says. "We want to be a company with a purpose."
Categories
tags