Kurt Vonnegut, who spent several years working as a GE publicist in Schenectady, New York, once blamed reviewers unfamiliar with the town for getting him pigeonholed as a science fiction writer. "I and my associates were engineers, physicists, chemists, and mathematicians. And when I wrote about the General Electric Company and Schenectady, it seemed a fantasy of the future to critics who had never seen the place," he wrote in an autobiographical essay published in the book "A Man Without A Country."
The County of Schenectady, home to GE's Global Research Center, GE Power and other GE businesses, is still charging into the future. It recently announced plans to build small solar power plants on county land with the goal of supplying all county and municipal energy needs with renewables by 2021. The push will help "reduce emissions and protect the environment for future generations," said Holly Vellano, chair of the County Legislature's Committee on Environmental Conservation, Renewable Energy and Parks.
Economics had a lot to do with the decision, too. Most U.S. states require utilities to buy back solar electricity from their customers at market rates, and other government incentives also encourage solar projects. "Retail electrical rates for utilities are rising at 2 to 3 percent a year, while the cost of solar systems is following Moore's law" and getting cheaper, says Erik Schiemann, CEO of GE Solar Development, part of GE Business Innovations. "The combination of these factors has created an almost-too-good-to-be-true scenario."
GE will fund the cost of the plants and provide the county with lease payments for use of the land. In return, the county will buy the output of the solar farms, saving money on its energy bills as well.
Schenectady County already generates 5 megawatts of solar power, about a third of its energy needs. Together with the County Solar Energy Consortium, a group of 10 municipal governments based there, it recently solicited proposals for plans to build an additional 10 to 15 megawatts of generating capacity from several smaller sites.
It was a good start, but when Amol Kapur, a GE Solar Development sales manager, took a close look at the project, he realized the potential was greater. "When we looked at the sites and the incentives in New York, we came up with a bigger plan," he says. Kapur and the team evaluated 24 suitable sites — flat, unobstructed areas owned by the county or a municipality, at least 4 acres in size and close to a utility pole or some other access to the grid.
When covered with solar panels, each site could produce 2 to 5 megawatts, they figured. But when they visited the sites, they realized that some of the locations had awkward grades, or existing buildings that made them uneconomical. So they narrowed the group to 18 sites, including four landfills, some abandoned lots and several unoccupied open ones. This additional network of solar plants could theoretically generate up 45 megawatts, enough capacity to supply the equivalent of 45,000 U.S. homes. Roughly 156,000 people live in the county, according the latest census.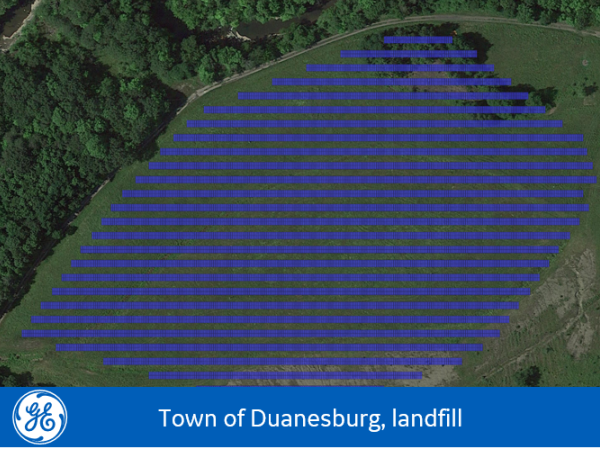 Kapur and the team evaluated 24 suitable sites — flat, unobstructed areas owned by the county or a municipality, at least 4 acres in size and close to a utility pole or some other access to the grid. Image credit: GE Solar Development.
Schenectady County approved the plan in May, but Schiemann is quick to point out that this is not a 100 percent closed deal. "GE does not have a contract," he says. "We have an award." Getting the award is only Step One down the long development path for GE's Solar Development business, which is now working on separate contracts with each municipality in the county. If all goes well, these contracts will be in place by the end of the summer, and then the process of getting construction permits, drafting engineering designs and coordinating with the utilities will start. GE is likely to break ground in early 2019.
Over the next few months, it's possible that some of GE's proposed sites may fall off the list. "What actually gets built may be 45 megawatts, or it may be less than that," says Schiemann.
If GE does build the full complement of plants, the total energy supply would probably exceed the amount the county and municipal governments need to meet their goal of energy independence and create some revenue to boot. A 45-megawatt plan would also be GE Solar Development's largest project with a single client to date. Since GE Solar is on track to build 70 plants by year's end, up from 46 today, that record isn't likely to hold for long.
tags