"We need patients to be very still for imaging exams. It shouldn't be a problem with this one," radiologist Enzo Angeli joked last year as an unusual specimen was wheeled through the doors of his department. Angeli is head of diagnostics imaging at Humanitas Gavazzeni, a hospital in Bergamo, Italy, and his visitor exhibited a condition that, under normal circumstances, might raise a few red flags. Namely, the patient hadn't moved in nearly 80 years.
That's because Angeli was about to take a close look at "The Resurrection of Christ," a painting by the famed 15th-century artist Andrea Mantegna. The piece, which dates to around the year 1492, was unearthed in May at Bergamo's Accademia Carrara, where conservator Giovanni Valagussa was in the process of cataloging the gallery's 14th- and 15th-century Italian paintings. He came across "Resurrection" in a storage room. It had been there since the 1930s, when art historian Bernard Berenson said the work was a knockoff.
But Valagussa wasn't so sure. "The quality of the painting and some details were striking," he said. "They led me to believe it was an original Mantegna." Peering closely, he saw a small gold cross on the painting's lower edge — a symbol, previously unnoticed, that sparked an investigation into whether the painting was the genuine article.
Born near Padua in 1431, Mantegna was an ambitious Renaissance artist whose paintings and engravings gained him a reputation beyond Italy. "He is an iconic painter from the second half of the 15th century, when Italian art was at the center of the Western world," Valagussa said.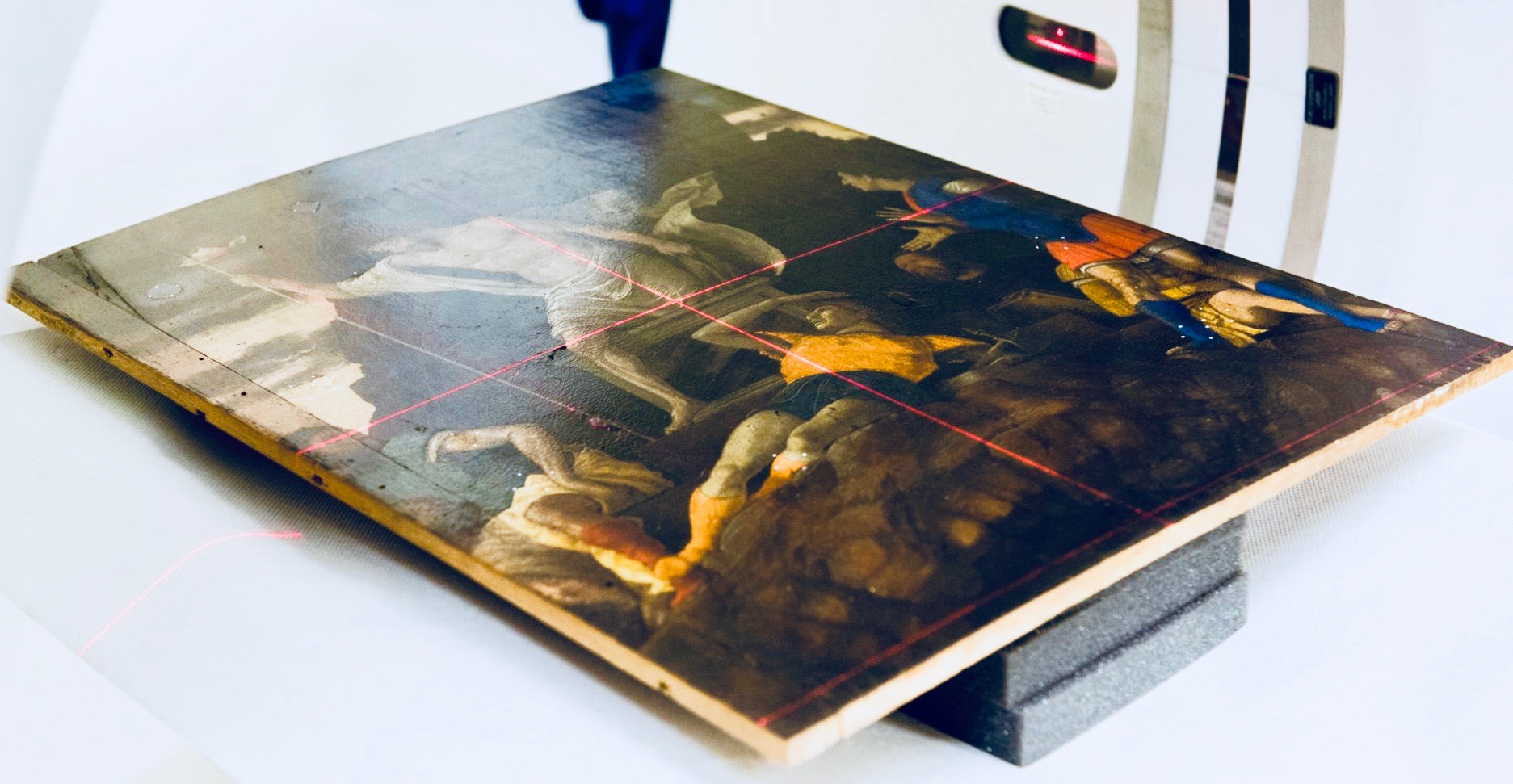 Working with experts, he was able to match some of the minute details from the painting he found in the storage room, including the gold cross, to another Mantegna work: "Christ's Descent Into Limbo." Seemingly floating in space, the cross in "Resurrection" was actually the continuation of a detail contained in "Christ's Descent." The paintings were two panels of one whole, meant to be displayed with one another. If you put them together, they made sense.


The match was confirmed by Keith Christiansen, a curator at New York's Metropolitan Museum of Art and a leading expert on Mantegna. Christiansen told Artnet News, "My colleagues in Bergamo very generously sent me images to see if I was in agreement of what they thought, and with the evidence they had gathered, I didn't see any objections that could be made."




With "Resurrection" thus resurrected in the historical record, "it felt only right to commit to a full restoration," Valagussa said. That included the painting's imaging with a computed tomography, or CT, scanner.




And that's what brought Christ to Humanitas Gavazzeni, where the painting drew a crowd of staffers buzzing with excitement in the usually quiet halls of the radiology department. Now valued at nearly $30 million, the bona fide Mantegna "was treated with extreme attention and delicacy," Angeli said. "It was handled by gloved hands and was escorted by security guards at all times."




Hospital technicians used GE Healthcare's Revolution CT — typically used to image bones, vessels and organs in unparalleled detail — to examine the painting's interior, reading the wooden fibers, the tunnels of woodworms and the presence of foreign bodies such as nails, while digital radiography brought out the pictorial layers.




"The exam allowed us to divide the painting into countless 0.6-millimeter slices," Angeli said. "We could see, with great precision, the state of preservation of the wood, observe the presence of fragments and debris, as well as study color compositions. This information was also useful to make comparisons with the artist's other works, supporting the hypothesis of the painting's attribution."




"The Resurrection of Christ" underwent restoration based on the CT scan results. In 2018, it was reunited with its partner, "Christ's Descent Into Limbo," in a museum in London. In 2019 the paintings traveled to Berlin.




The London gallery "called us a few days after the news of our discovery had become public. They wanted to confirm our findings as they were preparing an exhibition dedicated to Andrea Mantegna," Valagussa said. "We couldn't dream of a better debut."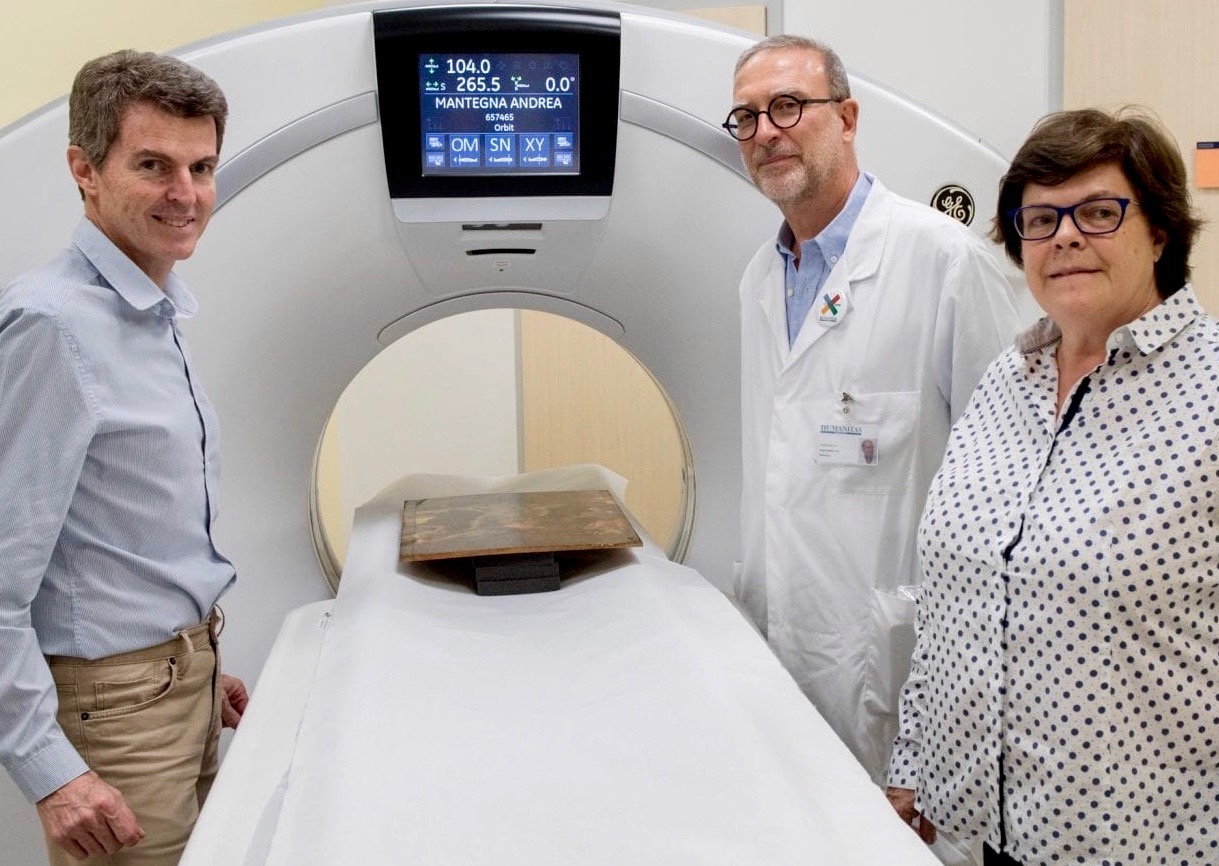 A version of this article originally appeared on The Pulse, GE Healthcare's newsroom.
Categories
tags