Florida's ambitious plans to fully transition from fossil fuels to renewable energy by 2050 make abundant sense for the Sunshine State, and it's another welcome step forward in the world's efforts to combat climate change. But it will take some time to build up the state's renewable infrastructure, and even in its radiant climate, there are times — every night, in fact — when the sun doesn't shine.
This is where always-available energy sources that produce relatively low carbon emissions, like natural gas, can help, and GE's newest gas-burning turbine, the 7HA.03, might just be the perfect machine for the job. The turbine — among the largest, most efficient machines engineered for grids like those in the U.S. operating at 60-hertz frequency — will get its commercial debut this week. Florida Power and Light (FPL), the state's largest utility, will begin operating two of the turbines at its Dania Beach Clean Energy Center in Fort Lauderdale.
The 7HA.03 has enough capacity to generate the equivalent electricity needed to power nearly 250,000 U.S. homes and help smooth over the peaks and troughs in solar power generation. GE also engineered the machine to be able to burn a fuel mix blending natural gas with up to 50% hydrogen. This could potentially help FPL trim its CO2 emissions further. "It has the capability to help meet not just today's needs but a range of future objectives," says Chris Mastriani, who oversees GE's account with NextEra, the owner of FPL.
At Dania Beach, the two new turbines replace four existing ones, and yet the plant is projected to generate about 30% more electricity, for a total of 1,260 megawatts (MW), says Mastriani.
FPL will also be able to generate extra megawatts more economically than before. The 7HA.03 currently leads the industry in efficiency, meaning how efficiently it converts natural gas into megawatts. A single 7HA.03, when operating in a combined cycle — which means the heat from the gas turbine is also driving a steam turbine — can achieve efficiency of more than 64%.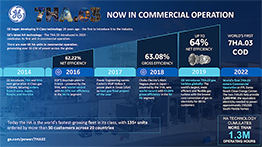 Together, the pair of 7HA.03 turbines can help boost Dania Beach's efficiency by 22%, saving FPL a projected $337 million over the turbines' lifetime, according to calculations. That's largely because Dania Beach will burn a lower volume of gas to generate each megawatt-hour (MWh) than previously. "These 7HA.03s will massively reduce our customer's dollar-per-kilowatt costs for a new unit installation, and their ongoing operating costs," Mastriani says.
The turbines' high efficiency should also help significantly reduce smog-producing emissions, such as nitrogen oxide (NOx), by up to 70% from their predecessors. Mastriani says whether output is 80 MW or the full 430 MW that the 7HA.03 can dispatch on a continuous basis, or anywhere in between, the 7HA.03's NOx emissions will come in under Florida's strict limits. "FPL has got a tremendous load range to support their system needs and still maintain emissions compliance," he says.
The speed with which the 7HA.03 can move energy production up and down is another key factor that makes the machine attractive to customers. Specifically, the turbine can reach its full generating capacity in 10 minutes — the time it takes to brew and drink a cup of tea. This will be important for complementing Florida's renewables-rich grid, which will experience fluctuating solar generation as the sun rises, shines and sets.
The 7HA.03 is also good news for South Florida's energy security. The region, which includes Miami and Fort Lauderdale, has a high population density, yet it has relatively few high-capacity cables that can ferry in power from elsewhere in the peninsula — what Mastriani calls a "transmission-constrained area." But the pair of 7HA.03s provide remarkable energy density, packing nearly 1,300 MW, which is nearly 30% more than the average nuclear power plant, into a relatively compact downtown location.
As GE engineers watched the turbines being set for operation, they recalled how this startup day was just a date on the calendar five years ago. They were able to deliver in that time frame by manufacturing and assembling large parts of the units, such as the giant turbine enclosures housing the machinery, before shipping them to Dania Beach. This modular approach helped them reduce the installation time of the 7HA.03 by eight weeks as compared with GE's family of F-Class turbines.
"FPL put a lot of faith and trust in us delivering on the commitments we made in 2017," says Chris Corron, a product manager for the unit. "So to come in right on output during performance testing was just fantastic. That's testament to the FieldCore [field services] technical team that we had on site, and the hundreds of engineers, shop-floor craftsmen and staff behind them."
Top image credit: Florida Power and Light
Categories
tags