Currently showing on Petter Hörnfeldt's popular aviation-themed YouTube channel is a video entitled "Revolutionizing Flight! The Amazing Potential of the CFM RISE Engine." On screen, Hörnfeldt wears a black T-shirt sporting the "Mentour Crew" logo — a reference to Mentour Pilot, the name of his channel and its sister channel, Mentour Now! — above a bright yellow graphic that to most English speakers might as well be Finnish: "INOP SEE T/LOG." It's the kind of insider reference that speaks directly to his fan base: more than 1.5 million aviation enthusiasts, many of whom will recognize it as the safety sticker seen in cockpits when a plane is awaiting maintenance.
Nevertheless, this commercial airline pilot turned social media sensation has built his following by inviting everyone to share his enthusiasm for airplanes, no previous knowledge required. In his fast-paced, 17-minute video about the CFM RISE (Revolutionary Innovation for Sustainable Engines) program, for example, Hörnfeldt explains exactly why we're looking at a "technological leap, a step change in engine efficiency." He presents the engineering concepts behind open-fan engine architecture in a way that's clear enough for the uninitiated yet sophisticated enough to satisfy fellow pilots and av geeks. "Revolutionizing Flight!," with three million views since January, is now the most popular video on Mentour Now!
"This is amazing science, and it's stuff that people need to understand," he says. "If this can increase engine efficiency by a magnitude of another 20%? That will be very, very big."
Reducing emissions from aviation is an important issue for Hörnfeldt, who's been a 737 pilot and flight instructor for a major European airline since 2001. He does what he can as a pilot, using fuel-saving protocols (like landing his planes via continuous descent approach) as often as possible. He recently completed certification on the 737 MAX family, powered by more efficient LEAP-1B engines from CFM International, a 50-50 joint company between GE and Safran Aircraft Engines. LEAP engines reduce fuel consumption 15% from their predecessors. And while he's excited about that technology, he's more interested in the future.
"Even though we are incredibly efficient at what we're doing, where can we go from here?" he says. "Is it going to be hydrogen? Electrically driven aircraft? Or is there a step in between where the engines we have today can take one more leap in efficiency before we have to change to a completely new technology? That's what really fascinates me about the CFM RISE [effort]."
Announced in 2021, the CFM RISE initiative is working to develop engine technologies that will get more than 20% better fuel efficiency and produce 20% lower CO2 emissions than today's most efficient engines. To do so will mean perfecting open-fan design, in which, unlike other turbofan engines, the fan blades won't be surrounded by a case. This allows much higher volumes of air to circulate through the engine, which enables a dramatic improvement in propulsive efficiency. To build it, CFM is calling upon decades of innovations such as the GE36 experimental unducted engine, carbon fiber composites, ceramic matrix composites, additive manufacturing, and hybrid electric propulsion development.
Hörnfeldt, who grew up in Sweden and now lives in Girona, Spain, set his career course at 14, when he took his first flying lesson. He trained in his home country's government-sponsored aviation program, became a commercial pilot at 20, and was promoted to captain at 25. He keeps his social media work separate from his corporate position, and the views he expresses online are entirely his own.
When he founded Mentour Pilot in 2015, his passion for his job was as strong as ever, but he was looking for a creative outlet on his days off. "As a pilot, your job is to get people safely where they are supposed to go," he says. Making videos, by contrast, produces something tangible and long-lasting that people not only can see but can discuss in the comments section. "I send it out and see if people like it or not, which is the ultimate judgment," he says. "When it goes well, it's very, very satisfying."
The name Mentour Pilot combines two words that describe his original content creation goals: to mentor young aviators and to provide an insider's view, or tour, of the airline industry and his life as a working pilot. Since one of his first videos, "Life Quality as an Air Pilot, Pros and Cons," that vision, and everything else about his social media career, has expanded. His videos are slicker, his on-camera presence is more polished, and he now covers just about anything related to commercial aviation — fun facts about airplanes ("Why Do Aircraft Store Fuel in the Wings?"), how-to videos ("How You Can Land a Passenger Airplane! 12 Steps"), and why there's really nothing to worry about when your flight gets bumpy ("When Is Turbulence Dangerous?"). While Mentour Pilot remains his core channel, with six million views each month, the more tech-focused channel Mentour Now!, launched in late 2021, is already at three million monthly views.
When it comes to stories that combine technology and history, like the one he tells in the RISE program video, Hörnfeldt knows his audience has high expectations. "[Some of] the people watching are as nerdy, if not nerdier, than I am," he says. "But if I talk about jet engines or anything else in aviation only for aviation industry people to understand it, it would be a tiny subset of people. If I can do it in a way that even my mom would understand it, all of a sudden the potential audience grows exponentially."
He's also found that making entertaining educational videos comes naturally, likely because he's been honing his teaching skills for more than 17 years as an instructor pilot. "It was a completely new experience to try to explain these same things for someone who doesn't have the prerequisite knowledge," he says. "But I realized I could bring it down to a level where it was still pretty advanced, but people without any kind of technical education could still get it. That's what I'm trying to do when I make these episodes."
Viewers clearly appreciate his efforts. Hörnfeldt's YouTube channels are so successful that he now works with a six-person support team, including researchers and a graphic designer. He even has merch. But it's not likely he will ever give up his seat in the nose of a plane.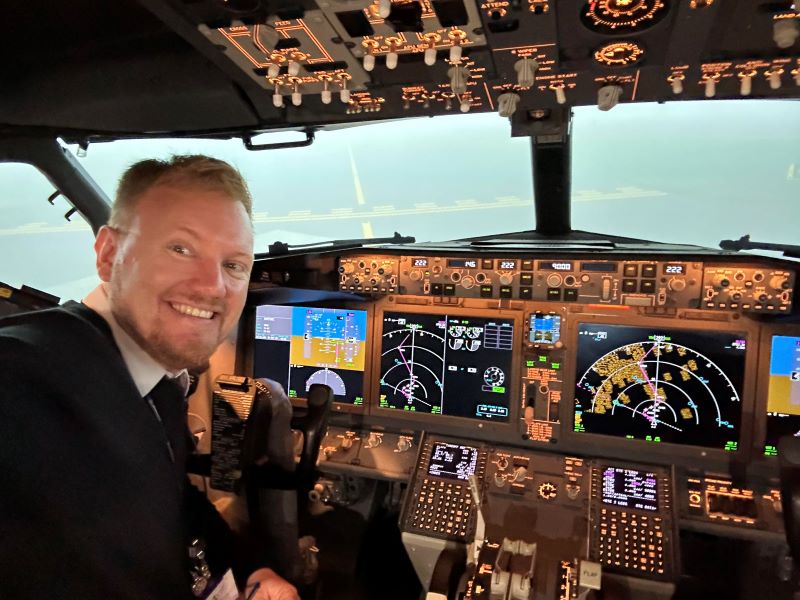 "Flying is so many things for me," he says. "I love the kind of dance that comes with standard operating procedures. You're working in the cockpit with someone who is very well trained, you do one thing and the other person does something else, and the whole thing just works. When that happens, it's just beautiful."
He also appreciates how variables like schedule, route, and weather make each day different from the last. "And on top of all that, it's just insanely cool," he says. "You never get tired of setting takeoff thrust on the runway, feeling the acceleration, and knowing that you're in control of it. Not many occupations can offer that on a daily basis."
Which takes him back to the importance of the future of flight. "What can we do as an industry to make aviation even greener than it is now?" he says. The CFM RISE program, for him, embodies the most viable next step. "In the future, especially if it can be connected to hydrogen, I see it as the future of the occupation I love."
Categories
tags