Artist Claudia Meyer isn't your typical Parisian artist. She has spent the last eight years working out of a studio based inside a factory located in the industrial Paris suburb of La Courneuve, far from the Louvre or Musée Rodin. That's because she finds inspiration in all things industrial and mechanical. Her paintings, sculptures, installations and even furniture incorporate turbine wheels and blades, massive springs from bullet trains, blueprints, and nuts and bolts. She scavenges her material from old and new machines, but workers at the factory, which GE acquired with Alstom last year, have learned to stop by and drop off pieces headed for the scrap yard.

Meyer's fascination with technology goes beyond her materials. She uses lasers, LEDs and other tools to make pieces that have been exhibited in galleries in Europe, the U.S., the Middle East and Japan. Her work also adorns many communal spaces and offices in La Courneuve and other locations in the world. "It's my way of giving back," she says.

When GE Reports visited Paris for the Minds + Machines Europe conference in June, we stopped by.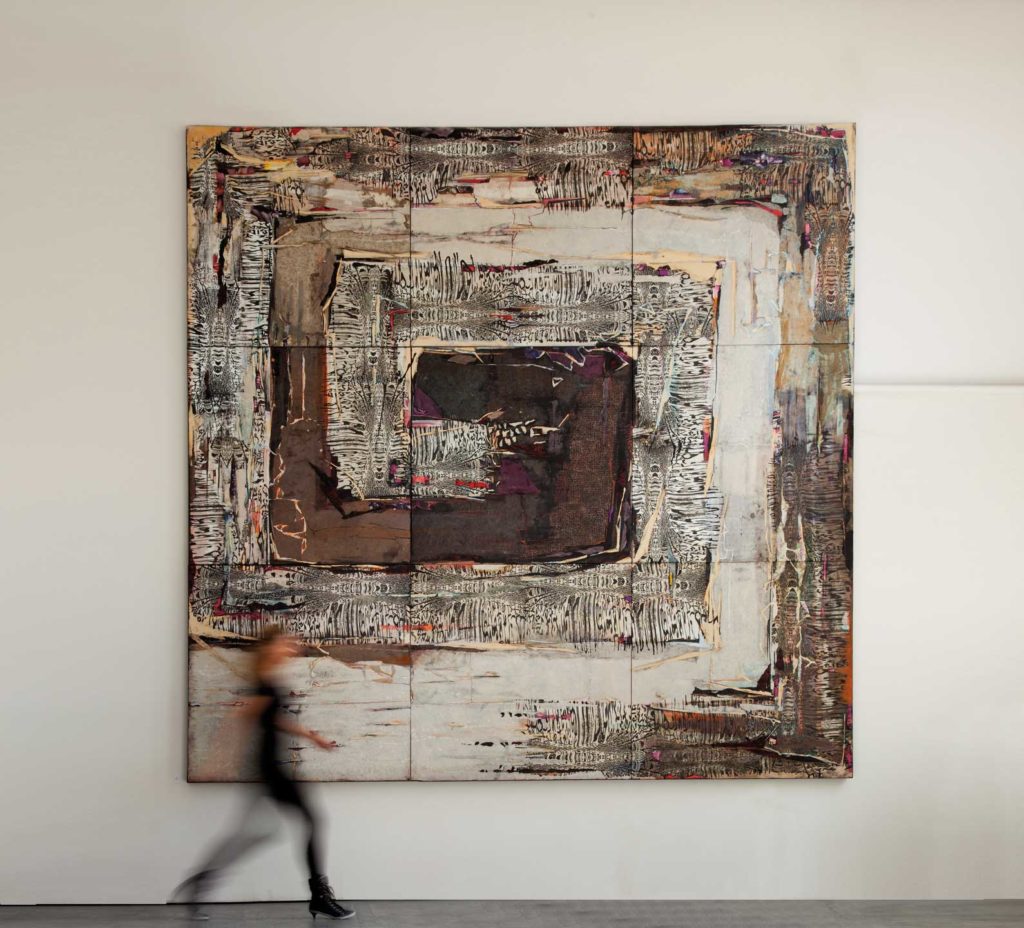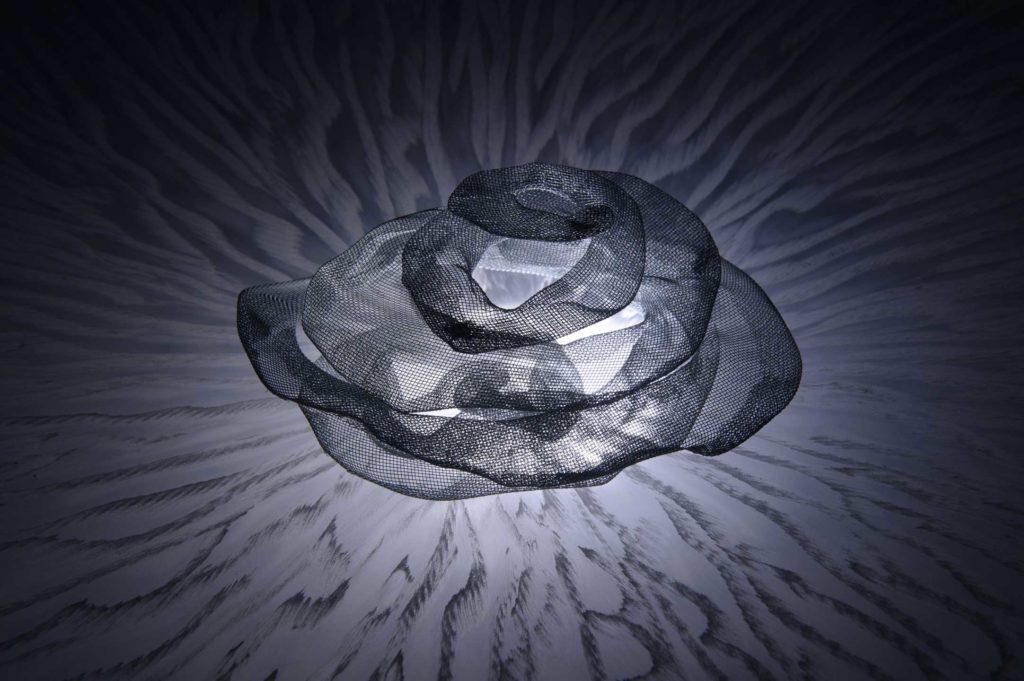 Top image: Meyer calls this mixed-media canvas Evolution. She says that the spiral is "a very old and strong symbol. It's lifeline leading from the beginning to the end of everything." Above: Spirie is made from filter mesh. Images credit: Stephan Est Lead image: Cuba. Image credit: Bruno Eberli

GE Reports: What appeals to you about technology?

Claudia Meyer: I grew up in Luzerne, Switzerland, and my father was an architect. We lived in a house, which he designed. I have two brothers and a sister, and we helped our parents build the house. I learned to work with a hammer and other tools. My father never made a difference between boys and girls. It was completely natural for us to be working together. My father worked from home, and I would also help him build models of houses he was working on.

GER: But you didn't become an architect.

CM: No, I went to a high school for graphic art and design. At that time, it was the only one in Switzerland, and everyone who was into art went there. I learned to make graphics, drawings, photography, video, but also how to manage a studio as a business. Then I discovered computer graphics and decided to leave for New York City and enroll at the School of Visual Arts and the Fashion Institute of Technology. There I started exploring fabrics and designing prints.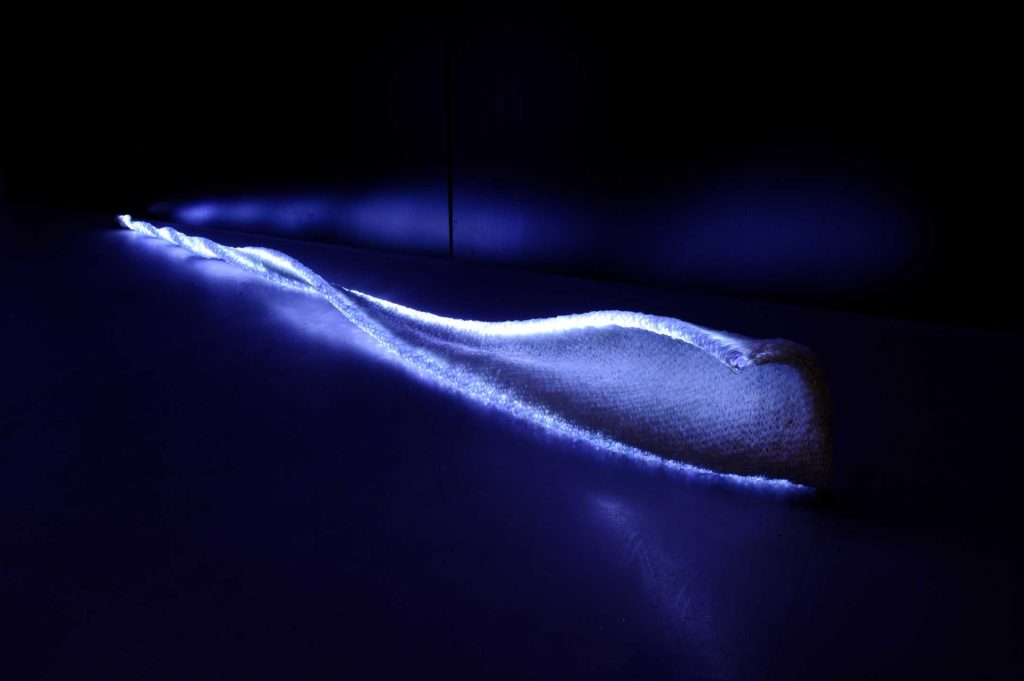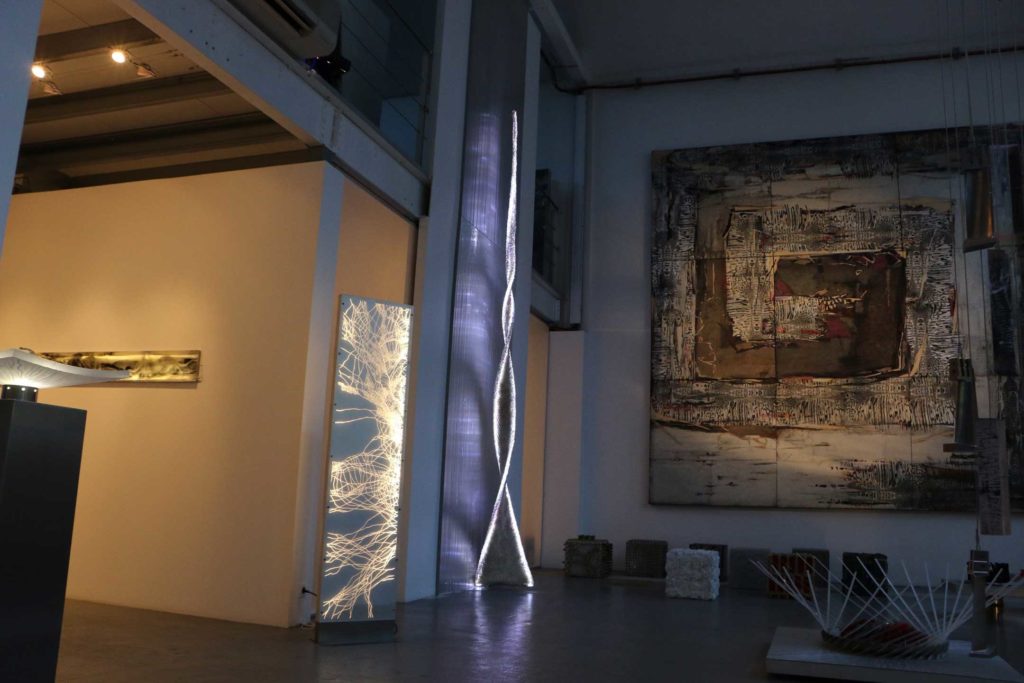 Meyer made Aquarial, an LED sculpture, from acrylic glass and knitted alternator tape. Image credit: Stephan Est

GER: New York in the 1980s was pretty gritty.

CM: It depends on how you look at things. There were areas where you couldn't go, but there was so much inspiration and energy. That's when I really fell in love with machines. I lived next to Pennsylvania Station, which wasn't the safest place. But even ugly things can be very beautiful if you look at them the right way. The subway was endlessly fascinating, all that steel and aluminum. I was looking at every detail, all the rivets and how the stations and the subway were built and functioned together. I wanted to know why the engineers designed one thing rather than something else. Sometimes I found something so ugly that I started redesigning while riding the subway. I love transforming things and making them more appealing to people. I like to find a story in things to help people understand what it's all about. I want to bring people to a different space and make them dream.

GER: How did you end up in La Courneuve?

CM: Besides my father, my other big influence was one of my uncles. He was an Alstom engineer and always so passionate about turbines and metal. He traveled to China, Korea, Germany and all around the world to keep the machines in order. He told me about the Paris factory and said there was an old warehouse where I could set up a studio.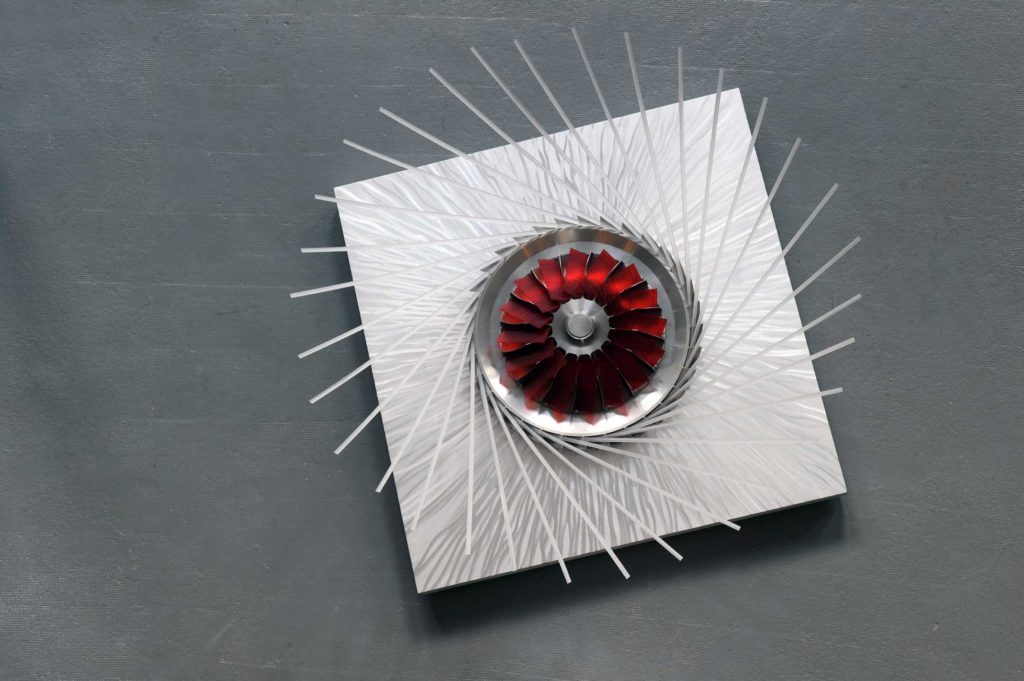 Meyer incorporates pieces of gas turbines into her work. Image credit: Bruno Eberli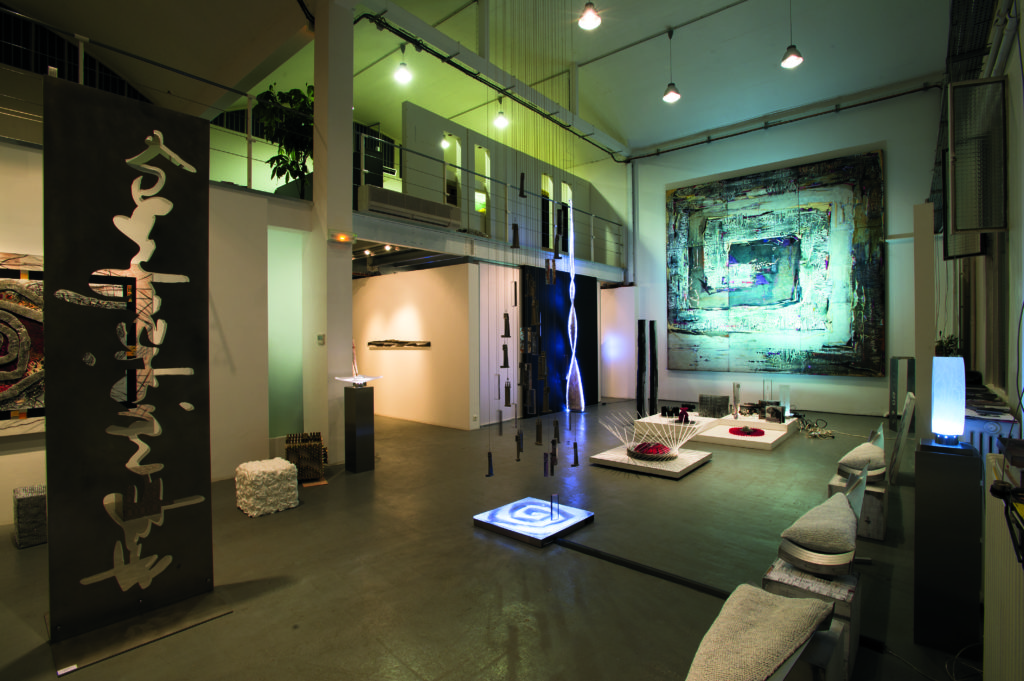 Mayer turned an old factory warehouse into a studio. Image credit: Stephan Est.

GER: You just knocked on the door and they let you in?

CM: It wasn't so simple. I developed a custom art project focusing in recycling machine parts and products and giving them new value and presented it to the management. The idea was to bring art into the factory and factory elements into art. It then progressively became a full-time experiment appreciated and shared by the employees, the clients and everyone working in the various locations owned by the company. I called the project "Transfor-Motion." Together we renovated the old warehouse and I'm using it as my studio and a permanent showroom.

GER: Many of your artworks include steam turbine blades. What do you see when you look at a turbine?

CM: When I see something that's been used or have a purpose, I want to understand its function. Then I try to transform the piece into something different than what it was designed for and give it a new life. That's when its beauty comes out.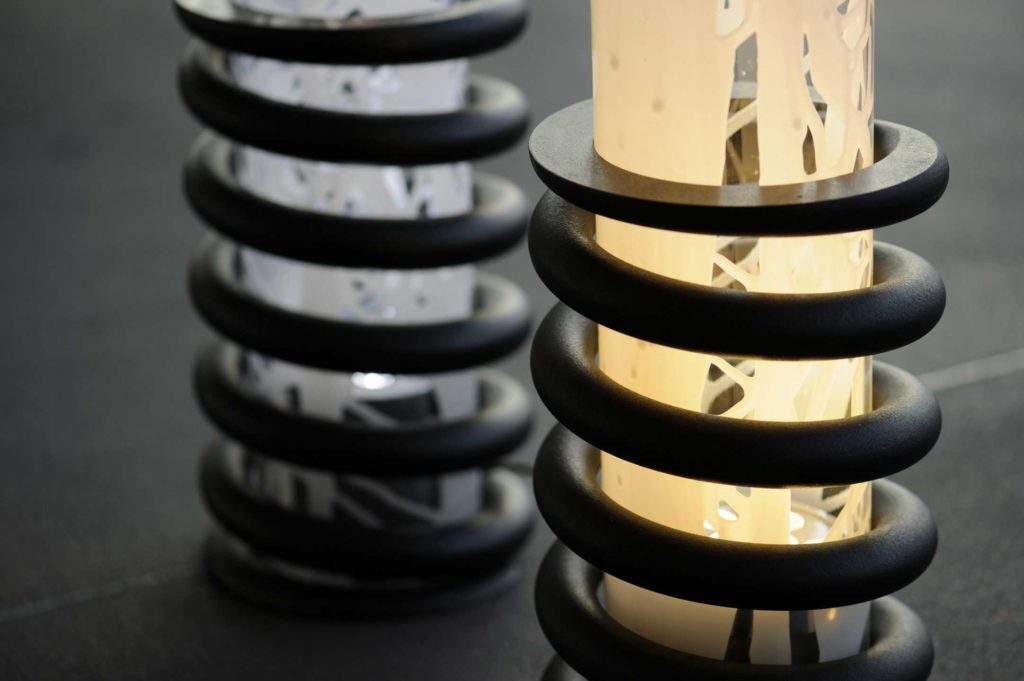 The Meridial I & II and light sculptures are made from springs from a TGV bullet train . Image credit: Stephan Est

GER: Your works makes the machine parts look almost organic, like something that grew up from a seed.

CM: I find a lot of my inspirations in nature and I'm fascinated by it. Bees, for example, their honeycombs are so precise. I also studied sunflowers and the perfect spirals of their seeds. You can see flowers in turbines. In fact, I make flowers out of turbine parts.

GER: The spiral seems to be the theme of many of your works.

CM: That's because the spiral is everywhere, in the water, in the air, in the universe. The DNA is also a spiral. It's a very old and strong symbol. It's lifeline leading from the beginning to the end of everything. I fell in love with it more than 30 years ago. You can make the spiral narrower or wider, but it's always there.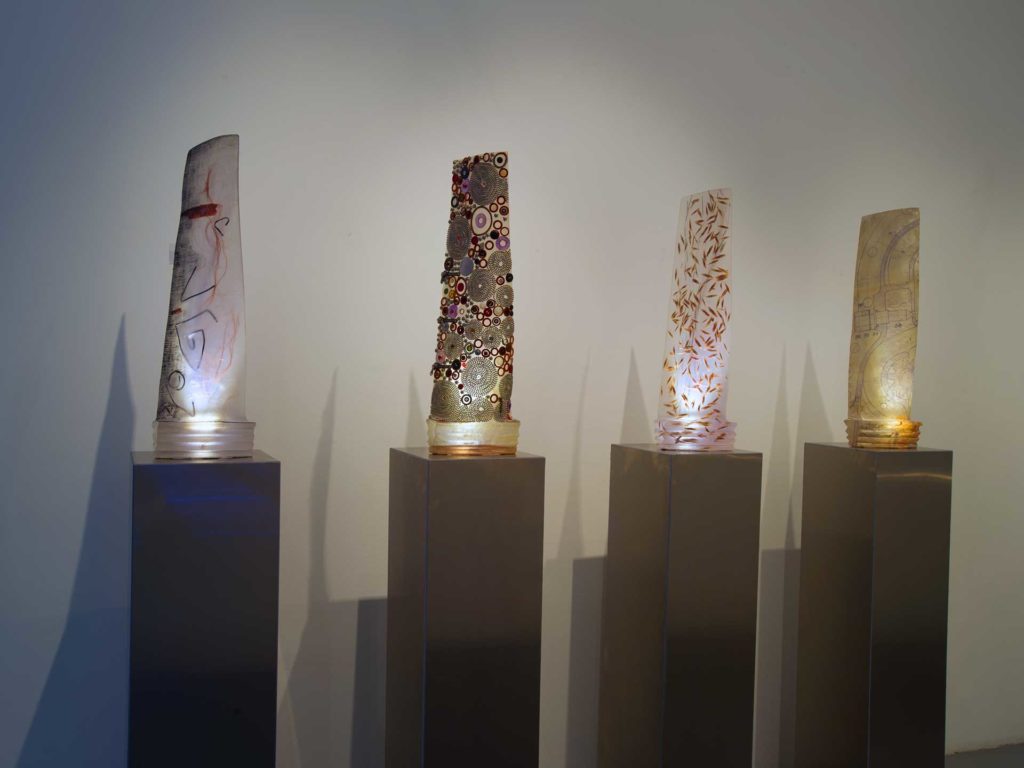 Synergy mixes resin turbine blades, seeds, beads, machine blueprints and other components. Image credit: Stephan Est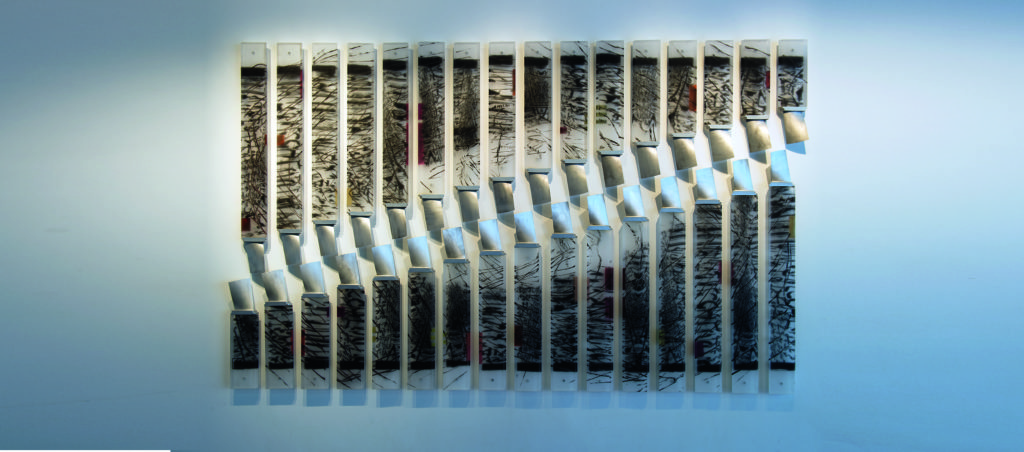 Vibration combines resin, turbine blades, seeds and other organic material. Image credit: Bruno Eberli


ParadoxAL mixes resin models of turbine blades and LEDs. Image credit: Bruno Eberli

GER: One of your works includes a spiraling blade made from a translucent resin with seeds inside.

CM: They are tree seeds. For me, that's representing the future. You plant a little grain and you'll end up with a giant tree. The blade is part of a series called "Synergies." All the blades have a meaning.

GER: GE still makes steam turbines at La Courneuve. Do you show your art to the workers?

CM: Yes, sharing is most important to me. Workers know it and I love that. I leave the doors open and people stop by. Sometimes they come in and say: "I found a piece for you. Do you want to see it?"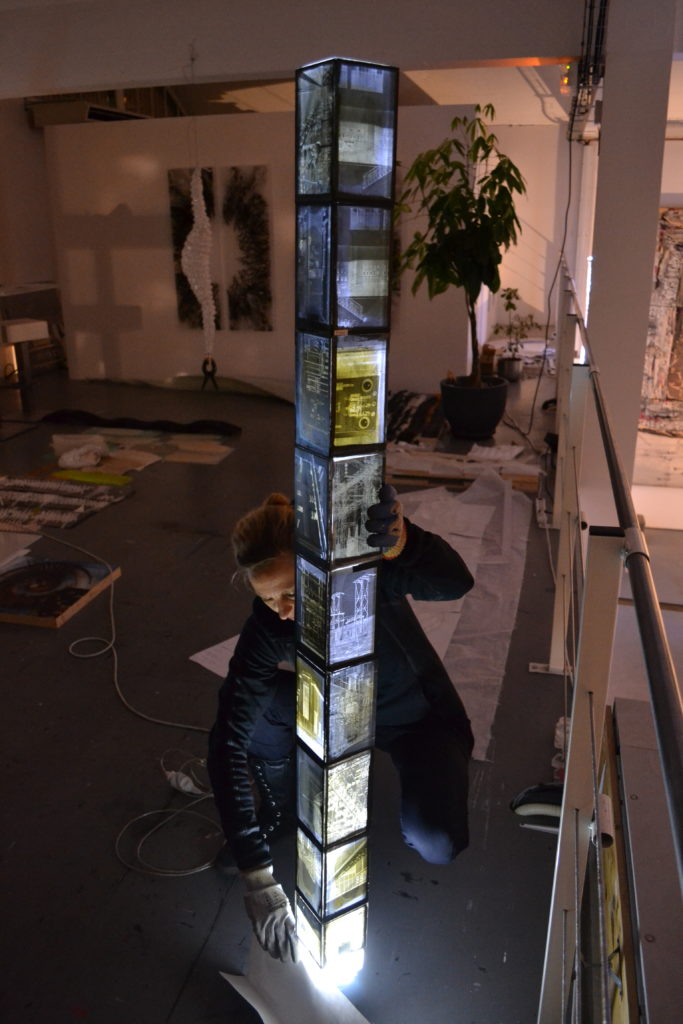 Meyer is finishing an LED sculpture made from discarded glass photographic plates. Image credit:

GER: Can you give me an example?

CM: Not so long ago, someone told me about old glass photographic plates from the 1930s. The big negatives were already in the dumpster. The plates were oxidized, but we pulled them out, even the broken ones. It was the historical photos of the company. I used all of them. I loved them so much. It is now exhibited among other creations at the studio in Paris.

GER: You also used massive brass machine springs, large turbine blades or other materials to make dining and office tables, chairs and other furniture.

CM: Yes, I call it multifunctional art. I transform and recycle one product into something else that people can look at, use and live with. I enjoy developing that concept for offices and workplace while creating innovative art using Plexiglas, LED and digital technologies.

To me, multifunctional art is a major artistic expression. It can convey the company legacy and image in more casual, original and yet very powerful ways—thus becoming a communication tool while also being art.

GER: What machines do you use to make your art?

CM: First of all, I use my hands. Then, I use my regular hand tools along with the latest tools like a water jet machine and laser cutter to shape parts. I also go to many fairs to find out about the latest products and technologies like 3D printing and LED programing and use them to make art. Very often people have mixed feelings about technology. But to me, it stimulates creativity and opens new doors when used wisely.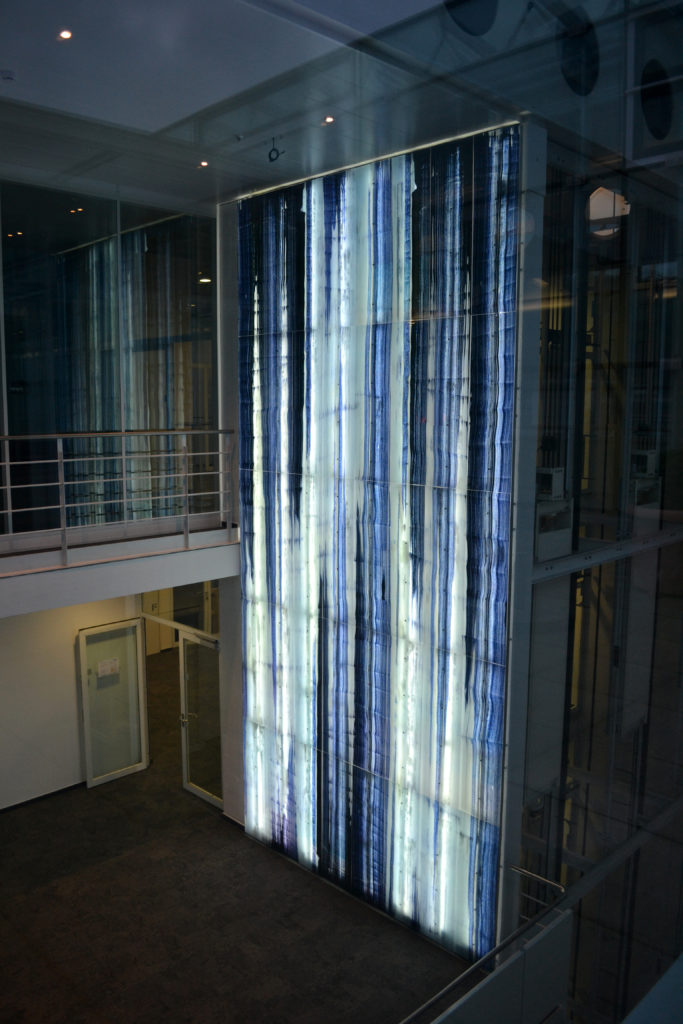 Meyer's waterfall LED sculpture for GE's steam turbine headquarters in Baden, Switzerland. Image credit: Stephan Est
Categories
tags