Female role models in traditionally male-dominated technical fields like computer science can help others overcome feelings of loneliness, intimidation and unworthiness. Without this support, these industries will continue to suffer from a lack of diverse opinion and qualified employees.
 

Over recent years, women have made significant inroads into a number of science and technology fields that used to be dominated by men. There are now roughly the same number or more females working in the medical, life and social sciences than males, according to the National Science Foundation.

The same parity, sadly, has not yet been achieved in computer science, engineering and math jobs. In just one data point, women comprise only around eight percent of mechanical, electrical and electronics engineers in the U.S. The problem isn't just one of equity, though. Many technical fields aren't getting the number of qualified graduates they need to fill jobs. The situation is especially dire in computing, where new bachelor's degree graduates can fill only 30 percent of open positions. Yet the share of computer science bachelor's degrees earned by women has actually fallen in the last decade.

One of the contributors to the problem is that women in these fields have few role models and mentors to help keep them involved and guide them. Beena Ammanath, the Executive Director for Data and Analytics at GE, knows this problem well. While working across GE to unleash the power of big data, she has also been strongly advocating for women in positions of technology leadership.

 

To what do you attribute the lack of women in technology roles today?

Around the mid-1980s, the number of women majoring in computer science began to drop, from 40 percent to less than 17 percent today. When looking at what precipitated this change, one explanation is that the number of women in computer science started to fall around the time personal computers began to appear in U.S. households. Early home computers were not much more than toys – and these computers were increasinglymarketed to boys. Today, women hold less than 27 percent of all computer science jobs— and only seven percent of venture capital funding goes to women-owned businesses. Fifty-six percent of women in technology leave their employers midcareer. This is double the turnover rate of men.

 

How does being a woman affect your daily work life?

I work to nudge the gender diversity stats higher each day. When I speak to my male colleagues, I speak on behalf of my entire gender. Over time, I've overcome the intimidation and fear often related to having my voice heard. I know I bring a unique perspective and am fortunate my teams have recognized and appreciated my value. With this support, I'm pushed to be a stronger professional, leader and woman to in-turn support those who lack that validation.

 

What have some highlights been for you while working at GE Digital?

I get to act as a role model. I have the power to set an example for middle school girls, high school girls and women who are just starting out in their technical careers, simply by excelling at my own job. Leading a Big Data and analytics team and pushing the limits of Big Data to derive meaningful insights from machines, my job is to consider the machines we all heavily rely on – aircraft engines, locomotives, MRI scanners or wind turbines – and determine how they perform more efficiently and more cost effectively. Ultimately, I believe this work helps make the world better.
What challenges have you faced professionally?

I've walked into technology leadership meetings and immediately stood out as the only woman in the room. At times it can be a bit lonely and intimidating—but it's often the feeling of being undeserving of my seat at the table that is the most overwhelming. This feeling, however, is where I find my strength to work extra hard to be heard on behalf of the other "female techies" who may be too overcome by feelings of inadequacy that society imparts on us. It's crucial, as we try to close the gender gap, to assert how valuable a diverse range of perspectives is in driving the sought-after disruption in this crowded industry.

 

What advice would you offer young women considering a technology career?

I believe this is one of the best, most rewarding times to be a woman in technology. As little as a decade ago, women were told to be tough and thick-skinned to succeed in the male-dominated tech world because the dated structure of the industry and long-standing biases would ultimately prevent true success. The good news? Women in tech today are thriving and being celebrated. Stakeholders and investors are noticing that it pays to have a woman in charge.

 

What do you see for the future of women in tech?

A recent Harvard Business Review study evaluating men and women in the workplace found:


"At every level, more women were rated by their peers, their bosses, their direct reports, and their other associates as better overall leaders than their male counterparts — and the higher the level, the wider that gap grows."


I know it will take time to even out the gender ratio. I recognize the problem is not a result of intentional exclusion or malice, but rather stems from deeply rooted social preconceptions. Now is the time to move beyond the implicit inferiority complex, to avoid assumptions or assigning traits to only one group, to encourage more girls to join technology fields – ultimately including both genders in building more diverse teams.

 

Top Image: Andrea Schmitz is a Senior Sensor Electronics Engineer at GE Global Research in Niskayuna, NY.  Photo by @linaxli.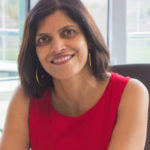 Beena Ammanath is the Executive Director for Data and Analytics at GE.

All views expressed are those of the author.
tags