Last year, Ukrainian farmers lost the opportunity to export potentially millions of tons of grain due to the overloaded national transportation system. This fall, new GE locomotives are planned to help ensure the grain harvest makes it to market on time.
Today, the Ukrainian government announced it will buy 30 new GE locomotives, which will be built in the U.S. and will arrive in Ukraine for final assembly by the end of the year. The framework agreement, which is valued at over $1 billion, also includes the modernization of existing locomotives in Ukrainian Railways' fleet, plus additional new GE units over the next decade and a long-term service contract to help maintain them.

The deal is part of a rail-system upgrade the country is undertaking to make sure its $2 billion agricultural sector, which the U.S. Department of Commerce calls "the most promising sector" of the country's economy, can continue to sell and export the food it produces. Last year, the country ranked third in the world for exports of barley, fourth for corn and sixth for wheat. "Agricultural exports are really the backbone of their economy," says Gökhan Bayhan, GE Transportation's general manager for Europe, the Middle East, the Commonwealth of Independent States, and North Africa. "Missing out on this export opportunity is a major thing for them."

Crucial to this plan: locomotives that work better and don't break down.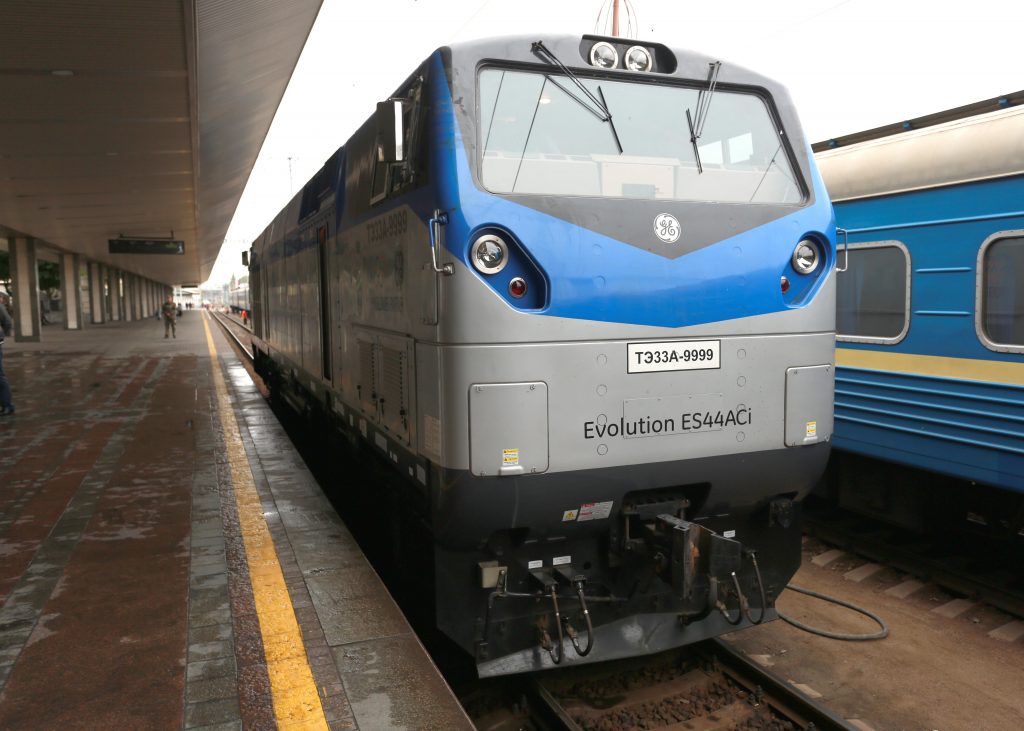 GE Evolution series engine that has 12 cylinders and 4,500 horsepower. The service contract, which will cover the 40-year life of the new locomotives, will also use local facilities. The work will be done with 10 percent of the parts bought locally as a result of close coordination between Ukrainian manufacturers and a GE supply chain team. "You're developing the expertise in the country to be able to maintain the fleet with local capabilities over the locomotive life span" says Sinan Haseki, GE Transportation's sales leader for Ukraine.

The locomotive delivery timing is crucial because the grain harvest season is between September and December, meaning the locomotives must be on the rails by the fall, says Tammy Gromacki, who leads the project management and commercial operations in the region. "Farmers realize a premium price on early delivery of grain to the port and that's important for the country's largest export sector," she says.

Gromacki also headed the negotiations team in Kyiv. The group of GE negotiators based in the region — known as "Ocean's 11" because they are inseparable just like the eponymous heroes of the movie — spent more than five months in the nation's capital working with the Ukrainian government, the national railway, and the country's export-import bank to finalize the agreements. The round-the-clock work meant they often didn't break for lunch until 9 p.m. "It's an extremely important market and it's also very important to be the first into this market," Haseki says.

After this deal, GE Transportation's first in the country, Ukraine may eventually grow to become one of the unit's key international customers, similar to Kazakhstan, where GE has executed over $3 billion of contracts with the national railroad since the early 2000s, according to Bayhan. "This is a good start," he says.

"GE has been working in Ukraine for over 80 years, since supplying generators for DniproGES, the largest hydropower plant in the country," says Slava Feklin, GE's country manager based in Kyiv. "Today, we're helping tackle priority national infrastructure challenges, including enhancing energy security by tapping local wind and biogas resources. Teaming up with Ukrainian Railways is the next chapter in that journey. By modernizing the rail fleet, together we will help lay a strong foundation for the country's long-term sustainable development."
tags