Helping the world navigate through the ongoing global energy transition is not only one of the core focal themes for GE, but a personal mission for many of us here at the company. We care deeply about the impact GE can have in preserving the planet for future generations.

Energy is also one of the critical topics that investors ask me about most frequently. With populations growing, ever-more people and devices connecting to the Internet and to the grid, and nearly 800 million people still lacking reliable access to electricity, global power needs continue to rise while governments and companies alike seek to reduce their emissions output. Meanwhile, the adoption of renewable energy is accelerating as the relative costs of wind and solar continue to fall—but even with rapid growth, renewables alone will not be enough to deliver the CO2 reductions needed to fight climate change.

How do these shifts in the energy industry affect GE, and how is GE adapting and demonstrating leadership through the energy transition? Today I'm proud to share a new paper from GE laying out how the accelerated and strategic deployment of renewable energy and gas power can help reduce energy-sector carbon emissions in the near term. Click here to read the paper.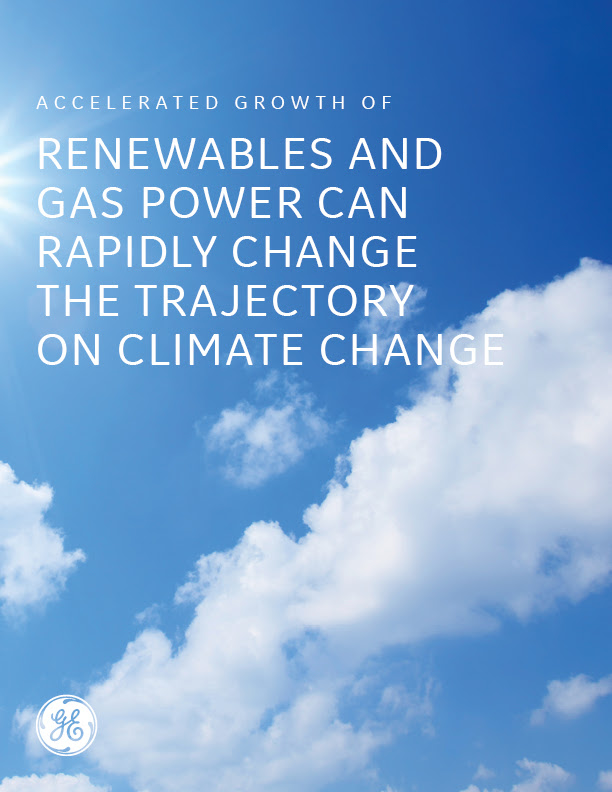 Building on our recently announced intention to exit the new build coal power market1 and commitment to carbon neutrality in our operations by 2030, in this paper we discuss how gas and renewable energy deployed in tandem can provide decarbonization at the pace and scale needed to help achieve substantial climate goals. We also outline exciting technological opportunities to reduce or eliminate gas power's carbon-generating footprint—such as carbon-capture and sequestration solutions as well as the use of low- and zero-carbon fuels including hydrogen.

"Addressing climate change is an urgent global priority and one that we think we can do a better job of addressing—starting now—not decades from now," GE Gas Power CEO Scott Strazik says in the press release. "We believe there are critical and meaningful roles for both gas power and renewable sources of energy to play."

Helping our customers and the world decarbonize is an important mission for GE—one where our teams have been hard at work for decades, building equipment, services, and software that increase efficiency and help reduce emissions. At Gas Power, some of the experts leading this effort recently launched a new podcast to explore why decarbonization matters, the technologies behind it, and how to incorporate them more widely into global power generation. I encourage you to join Gas Power "fuels guy" Dr. Jeffrey Goldmeer, Gas Power Chief Marketing Officer Brian Gutknecht, and other special guests for more over at Gas Power's podcast series, Cutting Carbon, here.

As always, I welcome your feedback.

Thank you for your continued interest in GE,
Steve
For more on GE's financial performance, click here to subscribe to GE's investor relations newsletter.
Important information about our forward-looking statements.
1 Subject to applicable consultation requirements
tags