Businesses can do more with less and find a sustainable path to growth by following the principles of frugal innovation.


Heads of state from around the world have gathered in Paris with a lofty goal — no less than saving the world. While political leaders seek an international agreement to keep global warming from threatening human existence, business leaders are confronted with their own challenge: how to achieve a sustainable model for growth.

The challenge for companies — especially manufacturers — is not only to make their output less polluting, but also find a way to use fewer resources as input. Indeed, at our current rates of consumption, by 2030 we would require two planets to supply the resources we need and to absorb our waste. With 3 billion people joining the global middle class over the next 20 years, demand for resources like energy, food, water and materials is set to explode. This looming resource scarcity will threaten the viability of many businesses.

The only way companies can reduce their emissions and overcome resource scarcity is by building a sustainable growth engine that consumes fewer resources and yet generates more economic value in an eco-friendly way. Long-wedded to a wasteful "more for more" growth model, it is time for firms to learn to "do more — and better — with less." Frugal innovation can show them the way.

Frugal innovation is a game-changing growth strategy fit for a low-carbon economy, enabling companies to simultaneously generate more business and societal value while also minimizing environmental impact. Frugal innovation applies to what a company does (its products and services) as well as how it does business (its operations and business model). In our book, we profile over 40 visionary companies across industries that are using the principles of frugal innovation to radically reinvent their market offerings and the way they operate. These pioneers are channeling their innovation energy into three key areas:

Frugal R&D. Seventy percent of a product's lifecycle costs and environmental footprint is determined during its R&D phase. Hence, frugal innovators design products to be simpler and lighter so they can not only be energy efficient but also deliver better quality. For instance, GE Healthcare has developed portable, battery-powered ECG devices such as the MAC 600 that can be used for hours with a single charge and enable doctors to test more patients in less time. Similarly, when designing new buildings — which, in the U.S. alone, account for 50 percent of all energy consumed and almost half of all emissions — architects can use digital tools like Tally to choose eco-friendly materials that could drastically reduce use of energy and water and greenhouse gases over the entire lifecycle of a building.

Frugal supply chains. Far-sighted companies are investing in next-generation "clean" manufacturing processes and technologies in an attempt to produce better-quality goods using fewer resources. For example, in partnership with MIT, pharmaceutical giant Novartis is piloting a "continuous manufacturing process" — a breakthrough technique that enables drugs to be produced in a continuous flow in a small, fully integrated facility no bigger than a container. Compared to large plants, this micro-factory can produce pills 10 times faster, reduce CAPEX and OPEX by up to 50 percent, decrease use of natural resources and cut emissions by up to 90 percent.

Frugal business models. A few audacious firms are setting the bar higher for sustainability by reinventing their entire business model and overhauling all their operations in order to systematically do more — and better — with less. Consumer goods giant Unilever intends to double its revenues while halving all its products' greenhouse gas impact by 2020. In addition to reducing energy and water consumption and cutting emissions in its global supply chain, Unilever is also investing in frugal solutions that have a direct positive impact on the environment. For instance, Unilever's new French headquarters near Paris is France's largest "positive-energy building" the 4,000 m² of solar rooftop panels enable the building to produce more energy than it consumes, offsetting the power consumption of 130 households per year. Having already achieved zero waste to landfill (by reusing waste) and saved 1 million tons of CO2 since 2008, Unilever is now sharing its frugal solutions with other companies to help them reduce their own emissions.

To help in the fight against climate change, firms across industries need a radically new business strategy that reconciles profitability and sustainability. By enshrining frugality into their products, services, supply chains, and even business models, companies can gradually adopt a "low-carbon mindset" that will enable them to systematically create more economic and social value using fewer resources.

(Top image: Getty Images)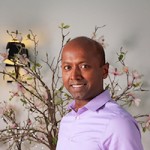 Navi Radjou is an innovation advisor based in Silicon Valley. A TED speaker and recipient of the 2013 Thinkers50 Innovation Award, he is coauthor of Frugal Innovation: How To Do More With Less, published by The Economist in 2015.
All views expressed are those of the author.
tags