Images sent back from NASA's James Webb Space Telescope last week not only stunned the world visually; they changed the way humans think about the universe. But not every paradigm-shifting NASA project takes place so far away. Much closer to home, the agency is doing groundbreaking and essential work on more sustainable aviation, working with partners like GE to develop quieter, safer and more efficient technologies that promise to change the future of commercial air travel.
Those sustainability projects will be in the spotlight this week when NASA touches down at the Farnborough International Airshow. "Today's aviation industry relies on technology that's rooted in NASA's research," says Tim McCartney, director of aeronautics at the agency's John H. Glenn Research Center. "This is a chance to get out there and tell our story."
That story began at the dawn of commercial airplane travel, in 1915, when Congress established the National Advisory Committee for Aeronautics (NACA) to study issues related to the problems of flight, along with their practical solutions. As we entered the space age, in 1958, NACA became NASA, and the agency's scope broadened to include vehicles that travel beyond Earth's atmosphere. Even so, its work relating to commercial air travel has remained a priority.
Aeronautics researchers at NASA have pioneered technologies that minimize aircraft noise, reduce fuel use, improve air travel safety and maximize on-the-ground operation efficiencies that "get people where they're going on time," McCartney notes. "Our work has transformed aviation into an economic engine, at all altitudes — from the ground up to subsonic and supersonic flight."
Today, as the aviation industry strives for a goal of net-zero CO2 emissions from commercial flight by 2050, NASA continues to pave the way. America's aeronautics and space agency is actively partnering with industry leaders like GE to develop new types of sustainable aviation fuel (SAF), build airplanes more sustainably and develop new, highly efficient technologies that will help airplanes fly on less fuel and with fewer carbon emissions.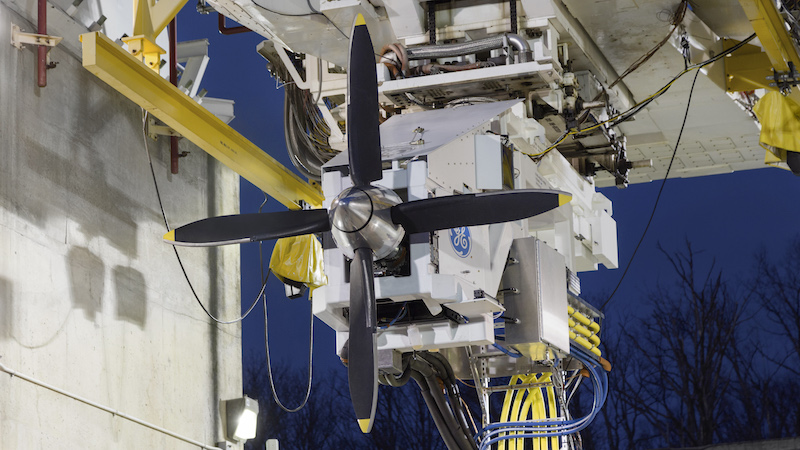 It's a particularly exciting time for McCartney and his team at the Cleveland-based Glenn Research Center, which has been home to pioneering electrified aircraft propulsion (EAP) research — much of it completed in partnership with GE over the past decade. EAP is a major force in the industry's mission to decarbonize air travel and in NASA's Electrified Powertrain Flight Demonstration (EPFD) project, a five-year effort announced in 2021 to rapidly mature integrated, megawatt-class EAP technologies. If all goes as planned, EAP could be introduced in U.S. commercial aviation fleets during the 2030s.
GE, one of two companies NASA selected to support EPFD, will develop a hybrid electric propulsion system for flight testing with a modified Saab 340B test bed and GE's CT7 turboprop engines.
"We're building on work that was started years ago, in close coordination with GE and others, and doing things never before done with power systems on airplanes," McCartney says. "Years of component and materials research and wind-tunnel testing — all that comes together at Glenn's NASA Electric Aircraft Testbed (NEAT) facility and leads us to the next logical steps [in EAP], which will include a flight test."
Additionally, as part of NASA's Hybrid Thermally Efficient Core (HyTEC) project, GE will test and mature compact jet engine core designs that include new compressor, combustor and high-pressure turbine technologies. GE's development of ceramic matrix composites (CMCs) — advanced heat-resistant materials for engine cores — is also a key part of the effort to improve fuel efficiency and reduce emissions.
These projects, says McCartney, "are a testament to how long and how close NASA and GE have been working together — largely at NASA Glenn, because we work on powered propulsion, and we are almost neighbors."
It's a valuable relationship for both organizations, and one that promises to continue paying off as the industry comes together to quickly decarbonize air travel.  
"If we get this done — and we will — there will be a revolution in aviation," he says of bringing electrified propulsion to the airline industry. "This is a very, very big deal."
Categories
tags