Large companies often play an unseen but key economic role in their communities. Their suppliers — as well as local grocers, restaurant workers, non-profits and others — feel their pain in bad times, and profit when orders and jobs swell.
GE, which employs 125,000 people in the United States and works with more than 15,000 American suppliers, decided the measure this effect. This spring, the company created an interactive map to show the size of its own ecosystem and how it depends on free trade. "About 70 percent of the products GE will make in the United States in 2016 will be exported," says Nancy Dorn, vice president for government affairs and policy. "We have a responsibility to explain to [our employees and suppliers] the policies, the kind of governance and the kind of laws and regulation at all levels of government that make GE competitive."

GE Reports editor Tomas Kellner spoke with Dorn about the map, U.S. government policies and how they affect the American jobs. Here's an edited version of their conversation.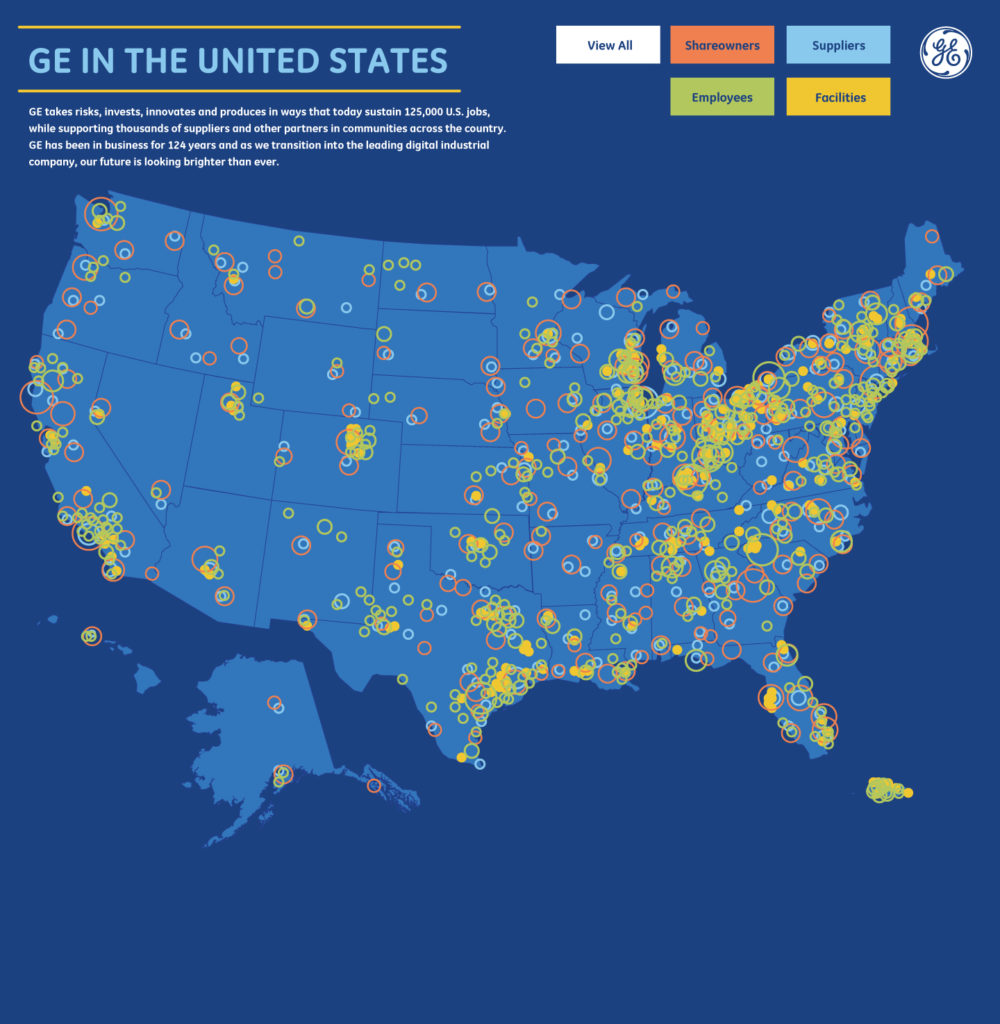 Above: You can find the interactive version of the map here. Top image: This China Airlines Boeing 777 is powered by a pair of GE90 jet engines GE Aviation makes in the United States. Image credit: GE Reports/Adam Senatori

Tomas Kellner: Why did you create the map?

Nancy Dorn: We wanted to illustrate the value of the big GE family that includes our employees, suppliers, investors and the whole community.

We also want to share with this community our story, so they can be more empowered to speak intelligently on the issues that impact us. Trade is a good example. About 70 percent of the products GE will make in the United States in 2016 will be exported.

TK: How big is the community?

ND: We calculated that for every GE job in the U.S., there are eight jobs in the supply chain. You do the math, but only counting the suppliers, that's hundreds of thousands of workers and their family members.

TK: Did anything on the map surprise you?

ND: There's hardly a state in the United States where we do not have a substantial presence and a significant economic influence. That's pretty amazing.

TK: Did you also make the map because of the U.S. Export-Import Bank fight last year? [In 2015, the U.S. Congress let the bank's charter expire. This year, it reauthorized its charter, but the bank still isn't fully functional.]

ND: The Export-Import Bank was a learning experience for us and many in the business community. It made so much sense to us. It was a pretty clear-cut issue. The U.S. Export-Import Bank provides loans — for a fee — to customers abroad to buy U.S.-manufactured products. The Ex-Im bank makes money, which benefits taxpayers, the customer buys American and U.S. manufacturers win in global markets.

But it was not well-understood by lawmakers, by the media and even by some of our own employees and suppliers. So we started a conversation, and I think we all learned a lot. Looking forward into next year, we have more issues on the horizon, including tax and trade and infrastructure. The map is a good beginning to start engaging our stakeholders.

TK: Foreign trade is not a very popular topic in Washington, D.C., right now.

ND: You could certainly get that impression, watching the news. I think there should be a larger conversation about trade agreements and whether the U.S. should actually enter into deals that facilitate trade all over the world. The U.S. has led the world in trying to knock down trade barriers for the last 40 years, and companies like GE have benefited from open markets. Yet in today's context, maybe it's not so simple.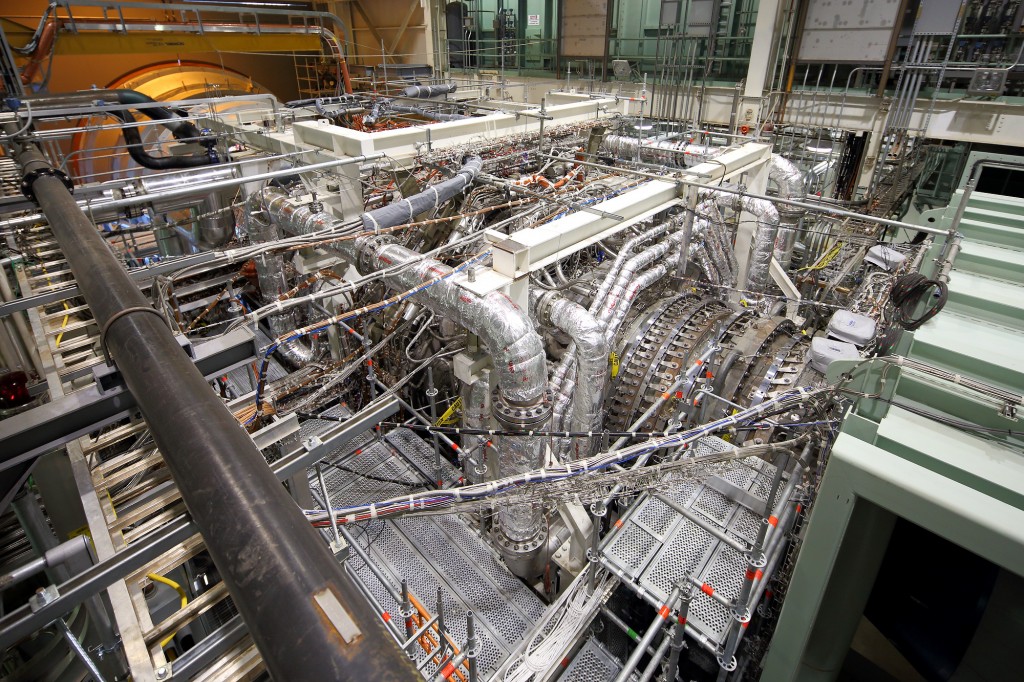 GE makes Harriet-class gas turbines in Greenville, South Carolina. They will generate electricity on several continents. Image credit: GE Power

TK: What do you propose?

ND: Maybe we need to start the conversation from the beginning. We need to start asking: Who are we? How do we compete in the world in 2016? What kind of tools and policies do we need to be competitive?

TK: It sounds like you are raising the alarm.

ND: The world, including the United States, seems to be turning away from the notion of free trade. We actually need to continue along the trade path if we are to continue to prosper.

Let me give you an example. The United States is still GE's single biggest country market, but at the same time, the growth rate in the United States in terms of the latest power-plant technology is not as meteoric as in some developing countries that are really starting from scratch. Developing markets are leapfrogging the legacy systems in many of the developed countries and going with the most modern, most ecologically friendly technology. It's analogous to the era when everyone went from landlines to cellular networks.

TK: The map also shows where small GE investors live. Why did you include them?

ND: These are individual investors, not institutional investors. We want people who own our stock to understand why we care so much about the issues I just mentioned.

We care because it helps us be competitive and successful. If GE wins, all these bubbles on this map, these are all winners too. America wants manufacturing. America wants middle-class jobs that are forward-looking. This is exactly what we're talking about here. We care enough about the future to start that conversation.
Categories
tags