For the first time, revenue from LED light bulbs matched traditional lighting product revenues last year. By 2020, LED light bulbs will outnumber traditional lighting. How do I love LED? Let Bill Lacey, GE Lighting CEO, count the ways.
 

 

I'd be in the doghouse if I forgot Valentine's Day at home. At work, it's not really a topic of conversation. As much as I'd love for you to give your sweetie a light bulb for Valentine's Day, that's probably not going to earn you brownie points at home.

This time last year, however, I was thinking about Valentine's Day at work. I was thinking about it as we penned a breakup letter to a former love, compact fluorescent light bulbs (CFL).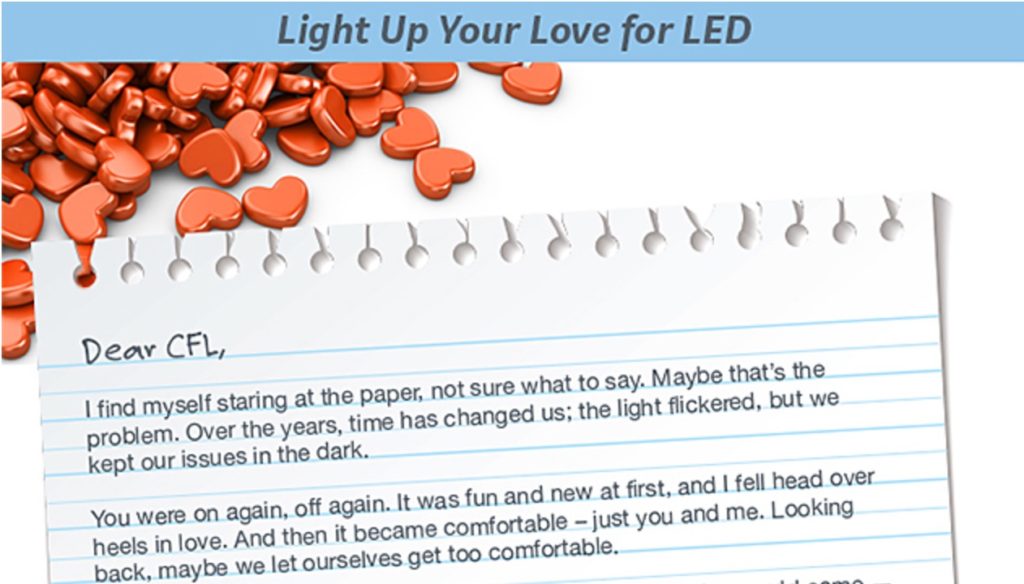 I was embracing it as we formally ended our relationship with the curly cued bulbs, stopped producing them and boldly declared our love for LED. A year later, I'm still thinking about it as I sit here even more enamored with LED.

Here's what LED conversation hearts look like this year:



Move in with me.



LED has moved past dating, and people are settling in for the long haul. For the first time, revenue from LEDs matched traditional lighting product revenues in 2016, and that's a trend that will only continue. By 2020, half of all residential lighting sockets will have converted to LED—this is a serious relationship. And, LEDs have lots of runway. More than four billion U.S. residential sockets still need to be converted to LED, and LED promises continued innovation in the years ahead.



You light up a room, no matter what you're wearing.



Today, LEDs are available in a variety of shapes, sizes and color temperatures for every socket in the home: Candelabra, A19, PAR. Soft White, or daylight. Sixty-watt equivalents in the traditional A19 shape continue to lead adoption rates, but consumers are going steady with LEDs across the product spectrum.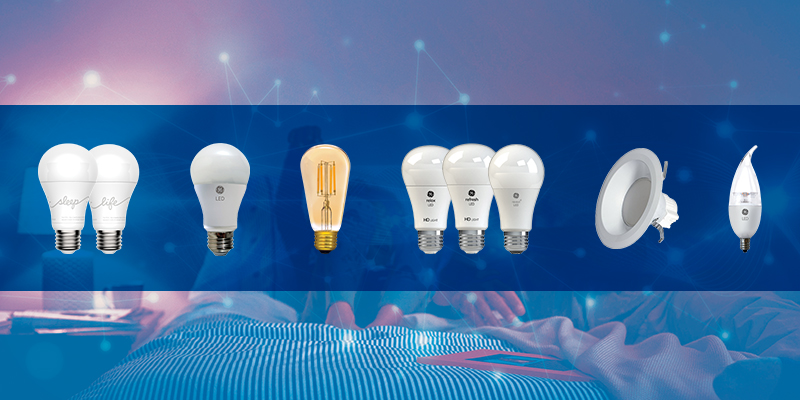 Let's set the mood.



Relaxing night in? Big dinner party? No matter what your date night (or day) plans, there's an LED to meet the need. In a world where LEDs last a decade or more, there must be even greater innovation to keep the relationship thriving. With the sophistication of LED, we can enhance the mood by fine-tuning things like LED color contrast and vibrancy to put things in even better light—think high definition for lighting. 



Second to none.



LEDs last more than a decade without draining energy. They don't dwindle the rainy-day fund – you can get a branded LED bulb for less than $5 – and their quality of light is second to none. There's never been a stronger player in the lighting category.



You make me smarter.



The smart home space is growing in parallel to LED adoption, and because lighting is ubiquitous, it offers powerful real estate for smarter connections that are meaningful and easy to create. Lighting automation is among consumers' most desired smart home projects, and from connected bulbs to lamps with streaming voice services like Alexa inside, lighting's role in the smart home is limitless.

I fall more in love with the LED every day. It's helped a century-old industry transform and reinvent. It's efficiently illuminating the days and nights for countless consumers. It's bringing greater contrast and clarity across the home – and, it's still at the early stages of its vast potential.

My relationship with LED is for keeps.





 

(Top photo: Courtesy Getty Images.)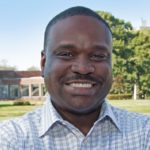 Bill Lacey is President and CEO of GE Lighting.

 

 

 

 

All views expressed are those of the author.

 
tags