Instead of living in fear of uncertainty in oil markets, we must think creatively and collaboratively to change the future of the industry.


I won't be the first oil executive to tell you that we live in a time of great uncertainty. The most visible indicator of that uncertainty is today's low oil price and the impact that is having on our industry: on investment, on jobs, on our employees, their families and communities.

Sometimes I worry that we get overly distracted by this output. Not because it isn't important; it undoubtedly is. But because we can't change it. I believe we must all look more broadly at today's challenges and focus on this moment as an opportunity, or catalyst for change.

The energy industry is transforming at an unprecedented pace. Demand is still growing as more and more people come online. Conversations around sustainability and the energy mix remain a priority. These are the things we as an industry need to be focusing on. These are the conversations of the present — and the future — that will help us to control our destinies, rather than living in fear of the unknown.

Below, some ideas to consider:



Reframe the conversation. As I have progressed in my career, I have learned that the way we talk about what we do and why we do it can very frequently change what we do, and how we do it. When we move on from "the environment" to "my/our role," we reframe the conversation from externalities impacting us, to how we can impact the rest of the world. Not only does this help us regain control, but most importantly it helps us ask the right question of others, most notably our customers: What can I do to help? Then we can take the steps we need to take, in partnership, to offer the right solutions.




Upcycle our toy boxes. As engineers and technologists, it is all too easy for us to get distracted by the "shiny new toy." We want to tackle the biggest challenges with the best, newest kit. But today we need a new type of thinking, borrowed from our creative friends. We need to adopt the mindset of upcycling and failing fast: taking what we have and making it better, delivering something faster and more affordable that meets today's needs. We must learn to fail fast so we can recalibrate, rebuild and improve.




Collaboration, collaboration, collaboration. Today's environment must lead to more industry collaboration more joint innovation. Only by collaborating can we pre-test thinking with our customers and retool appropriately, to make sure that we are constantly improving and finding the solutions they need, at speed. I am very proud of our collaborations, and particularly our most extensive to date — the Powering Collaboration program with Statoil. But the more collaboration you experience, the more you want. Only by collaborating can we truly grow the nexus of those things that are in our power to change.




Practice what you preach. At GE Oil & Gas, we know we are often asking for our customers to think in new, unexpected ways. We are asking them to rethink how products are manufactured, ordered and interpreted. We are focused on being closer than ever to them, especially at the earliest stages of product development, to ensure we deliver smarter, better than faster for them. But we also need to continue to be committed to utilizing new approaches ourselves. That is why we have put in place approaches like FastWorks and Contemporary Project Management — to improve our pace and transparency as we "fail fast" and pivot. Through connected Brilliant Factories, we are utilizing our own data and analytics tools to modernize the manufacturing process and provide predictive and remote support and troubleshooting.




Think outside the old siloes of expertise to get the best advice. Today, the CIO role looks almost nothing like that of 10 years ago. Today, we have developed our own cloud-based platform, in order to improve the working of the world's industrial technology. Today, we are accessing the thinking of 50,000 experts across our business. And today, we take alternators from aircraft engines to improve motors in oil pumps, and new metal materials from gas turbines to improve aircraft efficiency. Transferable technology will continue to accelerate new parts, techniques and applications from across a range of industry. The traditional siloes of expertise are gone, likely never to return.





Times like these call for courage to prioritize and make difficult decisions. If we focus effectively, volatile times can act as important catalysts to add creativity in unprecedented ways, fundamentally altering our business and beyond. Let's grab this opportunity and forever change the future of our industry together.

(Top image: A massive power module made by GE Oil & Gas in Italy arrives on Barrow Island in Australia.)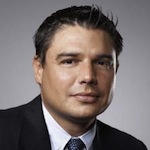 Lorenzo Simonelli is President and CEO of GE Oil & Gas.
All views expressed are those of the author.
tags