Tony Gale still remembers the moment, seven years ago, when he watched the head of one of London's most disadvantaged hospitals break down in tears. Sitting within the walls of her hospital, he had just shared the extent of a donation that GE was making to her neonatal unit.
For years, GE has had a tradition of leaving behind a "legacy gift" for each city where the Olympic Games are held. In Torino and Vancouver, GE sponsored ice rinks that remain part of the local communities. In Beijing, it helped build the Imagination Center, a two-story, 16,500-square-foot building that GE then donated to the city and is now an office building.

In London, GE gave a gift that literally saved lives. Gale, general manager for GE's sponsorship for the London 2012 Olympic Games, had called a meeting with Nancy Hallett, then CEO of Homerton Hospital in Hackney, a traditionally deprived area in East London, to draw up a list of things the hospital needed. Her requests were modest. Could they help fund the painting of some walls? "In your wildest dreams," Gale asked her, "and if you had the money, what would you really want to do?"

Hallett went away again to draw up a "fantasy" shopping list that included top-quality incubators and equipment for a neonatal unit under construction at the hospital.

Hackney had some of the worst infant mortality rates in the United Kingdom. If Homerton could get better equipment for the premature babies being born in its wards, it could boost survival rates.

GE shocked even Gale by agreeing to everything on Hallett's wish list, including fetal monitors, magnetic resonance imaging machines and 16 Giraffe OmniBeds, the Rolls Royce of incubators for high-risk newborns. All told, GE donated $9.2 million worth of equipment. "I was dumbfounded," he remembers.

So was Hallett, especially when she realized this was a permanent gift, not something she would have to return after the Olympics left town. The equipment is still saving babies at Homerton today.

While most tourists never see a place like Homerton, almost every visitor to London benefits from another of GE's Olympic Games legacy in London: LED lights along the Tower Bridge.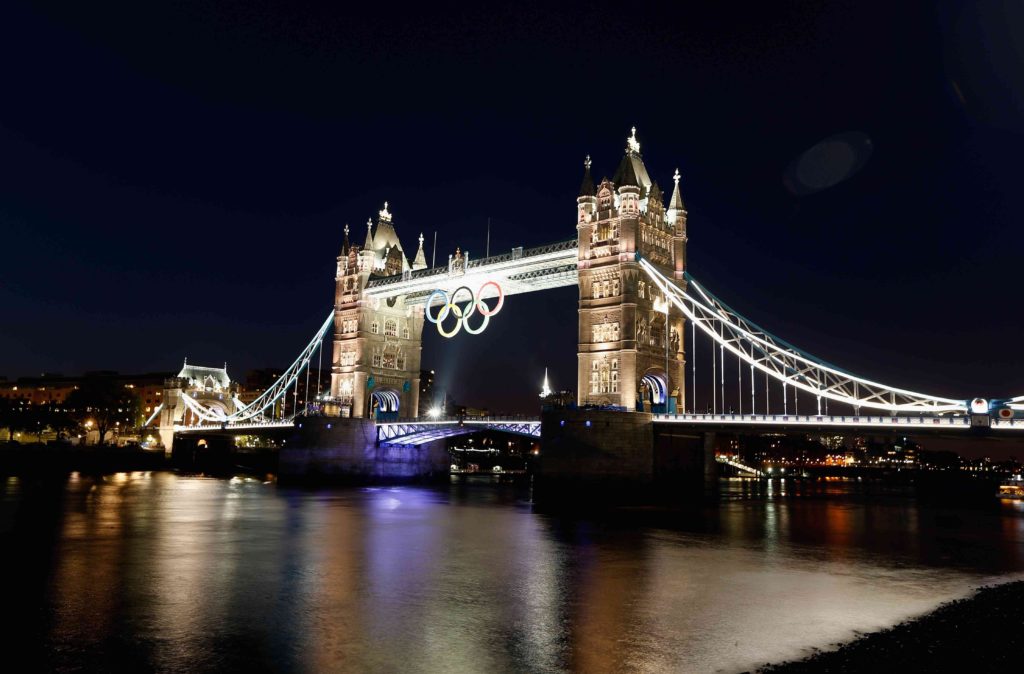 The Tower Bridge in London during the 2012 Olympics, lit by GE LED technology. Photo credit: GE. 

For years, the bridge's soaring spires were lit by dull floodlights. When, in 2010, GE's Gale met with then-London Mayor Boris Johnson, they looked out the window at the specter of Tower Bridge. "How about lighting that?" asked Gale.

Little did he know it would take two-and-a-half years to get a green light from the handful of organizations that hold sway over Tower Bridge. Finally, in early 2012, a team of engineers from GE and French energy firm EDF climbed to the top of the towers, where no humans had been for years, to string GE's Tetra Contour Cables across the Cornish stones and install LED projectors.

The dazzling white lights were put in just in time for Queen Elizabeth II's dramatic Diamond Jubilee, as well as the Olympic Games that summer. Today, the lights still bathe one of Britain's most important landmarks in an array of colorful lights for celebratory shows and have continued to illuminate London's iconic skyline ever since.

Better still, the lights use 40 percent less electricity than normal lights, which saves taxpayers' money.

Around half a dozen of GE's powerful Jenbacher engines also were installed around London to help power it during the Olympic Games and after. Solid and huge (about the size of a living room), one of the first was painted pink to promote breast cancer awareness and was dubbed The Pink Panther by the engineers who installed it on behalf of Clarke Energy in 2011. It formed the foundation of an energy center that still helps power the gentrifying area around London's busy Kings Cross, a station made famous in Harry Potter that is a crucial gateway to the Eurostar train.

Since London 2012, Clarke has installed three more engines, GE 3.3 megawatt Jenbacher Combined Heat and Power (CHP) that power 10,000 homes built on the Olympic Park in East London, as well as St. Bartholomew's and St. Thomas' Hospitals in Central London.

Four years on, those engines are still running and have plenty of capacity left in them, according to Gale. But GE's biggest Olympic legacy will always be Homerton Hospital.

Gale visited the neonatal unit after the Giraffe incubators had been installed to see the donation at work. "We saw babies, half of them weren't the size of a bag of sugar," he remembers. "It was inspiring and quite touching. You can't help but think, 'Yeah. We saved lives.' "
Categories
tags