Whether by choice or necessity, many Americans are moving to cities and living small in neighborhoods like downtown L.A. or Brooklyn's Greenpoint. Home appliance designers are working hard to make sure modernity can move in with them.
The online design community FirstBuild recently launched a design challenge to develop a "micro kitchen," the culinary equivalent of the Swiss Army knife that holds everything required to prepare a late night snack as well as a Thanksgiving feast. Today, it cut the ribbon on an open-design "microfactory" to produce it.
The microfactory will tap FirstBuild's global, collaborative group of designers, fabricators and enthusiasts to crack engineering and design challenges. The plant's small size will allow it to customize appliances through small-batch production and fast-track them to market. "FirstBuild will able to create, design, build and sell new innovations for the home faster than ever before," says Venkat Venkatakrishnan, R&D director at GE Appliances.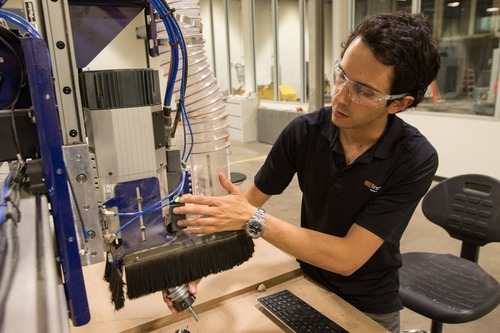 Tomas Garces is changing a tool on the ShopBot CNC Router at FirstBuild, a micromanufacturing facility in Louisville, Ky.
FirstBuild is a partnership between GE Appliances and Local Motors, an innovative design shop that built the world's first open-source car. It has also recently started working with the 3D-printing company MakerBot and TechShop.
But It's not just the cool, young crowd that's getting excited about small, smart and open-sourced appliances. Many empty-nested baby boomers are looking to scale down move into smaller, more efficient homes.
Lou Lenzi, who runs industrial design at GE Appliances, told Gizmodo that this "will have a huge impact on smaller living." Says Lenzi: "It's GE's bet that they won't want to lose any of the luxury or convenience they've had in their lives."
Top image and above: FirstBuild's micro kitchen concept.
Categories
tags