When a powerful earthquake struck near the Haitian capital of Port-au-Prince in 2010 — killing more than 220,000 people, injuring more than 300,000 and rendering some 1.5 million homeless — Conor Shapiro was only two weeks into his new job as the director of Health Equity International's St. Boniface Hospital in a rural area about three hours away.
Hospitals and clinics in the capital had crumbled, making HEI, then known as the St. Boniface Haiti Foundation, a key national medical facility despite the distance. Some of the most critically wounded patients took a 40-minute helicopter ride from Port-au-Prince to HEI for treatment — the aircraft had to land in a mango grove by the hospital.
"It was very difficult," says Shapiro, who now serves as HEI's president and CEO. Beyond the torrent of injured patients, many of the doctors had to deal with their own trauma. Shapiro tells of Dr. Berthony Guerrier, the head of obstetrics and gynecology at the time, who was badly injured in the earthquake. Despite a broken leg, Guerrier completed an emergency cesarean section. "It's hard to put into words," Shapiro says. "The amount of collective national trauma is really hard to quantify."
But the team pulled through and used the experience to move forward. The disaster sprang progress in the form of new training, donations and collaborations — including partnerships with organizations like the GE Foundation, the Boston-based company's charitable arm. Today the results of these programs and connections allow the hospital to service more people, in more ways, than they ever imagined.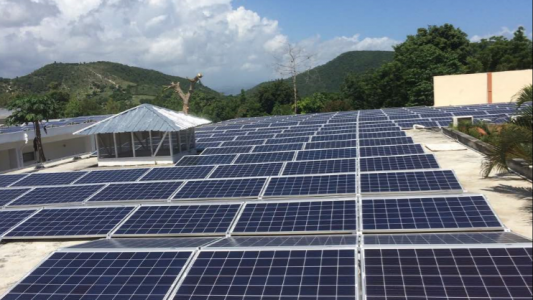 "Ten years after the earthquake, there's going to be a lot of difficult stories — projects that didn't work out, hopes and plans that didn't come to fruition," Shapiro says. "The healthcare we provide, and this hospital, is really a direct contrast to that. This team brings a 'never give up' attitude."
GE has been supporting HEI's resilience for six years now, but first the company focused on helping the Caribbean nation as a whole right after the earthquake. GE Foundation initially donated $1 million to the Red Cross for immediate care in the affected area, $2 million to the Centers for Disease Control and Prevention to help rebuild Haiti's national lab, and roughly $3 million in water, power and healthcare equipment. In 2012, GE Foundation provided approximately $2 million in medical imaging equipment to a new academic medical center, University Hospital in Mirebalais, Haiti.
GE's relationship with HEI began in 2014 when GE donated equipment for the then-new maternal and newborn health center. Since then, the company has contributed approximately $1 million in materials or cash over the past five years. GE has stocked the hospital with medical equipment from GE Healthcare, GE Lighting has donated lights to the hospital's operating room, GE Water & Process Technologies (which GE no longer owns) provided the infrastructure with a water filtration system, and GE Foundation has offered financial support for a solar power system. In addition, in the aftermath of 2016's devastating Hurricane Matthew, GE in Latin America funded two Clinics in a Can, which are shipping containers fully outfitted with all the equipment necessary to become health clinics.
Dr. David Barash, executive director of the GE Foundation and an emergency physician, knew of HEI because he was acquainted with Shapiro. Barash has visited Haiti three times. "I was truly wowed by the work they were doing, the scope of service provided, the commitment of leadership and local providers, and the vision for where the hospital could and should be," Barash says. "Our first investment was an equipment donation to the new Maternal Care Center at Saint Boniface Hospital, and it was clear from the start, and when I first visited, that our investment was thoughtfully deployed and very carefully stewarded."
HEI began as the St. Boniface Haiti Foundation in 1989, as residents practicing at the St. Boniface Parish, a Roman Catholic church in Quincy, Massachusetts, started making donations to Haiti and organized an effort to open a small clinic. In three years, they opened a one-room service with 20 beds.
Today, the renamed HEI sees 500 patients a day and delivers more than 500 babies a month. The hospital boasts a neonatal intensive care unit, emergency and surgical maternity wards, and an operating room available around the clock — all still rare in rural Haiti. And the HEI's Spinal Cord Institute, started in 2010 to provide specialized care and rehabilitation to the many earthquake survivors left with spinal cord injuries, has treated more than 1,000 patients.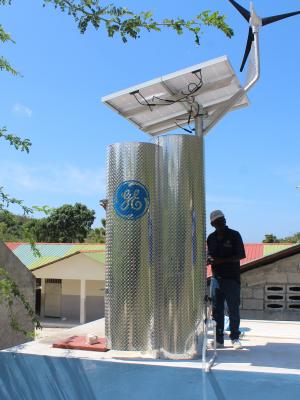 The hospital prides itself on training local healthcare professionals and working with local doctors, nurses and other community health providers. "They know that their success is really the success of their local team and based on the confidence of their local community," Barash says.
Parents and patients travel from six or seven hours away for HEI services. Babies who need NICU stays sometimes arrive via motorcycle, through an unpaved mountain pass that's so rough it takes a Land Rover an hour to drive 10 miles. Some patients arrive on donkeys. Many Haitian families subsist on less than $2.41 a day, as the World Bank notes. But no one is turned away from St. Boniface Hospital, even if they can't pay.
Ten years ago, the earthquake changed Haiti and changed the hospital. But 10 years from now, Shapiro says, he hopes HEI becomes a model for bringing modern healthcare to impoverished areas around the world.
Categories
tags