San Diego's newest streetlights might not look all that special — and that's exactly the point. Designed to blend in with the rest of the city's outdoor lighting, they're easy to overlook. Under the surface, though, the LED fixtures are actually data-gathering machines. They will allow San Diego to build the largest municipal internet-of-things network in the world.
San Diego's digital lighting revolution started as a modest solution to a common problem. "We were broke," David Graham, San Diego's deputy chief operating officer, told GE Reports in February. "In the early 2000s, we went through about a decade of fiscal crisis, and we were trying to find ways to be more efficient, save money and reduce energy usage."

One idea to save money was to replace the yellow glow of the city's old sodium vapor streetlamps with efficient new LED lights. In addition to providing cleaner, broader-spectrum light, the new fixtures used 60 percent less energy and slashed maintenance needs because of their longer life spans. The city replaced more than 35,000 lights, yielding an estimated $2.2 million in savings per year.

But the new fixtures also brought to light new problems. "We know when a traditional light bulb isn't working, because it burns out," says Austin Ashe, general manager of Current, powered by GE's Intelligent Cities program. "But an LED doesn't burn out. It just degrades over time."

As GE replaced the lights, San Diego asked for a better way to monitor the LEDs. The answer, and the first step toward connecting the city's lighting infrastructure, was LightGrid. This adaptive control program connected streetlights through a wireless network, enabling the city to monitor and manage lights remotely. "Now we know exactly how much energy a streetlight is using," Graham says. "We know if it's out. We can brighten or dim it, depending on environmental factors."

But LightGrid was just the first step. San Diego soon discovered it could reap additional benefits through expanded connectivity. San Diego agreed to be the first city to pilot GE's intelligent cities platform — enabled by adding nodes holding multiple sensors to streetlights. The nodes connected to Predix, GE's operating system for the Industrial Internet, to process the metadata collected by the sensors.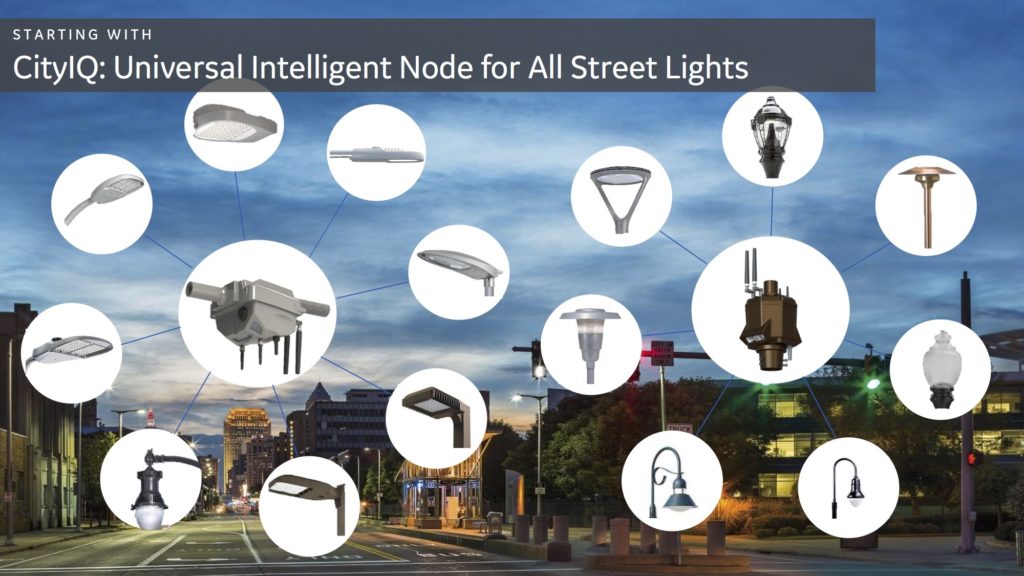 Smart lights, big city. Over the next year, San Diego plans to replace 14,000 lights with LED fixtures, and 3,600 will be equipped with new intelligent nodes. Image credit: GE Lighting

The intelligent lighting platform, which can sense sound, light and environmental conditions, offers a host of potential applications. But in the beginning, San Diego started with something really simple: parking. "With sensored street lights, you can have more efficient use of your on-street parking," Graham says. "You can better sense where cars are, and you can better understand parking and traffic."

In 2014, the city ran a pilot test of just over 40 intelligent sensor nodes, which it installed downtown and used to monitor traffic. The goal, Graham says, was to enable people to find parking spaces with a minimum of effort. "In a city like San Diego, there are real climate impacts to helping people get to parking quickly and efficiently, without idling or driving around," he says.

But parking is only the beginning. For instance, one application called ShotSpotter uses the sensors' sound and light detection capabilities to help law enforcement. "Before they even arrive, first responders know immediately where shots were fired and triangulate where the shooter is, how many shooters there are, which direction they're shooting in," Ashe says. "This is highly valuable information to help cities manage and mitigate crime."

The city is replacing 14,000 lights with LED fixtures, and 3,600 will be equipped with the new intelligent nodes. "The intelligent platform will cover 160 square miles, or half our city," Graham says. "We're doing 100 percent deployment in our underserved neighborhoods using community development block grants."

The LED upgrade and intelligent platform deployment is expected to cost $30 million, and Graham estimates that it will save about $2.5 million worth of electricity per year. It will also further reduce maintenance costs, and the parking and shot spotting applications are likely to translate into cost savings and improved safety. But the major benefits of the new lights, Graham admits, are still unknown. "We've created a platform to do things we can't even imagine today."

He expects that the most significant new ideas will come from San Diegans. The city plans to make much of the information from the nodes openly available to app developers. "We actually held a block party for streetlights," Graham says. "We asked the public to tell us what they thought an intelligent city could be and how they thought their streetlights could improve their lives." It also held a hackathon to teach interested community members how to make their own apps that use the new information.

Ultimately, Graham hopes, the streetlights will become the key to San Diego's future. "I see streetlights as the platform to transform our communities," he says. "They can help us connect us to our citizens, to provide a future where we're able to better understand our neighborhoods and give them the services that they want."
Categories
tags