GE Aviation's latest technology center sits tucked away from the hustle and bustle of Dubai International Airport, inside the Dubai Airport Free Zone and just steps away from the executive jet terminal, a location handy for easy access. From the outside, the place looks like just another glass-and-concrete office tower that sprouted in this desert metropolis over the last decade. But step inside its spaceship-like lobby, with walls inlaid with varnished white panels and flat-screen displays illuminated by chameleonic LEDs, and you'll feel transported into the future.
Just don't mention that to the center's director, Samer Aljabari. For him, the place — officially called the GE Middle East Aviation Technology Center — is rooted squarely in the present. The center employs scores of software engineers writing code that can funnel terabytes of data coming off airplanes and jet engines into the cloud, analyze it and deliver meaningful insights that can help airlines save money on everything from fuel to maintenance. "This is the promise of the Industrial Internet," Aljabari says. "Many people still think it's some fancy concept, but it's already here, it's real, it's happening."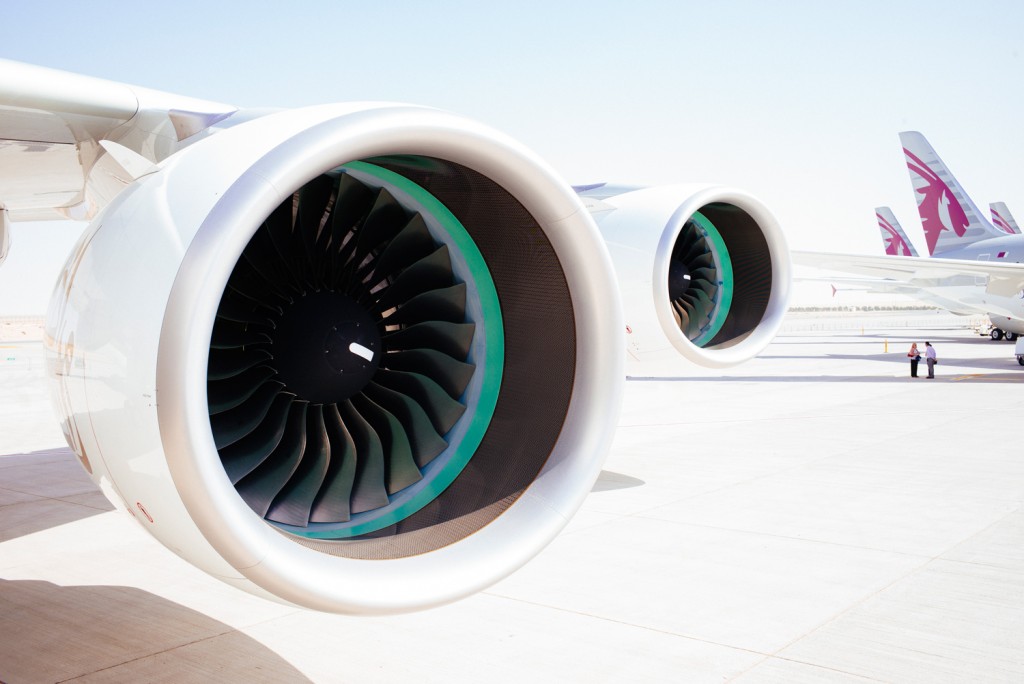 GE has already started connecting jet engines to the Industrial Internet. Image credit: Adam Senatori

One of the reasons GE built the center here was to make some of its largest and fastest-growing regional customers familiar with the software co-creation concept. Over the last two decades, the region has transformed into a major aviation hub connecting the West with China, India, Vietnam and other booming nations in the East. Today, it's hard to look at the sky above downtown Dubai and not see an Emirates plane or visit nearby Abu Dhabi, the capital of the United Arab Emirates, without passing a facility that belongs to Etihad Airways, the national carrier. The Dubai Airshow, taking place this week, has quickly grown into the industry's major event, joining mainstays in Paris and London.

The technology center is set up in such a way that visitors can easily grasp how the Industrial Internet works. Last week, during GE's Minds + Machines conference in Dubai, Aljabari led a group of visitors including Bill Ruh, chief executive of GE Digital, into a white-and-blue room at the heart of the center. It's meant to represent the data cloud.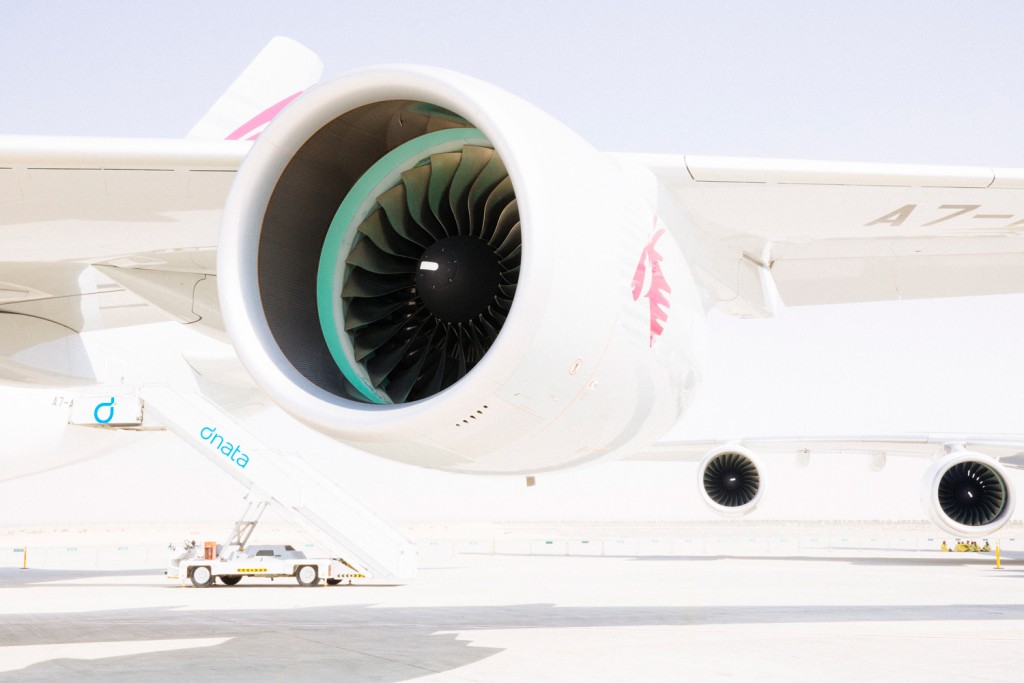 All kinds of industrial assets generate data that can be analyzed. GE's Predix software works with jet engines as well as power plants, locomotives and other industrial assets. Image credit: Adam Senatori

There, on banks of TV screens, he explained how aircraft gather and transfer data — both in flight via satellite and after they land. He also talked about the types of data his systems use — everything from heat and vibrations happening inside engines to weather and airport congestion information — and how GE can glean insights from the information.

The magic that allows the company to do this in the real world takes place in another wing of the center, where software engineers are busy writing software applications that can run on Predix, GE's software platform for the Industrial Internet. Airlines can use the apps to design bespoke flight paths for each plane, figure out how much fuel they need for each flight to avoid carrying excess weight and schedule maintenance when it's actually needed.

[embed]https://www.youtube.com/watch?v=Cel763AxKmI[/embed]

The new center is the second such GE facility in the Middle East and Turkey. GE software engineers have been writing apps for the aviation industry at the Turkish Technology Center (TTC), located just outside Istanbul, for some time.

The TTC just celebrated its 15th anniversary and over the years, it's helped GE Aviation develop software and applications to increase efficiency across the aviation ecosystem. Aybike Molbay, director of the center, says that while flying and maintenance used to be a combination of physics and spreadsheet schedules, they have now gone digital. "We used to look at aviation through a narrow lens," Molbay says. "We are now on a new level where we are developing analytics in which one engine can talk to another engine and to the aircraft and to the entire system to help the airline run more efficiently."

For instance, software from the center will keep track of hundreds of GE engines for multiple airlines on a daily basis. Since Predix is technology-agnostic, it could be used one day to monitor engines from other manufacturers. "Predix is a software platform just like Uber or Airbnb are platforms," Ruh said on a recent flight to visit the Istanbul center. "The Uber app can manage any type of car and we are doing the same for industrial machines. We're already using Predix apps to manage everything from locomotives to wind farms and power plants. From the software standpoint, a jet engine is just another asset. This is what we mean when we talk about GE's transformation into a digital industrial company."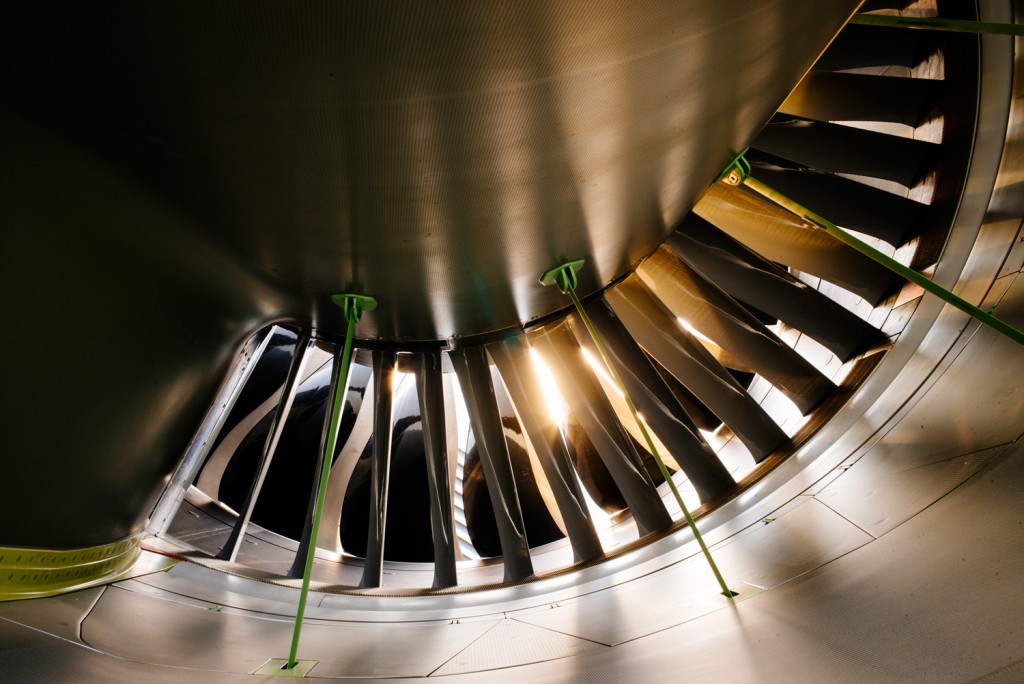 "The Uber app can manage any type of car and we are doing the same for industrial machines," says Bill Ruh, CEO of GE Digital "We're already using Predix apps to manage everything from locomotives to wind farms and power plants. From the software standpoint, a jet engine is just another asset."

GE is currently managing and servicing assets valued at $1 trillion. If Ruh and GE Chairman and CEO Jeff Immelt have their way, all of these machines and many more will be connected to the Industrial Internet.

GE engineers in Dubai and Istanbul are now working on apps that can monitor flight details such as the length of the runway and the angle at which the plane took off, the temperature inside the engine, the amount of fuel consumed, the load it carried, whether it flew through a storm and the temperature that day.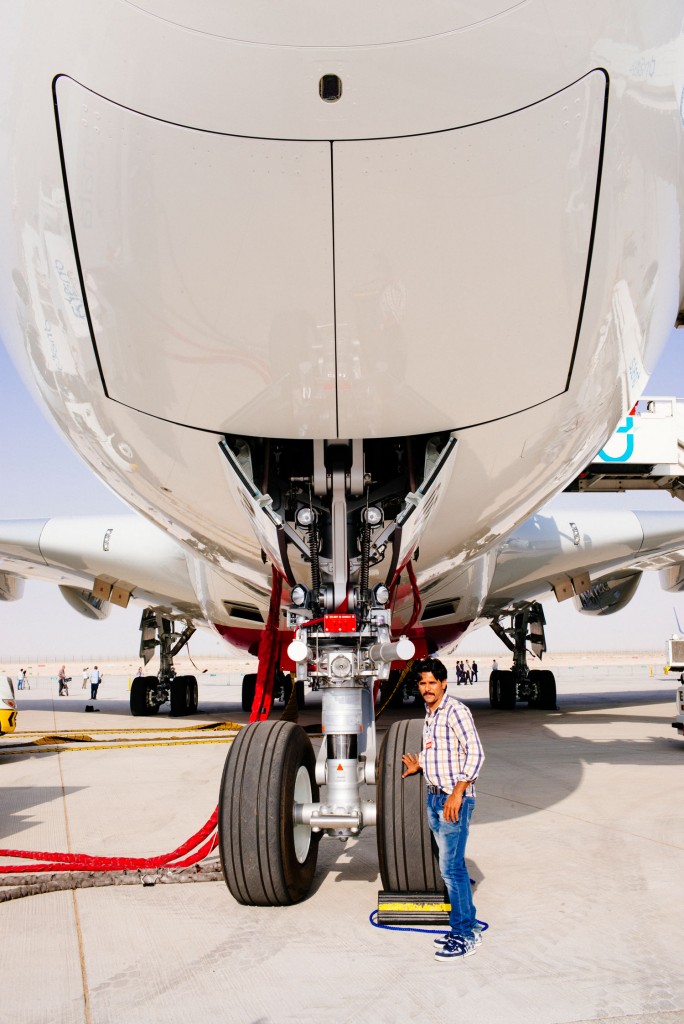 Software could soon monitor other aircraft parts, including landing gear. Image credit: Adam Senatori

All of these factors and more have an impact on the time the engine can remain in service. The apps will allow customers to access the information remotely from their computers or handheld devices.

This is similar to changing the oil in your car when it's actually needed and not every time you drive 3,000 miles. It will save airlines money, make their planes even safer and allow them to better manage their fleets.

The technology center in Istanbul just launched an internal Testing Visualization App that will allow GE crews to remotely monitor engine tests before they are delivered to customers.

But this is just the beginning. Aljabari is already eyeing data from cameras installed inside and outside airports, sensors in conveyor belts for luggage, and ticketing systems as a connected network that could make the airport intelligent. GE recently opened Predix to outside developers, so customers will be able to use it to build their own apps.

The company is now planning to build similar software centers in China, the United States, Europe and Southeast Asia. The GE Middle East Aviation Technology Center will be a blueprint for these facilities. Says Aljabari: "Imagine the unlimited possibilities and the power we can bring to the table."
Categories
tags