Scaling Disruptive Innovation
Transformative change takes time. When Thomas Edison founded GE 124 years ago, he couldn't have fathomed the technological, economic or environmental realities of today. In the same spirit, we expect that our vision of the future will be different from anything we envisage today.

This vision needs to address a changing climate, economic pressures and increasing demands for natural resources. Society is looking to business for answers.

I believe that large-scale collaboration, combining talent and resources across the value chains of different kinds of partners is the only way industry can solve the world's pressing resource problems.

Last fall, GE Ecomagination launched partnerships with eight of the top companies in the world, covering industries such as oil and gas, finance and retail, to deploy global solutions for water, energy and industrial efficiency. Our shared objectives have been to marry business value with reducing water and energy consumption and curbing emissions; and as a result realize growth for our own companies. Our hypothesis has been that together, we can solve problems and create opportunities that are bigger than what we could do alone.

We have just begun, but so far, this hypothesis has proved true in a range of fields, including waterless fracking, smart fracking and Internet of Things solutions for industrial efficiency. Our progress to date suggests that this model can be applied to business challenges across the board.

If you are considering bringing these tools into your business, here are some of our lessons we have learned:



Look for complementary characteristics: We have found some of our greatest success when each partner brings unique skill sets to the process. We are working across global value chains — our partners have complementary capabilities, products and geographic reach. For example, Goldman Sachs and MWH Global bring project development and the power of smart investing to water infrastructure; Walmart reaches millions of consumers through 12,000 stores globally; and BHP Billiton and Statoil are mining the very raw materials that power the global economy. In all these partnerships GE brings our state of the art technology and software solutions from across the water, lighting, oil and gas and energy space.


Find partners with shared vision: Partnering is not always easy, and there will be uncertainty. In these times it is important to fall back on common beliefs. Our partners share GE's vision for a cleaner, more efficient and more prosperous world without sacrificing financial returns or benefits to customers. Together we inspire each other to be solutions-oriented and ambitious in approaching the world's most pressing resource challenges.


Prioritize Speed and Action: Momentum breeds innovation. With diverse teams spread across multiple companies we have to maintain a bias for action and sense of urgency. Otherwise competing priorities will sidetrack us. It is important to set some milestones to force action and achievable goals on the path to bigger outcomes. When we chose a new solution to test with our partner Intel we were able to get a pilot program set up in a matter of days. This is now feeding into our longer term plans for the efficient manufacturing solutions we are looking to create.


What's Next?

The promise of big, measurable progress to come from our partnerships is exciting. We'll be sharing our lessons— how we're bringing progress to an even greater scale, inventing the next industrial era and building innovative technologies to power our ever-changing world — along the way. By doing so, we hope to spread new ideas across industries and inspire other companies to collaborate, take risks, fail fast and keep trying.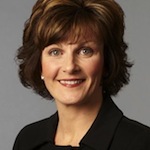 Debora Frodl is Global Executive Director at GE Ecomagination.





All views expressed are those of the author.
tags