Last fall, a woman shopping at Walmart in Livonia, Michigan, approached the store manager with an unsolicited comment. "I don't know what you did in here," she said, "but suddenly I can read your food labels." The reason? Not the packaging. The lettering was the same size and color it had always been. The only difference: Walmart had changed the lights.
Specifically, like many Walmarts around the globe, the Michigan store had recently replaced most of its fluorescent light bulbs with LED fixtures from the company called Current, powered by GE. "You get great color and better visual acuity with the LED lights," says Vicki Garten, global and strategic accounts manager for Current. "It allows you to see labels and even the textures of fruit more clearly."

But the benefits go beyond a customer's in-the-moment shopping experiences. LED lights have made a visible impact on the retailer's energy bill, as well. Walmart estimates it has saved more than $100 million in energy costs since it first contacted GE to install LED lights in its refrigeration displays 10 years ago. Today, there are more than 1.5 million GE LED fixtures installed across 6,000 Walmart stores, parking lots, distribution centers and corporate offices in 10 countries.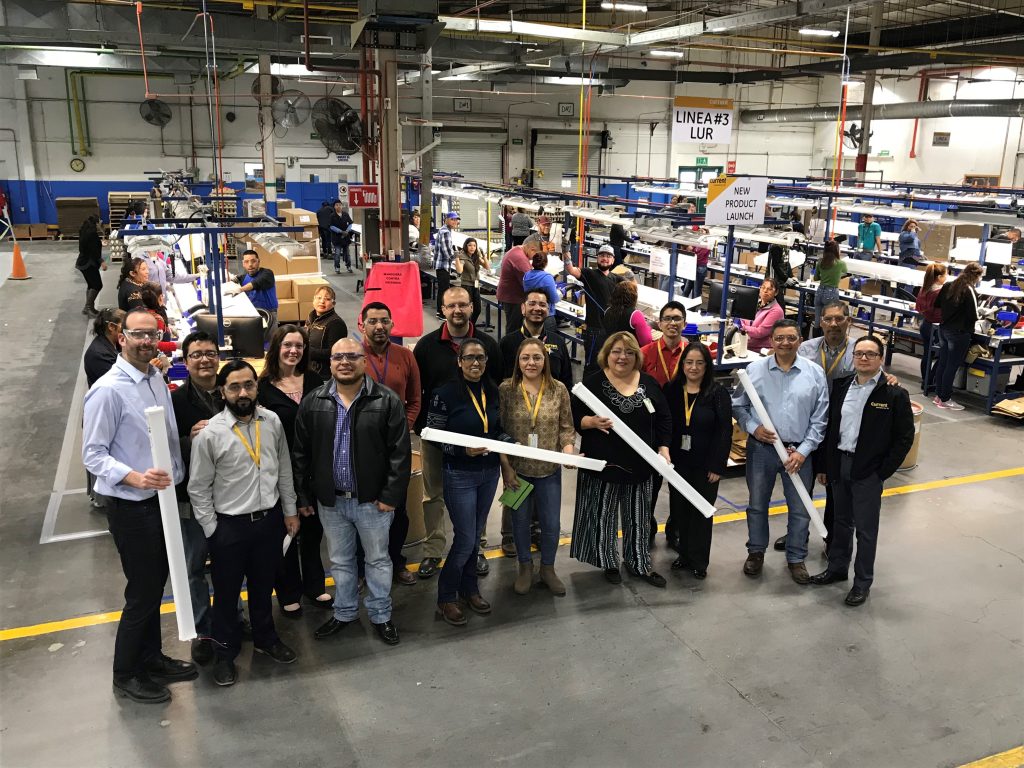 JPMorgan Chase and GM, are switching to LEDs to reduce energy costs by 30 to 60 percent. They're also enabling future innovation. That's because companies like Current are transforming lighting into connected digital solutions that can help buildings work more efficiently, simplify employee tasks and improve customer experiences.

Walmart's LED transformation is part of the company's goal to reduce greenhouse gas emissions by 18 percent by 2025 (from 2015 levels). The company is ramping up its sustainability efforts not just by using LEDs but also by purchasing energy from wind farms, installing solar panels and setting up store-wide recycling stations for a variety of materials.

The giant retailer is using a variety of Current's LED products in many corners of its stores. They are inside refrigeration display units where customers can puzzle over ice cream and pizza options, across its parking lots and above its sales floors. Now in many of the stores' produce sections, managers are starting to turn to LED lights that feature Current's TriGain technology.

Fluorescent lights and even some LED lights can wash out the colors and textures of fabrics and foods, giving them an almost monotone bluish hue on the shelves. But TriGain, developed in partnership with the GE Global Research Center, incorporates red phosphor in LEDs to create a greater color range that allows colors to pop and gives the products in the room a warmer glow.

"TriGain produces a much narrower and more intense red peak than most red phosphors used in LEDs. It's being widely adopted for sharper, brighter color in LCD televisions, smartphones and tablets, too," Garten says.

TriGain also adds depth to the texture. As a result, plums appear to have a richer velvet layer, orange peels appear more puckered, and strawberries appear more dimpled by their yellow seeds. In the age of point-and-click shopping, this is an important physical draw. "Consumers come back and buy fresh produce every week," Marc Lore, president and CEO of Walmart eCommerce U.S., told Digiday in September.

The LED lights also provide Walmart stores with a sense of uniformity so shoppers will feel a sense of familiarity no matter where they are.

"It's more important than ever to have your stores looking great; after all, if you can't see the merchandise well, you can just stay in your house and shop online," Garten says. Last year, Walmart announced its multi-million-dollar remodeling investment in brick-and-mortar stores — to make in-store pickups more attractive to online shoppers. "Their energy savings allows them to have this kind of cash flow to invest in their stores."
Categories
tags