To promote fresh thinking, new ideas and perspectives in STEM (Science, Tech, Engineering, Mathematics) sectors, many companies, and organizations are encouraging young women to pursue STEM-related careers. It's estimated that women account for less than a third of those employed in STEM R&D jobs around the world today.
To "balance the equation" GE has set a target of having 20,000 women fill STEM roles throughout the company by 2020. The company is raising awareness through campaigns such as the "If You Can See It, You Can Be It" program, and others which highlight the advances of regional STEM role models such as Phan Kim Nen, Le Thi Thu Hang, and Le Thi La in Vietnam.

Our Women in STEM champion today is Jessintha Nathan, Senior Product Cost and Pricing Leader from GE Aviation who shares more about her work journey so far – the opportunities and challenges - and career advice for young women with similar dreams.

GE Reports (GER): Can you briefly describe your role and responsibilities?

Jessintha Nathan (JN): As Senior Product Cost/Pricing Leader, my priority is managing aircraft engine overhaul costs for GE's Customised Service Agreement (CSA) customers. This work is a collaborative effort between teams from both the United States and Malaysia. I analyse cost trends, solicit feedback on potential cost-out initiatives, and lead execution of process change to implementation.

My team actually works remotely, based at overhaul locations in the UK, US, and Latin America. This type of working structure is not uncommon in GE, and if anything has helped me build resilience. It's such an exciting role, especially when all our action turns into a key result. That really gets my adrenaline going! The teams I work with face some tough business challenges, with the added challenge of cost management, and I'm always in awe of what we achieve by working together in synergy.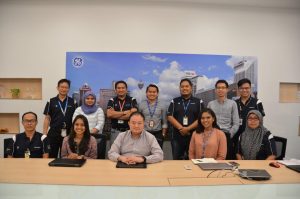 slideshow here
At GE we're committed to aim to tackling the gender gap in
STEM roles
by targeting 20,000 women in relevant STEM roles by 2020, while working to ensure equal representation across our entry-level STEM programmes.
Categories
tags