Every day, Exelon energy company produces up to 32,700 megawatts of electricity that supplies power to millions of customers across the United States. But the Chicago-based company produces more than just power. Its turbines and generators also spin out megabytes of data that different software programs then digest and comb for insights.
"They gather massive amounts of data across their generation fleet to solve complex energy issues, but they needed a single platform to look at these systems at a higher level to further enhance the value of that data," says Sham Chotai, chief technology officer of GE Power Digital Solutions.

That's why Exelon and GE Power, the GE division that makes power-generation equipment, decided to collaborate on ways to better leverage data for the benefit of Exelon and its customers. Using Predix, GE's cloud-based platform for the Industrial Internet, GE Power's software team started looking for new ways to gather insights from Exelon's data. The first steps took them far enough that the companies have now launched a six-year agreement to use GE Power's suite of software across the entire Exelon power-generation portfolio, ranging from wind farms and solar projects to hydropower facilities and nuclear power plants.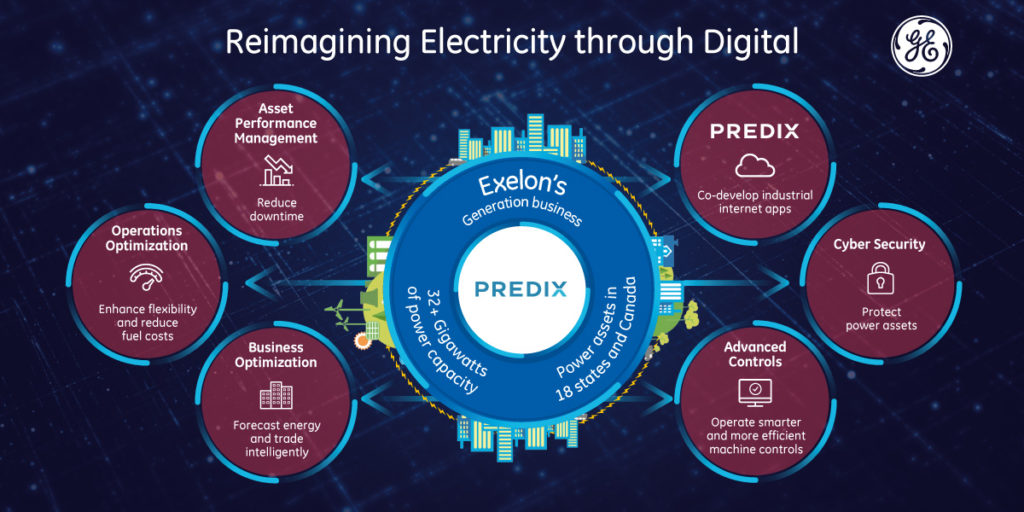 "With this big analytics platform, we can continue to improve our operations at our generation facilities," says Exelon's Brian Hoff. Top image credit: Getty Images

The analytics, in the form of new apps, are designed to help the power company predict when its systems will need repairs, allowing operators to schedule maintenance and ensure parts are maintained in a timely fashion. With the company's nuclear plants already running at high reliability, Predix helps Exelon further improve efficiency in its power-plant operations. During a pilot of the technology, new optimization algorithms crunching data from Exelon's wind farms helped boost annual energy production from its wind turbines by 1 to 2 percent, Chotai says. "We know there's always more we can do," says Brian Hoff, director of corporate innovation at Exelon. "With this big analytics platform, we can continue to improve our operations at our generation facilities."

Exelon is now working with GE engineers to write new software apps it can use internally and also eventually commercialize and market to other companies.

"We've always worked with our customers, and with the Predix platform, we can move that work into the broader ecosystem," Chotai says.
Categories
tags