Late in the evening on Friday, Oct. 18, 49 passengers and crew boarded a Qantas flight in New York City. Nineteen hours and 16 minutes later they landed in Sydney. The world's longest nonstop commercial flight had successfully concluded.
In what Qantas has dubbed Project Sunrise, the Australian airliner covered more than 10,000 miles of land and sea and crossed 15 time zones. And although pilots were flying a 787-9 Dreamliner passenger jet that can seat 236 travelers, the plane was only a third full, as this was not a regular service launch.
"This is a science flight," says Jim Leister, executive manager for GE Aviation's GEnx engine program, the engines powering the jet. "The purpose is to study the effects of ultralong flight on passengers and flight crew."

How? The passengers, who include mostly Qantas employees and a handful of journalists and researchers, had been fitted with wearable technology. Researchers from Sydney University's Charles Perkins Centre and Monash University, in conjunction with CRC for Alertness, Safety and Productivity (all three are Australian organizations), are monitoring their sleep patterns, brain waves and heart rates, among other biometrics. They are also evaluating how food and drink intake, light exercise and meditation, lighting, and inflight entertainment options affect the travelers.

Pilots wore EEG (electroencephalogram) devices so that researchers could keep an eye on their alertness. Throughout the flight, researchers also monitored the pilots' urine to check for levels of melatonin, a natural hormone that helps regulate the sleep-wake cycle and other bodily processes.

The biggest question for researchers looking at pilots and passengers: What kind of jet-lag havoc does 20 hours and 15 time zones wreak upon a body?

This is the first time researchers have had the opportunity to study passengers' physical and mental states on such a long flight. But it was business as usual for GE Aviation's GEnx engines, which have been in use for years.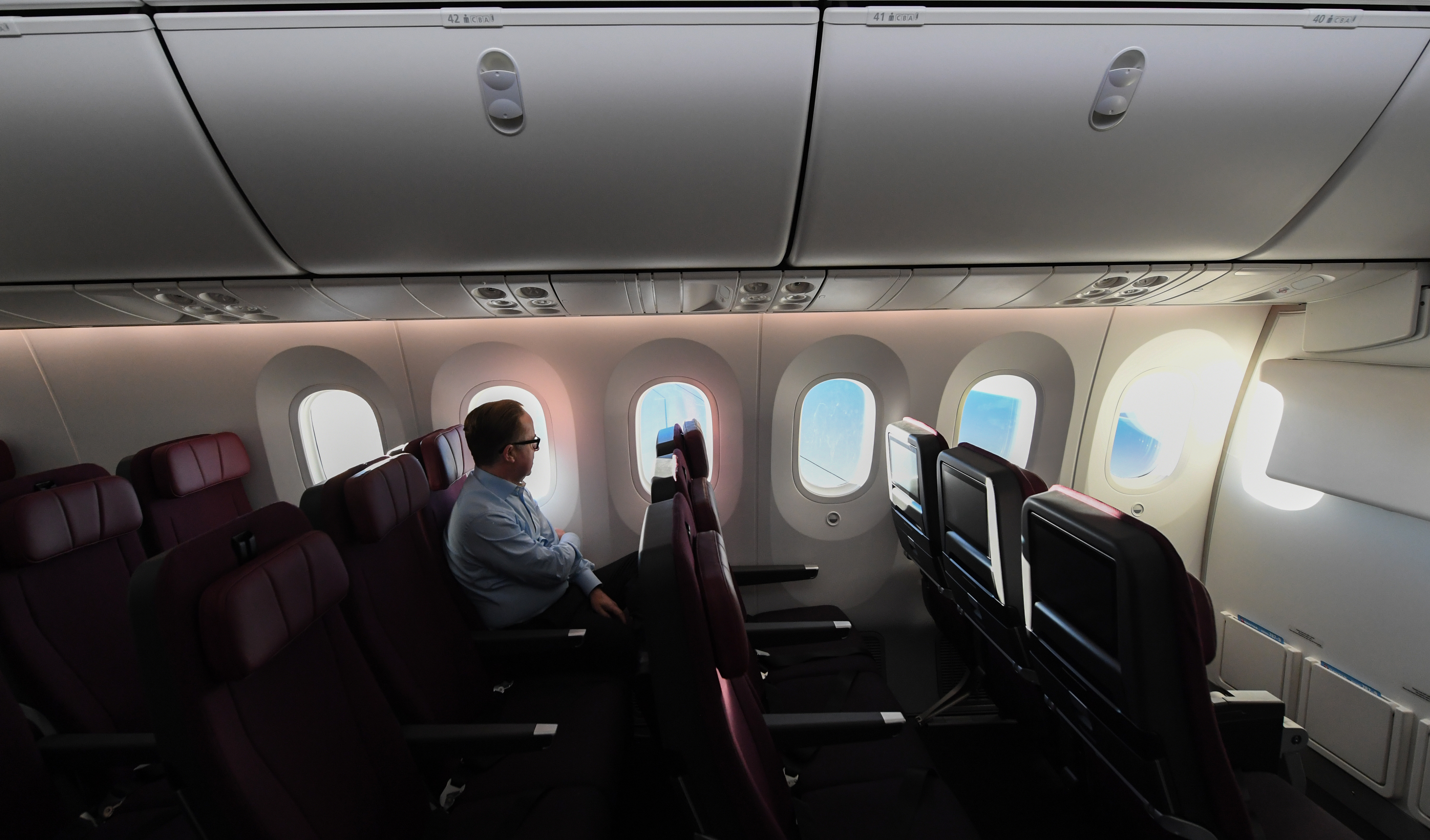 Top: Part of Project Sunrise, the research flight that flew nonstop from New York to Sydney was meant to study the effects of ultralong hauls on passengers and crew. Above: Though the Boeing 787-9 Dreamliner, powered by GEnx engines, could seat 236 travelers, this one held just a few dozen — who wore wearable technology that tracked their sleep, heart rates and other biometrics. Top and above images credit: James D. Morgan/Qantas.

GE jet engines have powered Qantas' planes since the late 1980s, and the airline has been using GEnx engines in its Dreamliner fleet since 2017. Just last year, a GEnx-powered Qantas Boeing 787-9 Dreamliner jet — the same type of plane used in the research flight — began nonstop flights from Perth to London. These flights, which Qantas reports as exceeding all expectations, are 17 hours and 20 minutes long, and there are now two of them making daily round trips. "It's like a smile when you look at the globe," Leister says of the flight path.

The airplane itself also has been designed to handle flying for long periods of time. Boeing used light carbon fiber composites in the plane's airframe. The material provides the strength needed to support the structure, while weighing less than conventional aluminum designs. "These planes are lighter and have less drag," Leister says. The stronger composite fuselage (which is less susceptible to fatigue from air pressure changes) also allows operators to increase the air pressure inside the cabin and therefore help alleviate jet lag symptoms.

Leister said the fuel-efficient plane — its fuel consumption is 20% lower compared with jets of similar size and with comparable engines — produces fewer emissions than older models in its class. The engine also runs 40% more quietly than its predecessors. There are more than 1,700 GEnx units in service for 60 GE customers today. "We built the engine to be entirely flexible for 40-minute flights and 20-hour ones," Leister says.

Even so, no commercial plane has been able to fly 20 hours yet because the weight of extra passengers, cargo and luggage make the plane too heavy. This is why the Project Sunrise flight limited the number of passengers and the amount of luggage they are allowed to bring on board.

"This is truly technology coming together — from jet engine, airplane, and the airline," says Mahendra Nair, GEnx program general manager.

Two more Project Sunrise research flights are scheduled for this year. One in November will fly from London to Sydney, and another in December will do the New York-to-Sydney route again. Qantas' goal is to operate regular, nonstop ultralong flights like these from Australia to and from London and New York starting in 2022 or 2023.


Categories
tags