When it established its Crotonville campus in 1956, GE wanted to make itself the "best-managed company" in the world. Such hubris was par for the course (there was a lot of golf, too) in that Mad Men era, when leadership was about command and control. The GE advanced managers' course ran for 12 weeks—unthinkably long today—coaching old-school bosses on how to lead for such aims as scaling up manufacturing processes.

Six decades on, Crotonville has had a complete philosophical reengineering. Its modern mission is to inspire, connect and develop the leaders of today and tomorrow, and not just internally.

Twice a year, GE gathers around 300 customers for its Global Customer Summit (GCS) at Crotonville, its sprawling corporate campus about an hour north of New York City. Across five days of intensive learning and immersive networking, delegates live in the on-site residences and hear from a range of carefully curated speakers presenting on everything from neuroscience to additive manufacturing, from innovations inside emerging technologies to leadership. This year, it was all wrapped up by an extended session with GE's freshly minted CEO John Flannery.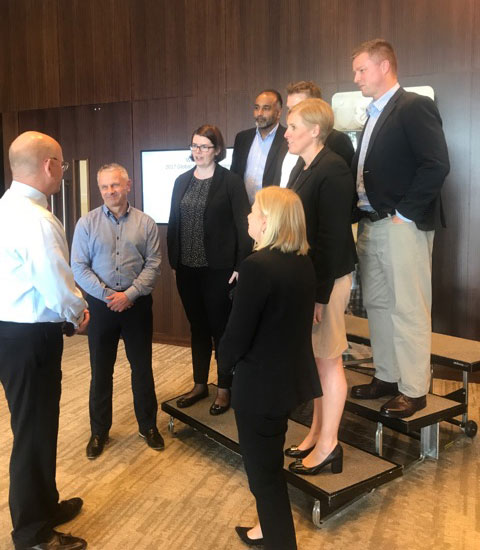 Members of the GE Global Customer Summit's Australia and New Zealand delegation met with GE CEO John Flannery.

The Global Customer Summits are "an opportunity to learn and network, understand what's worked and what hasn't," says Dimitri Leimonitis, Regional Customer Learning Leader, ASEAN & ANZ. "The days of locking all the information in the corporate vault and guarding it with our lives are long gone for GE. The more that we can have a robust discussion around a whole lot of issues the better, because a lot of challenges we have at GE are also being felt by our customers."

To get a sense of what it's like to be at the customer summit, and what went down this September, GE Reports spoke to customers from Qantas, Jetstar and Nova Energy.

Crotonville State of Mind
"It looked like the United Nations," says Scott Wilkinson, manager of small and medium-sized business for Qantas. "It was really cool to see all the different countries that were represented."

It was third-time lucky for his fellow antipodean GCS delegate Babu Bahirathan, CEO of Nova Energy New Zealand—he'd had to cancel and send a colleague in his place for the past two years. "I'm not a conference or seminar person, but this was really quite a different take and very useful," says Bahirathan.

"I really appreciated really high-calibre input into my brain!" David Wells, head of engineering for Jetstar, says that cutting-edge technologies were brought to life at the summit: "You really got the sense of the earth moving beneath your feet. Most people have been on other development courses, at Harvard and so on, and normally they're on one particular theme, but this one stretches your thinking in a whole lot of different directions."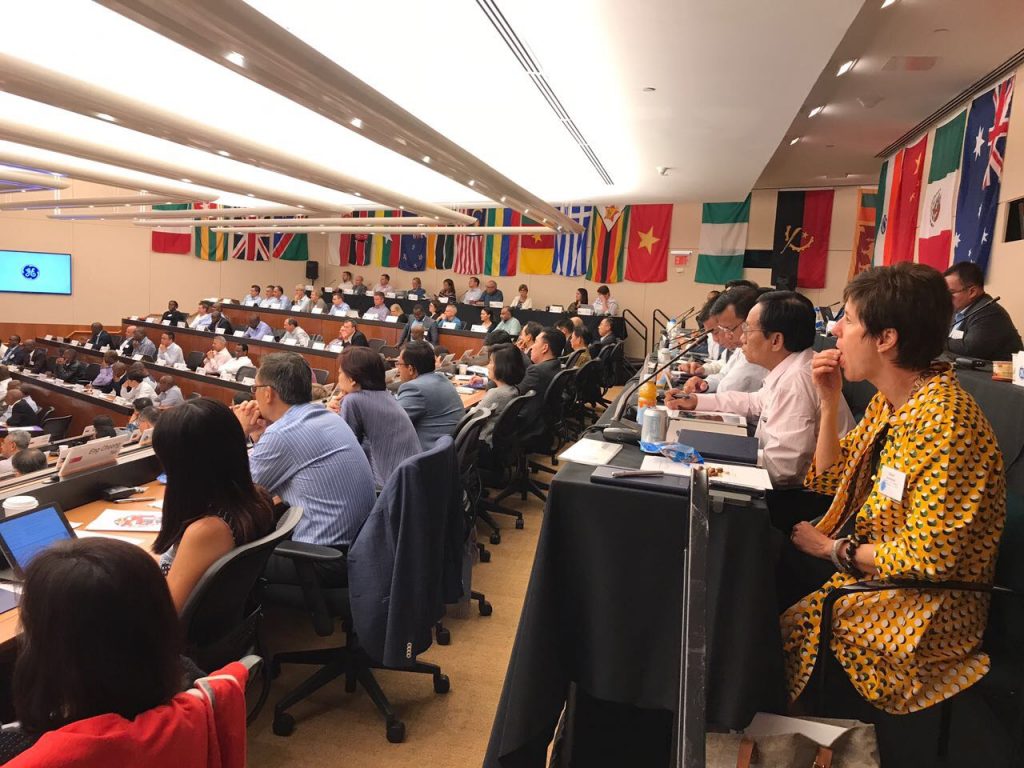 "The speaker who opened the week, Scott Halford, talked about how the brain is a machine that wants certainty but if you don't have change and growth, it dies," says Kate Cotter, head of strategy for Jetstar. "That was pretty confronting, but it helped you to see the benefit of sessions where your brain was working really hard to keep up with the content. The whole week was a great mix of stimulating, cutting-edge ideas that put you out of your comfort zone and got you thinking about things that you wouldn't come across in your day-to-day work."

"My little boy is 14 months, and there's going to be a lot of change in his lifetime," says Wilkinson, adding that the GCS experience reinforced to him that "now more than ever you're going to have to continually invest in your own learning to stay on top of the change because it's going to be easy to be left behind."

Unblocking Blockchain

One of the hit sessions of the September 2017 GCS was David Yermack's talk, How the Blockchain is Reshaping Finance. Yermack is professor of Finance and Business Transformation at New York University.

Scott Wilkinson from Qantas says, "When you read it on the agenda, you were like, 'ho-hum, bitcoin, I don't really get it'," he says. But once Yermack began, he was transfixed. "I would have loved another couple of hours on it. Now I can see so many different uses for blockchain, and the amount of disruption it's bringing. Any business leader is going to have to understand blockchain and what it means to commerce. Bitcoin is just scratching the surface."

Nova Energy's Babu Bahirathan calls out the session on additive manufacturing. Christopher Schuppe, global technology leader with GE Additive, presented Rethinking Design in a Digital Industrial Era and, says Bahirathan, explained "how much disruption there could be in manufacturing in the future, and how much cost will come down." Schuppe showed them something that he said had surprised GE as well: "The more complex a part is, the cheaper it gets with additive manufacturing, compared to traditional manufacturing," says Bahirathan.

Jetstar's David Wells was also captivated by the dive into blockchain and additive, as well as the opening session on neuroscience. "I'd come across blockchain, I was familiar with additive manufacturing and I've read a lot about neuroscience," he says. The summit presentations demonstrated that "it isn't just theoretical or potential technology, it's happening now," he says. "In additive, they've turned an engine prototype from circa 900 parts to 12, so the supply chain in its current form is no longer required."

Leadership Learnings

A key Crotonville focus, says GE's Leimonitis, is around "what 21st-century leadership looks like, at a time of such disruption and when multiple generations are entering the workforce." GE, he says, has had a "huge rethink on how we recognise and reward performance in organisations … our performance ratings have been completely removed, and we've made our thinking around that public, so people are interested in how we're going with that."

"It was really interesting to hear how GE is approaching innovation," says Jetstar's Kate Cotter. "If I had to pick a favourite session, it would be Danielle Merfeld's session on GE Global Research and how GE is investing for the future. I used to be an engineer, so I can really relate to technology-led, high-quality research innovation, which is fantastic. And I found it really inspiring to hear from a highly articulate and capable female leader—and there were a number of them who spoke at the summit."

Qantas's Wilkinson says he came away feeling "inspired and reassured" from the sessions exploring leadership. "We're doing a lot of things right in my team and the way we're structured," he says. Wilkinson says he studied GE's Jack Welch era at university "and I was an admirer, but I haven't kept in touch with what GE's been up to … now I feel like I've got a lot more understanding. On the way back on the plane, they were showing GE In The Wild [a Mythbusters-inspired documentary series about GE innovation] and I watched all the episodes! I was inspired by what GE is doing and how they're continuing to evolve themselves."

Jetstar's Wells reports that he "was debriefing the team earlier in the week" on some of his summit takeaways. "It's challenging our thinking about how quickly we go after some of these opportunities. It really struck me that GE is being courageous … they're not going in with half measures. That's challenged our own thinking as well."

A Convivial Global Network

Nova Energy's Bahirathan says, "I met really interesting people from around the world and made some connections that will be useful for business, too," adding that some are potential future collaborators.

"I would really encourage anyone who gets the opportunity to go to take the time, because of the calibre of speakers, and it's relevant input, very current," says Bahirathan. "It's well worth the effort of a week out of work!"
tags