In 1876, a 28-year-old Thomas Edison came up with what may be his most underrated innovation: a laboratory and machine shop inside a single two-story building in Menlo Park, New Jersey. It's a place he called his "Invention Factory," and one that history calls the first R&D facility in the world. While the Menlo Park model was soon adopted by governments, universities, and rival companies, its DNA proved as distinct as it was world-changing, and it led to the birth of GE in Schenectady, New York, in April 1892. Over the following 131 years, that idea factory bloomed into a global company powered by teams of people who theorize, experiment, and put their results directly into commerce on a daily basis, pursuing real-world impact with a kind of optimistic humility.
While much has changed since GE's founding, its leaders now bring this same grounded ethos to technologies ranging from increasingly efficient jet engines to lower-carbon power plants, super-powerful wind turbines, and integrated, self-repairing digital grids.
In 2024, the current incarnation of GE will branch into two independent public companies: GE Aerospace and GE Vernova. As standalone entities, both will be better aligned and more focused, providing optimal lab conditions in which GE's legacy — and its future — will be secured by ongoing generations of innovators like the ones highlighted below, as they transform and sustain a world Edison illuminated well over a century ago.
Catching Wind
At GE Vernova, one team is already bringing a powerful, real-world dedication to the world of wind energy. Partnering with the MIT-formed wind turbine tower manufacturing startup Keystone Tower Systems, GE Renewable Energy's Onshore Wind "towers team" — including Technical Leader Greg Cooper, Senior Product Manager Neil Eveld, and Senior Sourcing Manager for North America Towers Carlos Roman — worked with Keystone to commercialize its spiral-welding tower technology and make the fabrication process more efficient. The process renders the same intricacies found in the construction of a paper straw, instead using the spiral-welded technology to build wind turbine towers with meters-wide steel, tapered and in variable lengths. The first one went into operation at a GE customer site this past October in Minnesota.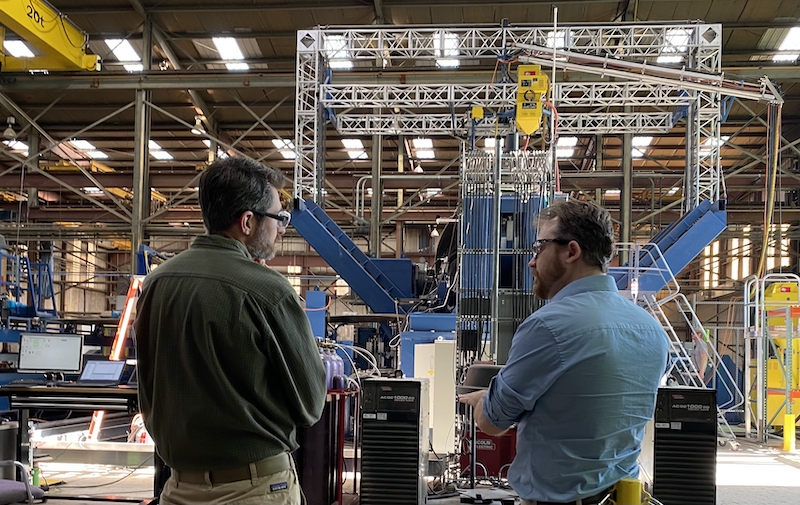 Keystone referred to this process as the "automation of an art," says Cooper, 46, "because there's an art form to getting these towers right." An engineering organizer at GE for 23 years, based at GE's Schenectady mother ship, Cooper explains that this partnership is beneficial to both parties: "Now we have much better insight into this specific manufacturing process, and really understand what we're getting."
Just as Edison set out to improve existing solutions, the towers team pursues small improvements in ground-floor technology — charting the course for the industry alongside a broad team of GE colleagues, including design engineers, chief engineers, managers, and executives. All have made contributions to the effort with operational success in mind: "These tower innovations are a step in the evolution of an entire technology that we're helping develop," Cooper adds.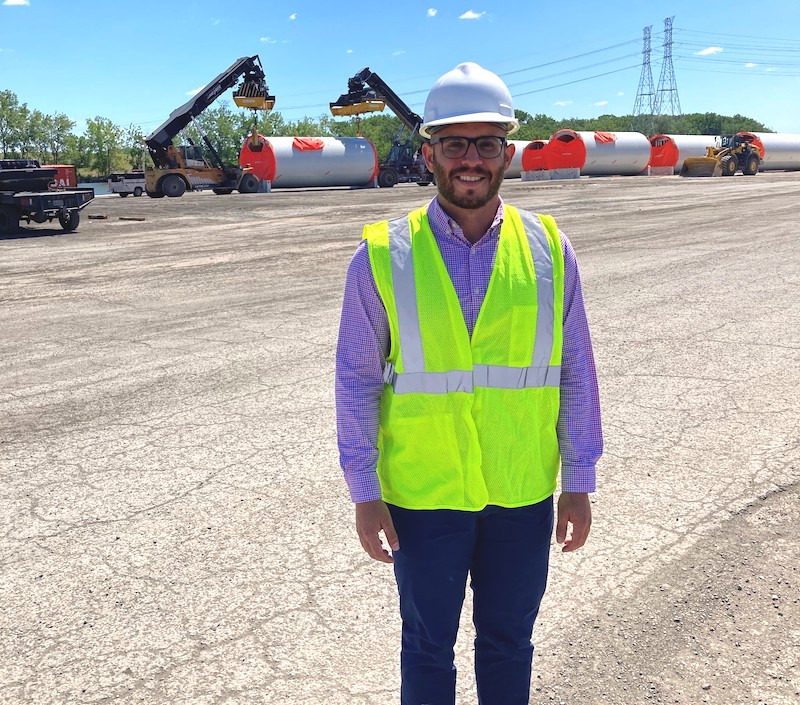 The collaborative partnership between Keystone and GE brings matched dedication and shared goals for the future as they work to automate the manufacturing process to build bigger — better, and faster. "This may look like just another tower supplier," says Cooper, "but as we improve the technology, we'll unlock other benefits; we'll eliminate trucks and improve logistics, reduce costs for turbine fleets across the country, and contribute to larger sustainability goals." Taller, higher-yield onshore wind turbines will become a possibility for vastly more customers, without compromising quality.
Eveld, 32, didn't show up for his first day with a passion for sustainability. "When you're coming out of undergrad, it's more like 'GE! They make cool things!'" says the Chicago-based product manager. "As I worked through different roles within GE, I found what I'm passionate about and what's important." Eveld now aligns with both Cooper and the Greenville, South Carolina–based Roman, 34, whose yen to figure out innovative new ways to reduce carbon output sparked his interest in renewable energy systems.
Edison's foundational focus on real-world impact forms a similar future-oriented pragmatism in the leaders of the towers team and the engineering organization that they are a part of. While they work to extend customers' reach into the sky, this team's feet are planted firmly on the ground. "The future of energy is so much more complex than most people understand," Eveld says. "And I think GE Vernova is positioned to be a real player in all its systems, with an emphasis on sustainability, both now and into the future."
Internal Combustion
More than a century after Edison built his Menlo Park factory, and nearly 900 miles from there, high school junior Jamielee Buenemann set up her own R&D facility in the backyard of her parents' Missouri house. Eager to apply her innate passion for problem-solving to her burgeoning interest in renewable energy, she gathered up some PVC pipes and old conveyor-belt motors and set to work building a wind turbine — an experiment that was partly about wind energy and partly about herself.
"Honestly, I was hoping to figure out whether I truly liked engineering, outside of just the math and science classes you're taking in high school," says Buenemann, 26. "And like I'm sure a lot of engineers do, once I started down the process, I kind of got addicted to working through the problems."
This addiction, certainly the best kind to have, led Buenemann to a co-op at GE Aerospace and the Edison Engineering Development Program. After completing the Edison program, the Ohio State University graduate continued building her own technical depth while developing leadership skills, and now she represents a bold new chapter in GE's odyssey.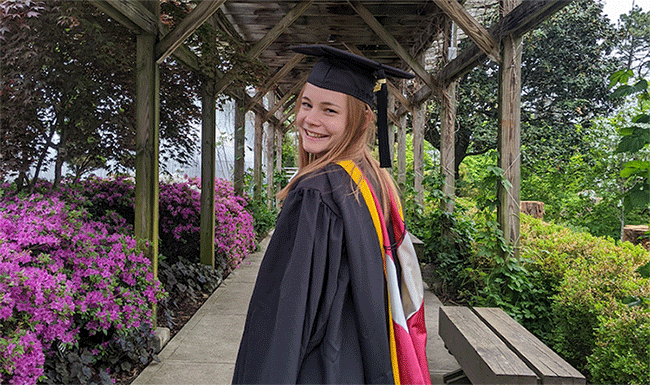 "I love the community here and the overall atmosphere of continuing education and learning," Buenemann says. "I find we're always trying to improve at every level of the company. GE Aerospace invests in its employees, and I really saw that during my co-op." Through this and other co-ops, Buenemann gained technical research experience in piezoelectrics and in mechanical systems by engineering locomotive trains, eventually finding a place at GE Aerospace in Cincinnati, Ohio, where she can indulge her passion for big, complex technologies like hybrid electric flight.
The path from a DIY wind turbine to a megawatt-class, multi-kilovolt hybrid electric propulsion system is less circuitous than it might seem. Like the GE Vernova spiral-welded tower team, Buenemann and her team have a goal of reducing CO2 emissions. That's why NASA and Boeing have teamed with GE Aerospace to tackle hybrid electric commercial flight through the Electrified Powertrain Flight Demonstration project. What motivates her to get out of bed each morning is knowing her team is advancing technology that will have an impact decades down the road.
"The industry invests a lot in great innovation, research, and development," says Buenemann. "I know I'm working on exciting technology now and I know I'll be working on exciting technology 20 years from now."
Indeed, 131 years on, GE is poised to take another major leap in its constant pursuit of innovation. Heading into the planned separation early next year, each company will remain laser-focused on its mission — to invent the future of flight and lead the energy transition. At GE Aerospace, the team is intent on meeting an unprecedented ramp in engine production as travelers return to the skies, delivering critical capabilities to the next generation of U.S. military aircraft, and developing more sustainable technologies that will push the airline industry to new heights. And with electric power generation needs projected to grow 50% by 2040, and interest in new decarbonization technologies on the upswing, GE Vernova is uniquely positioned to work with its customers to supply more sustainable, affordable, reliable, and secure solutions for years to come.
GE's ultimate goal is to create a world that works. With the help of curious, tireless innovators like Cooper, Evald, Roman, and Buenemann, it's set to do that well into the future.
Categories
tags