In 2013, the global consulting firm Interbrand ranked GE as the sixth most recognized brand in the world and valued it at almost $47 billion, up nearly 10 percent over three years. The firm recognized GE for investing $1.5 billion in the Industrial Internet . "Building capabilities in predictive software products, Big Data and analytics, and advanced manufacturing, the GE brand is stretching into new territories," Interbrand wrote.
Clearly, this is a different brand than the GE of the past century. GE executives are saying that the company's future brand value will be driven almost entirely by technology and industrial products. Units like the Appliances business, which GE just agreed to sell to Sweden's Electrolux, already contribute only a small share to the company's brand.

Distributed Power, for example, which GE launched earlier this year, is helping electrify rapidly developing countries in Asia and Africa and transform the energy landscape by developing localized power generation and distribution systems. The quickly growing unit is already earning three times more money than GE's entire Appliances unit.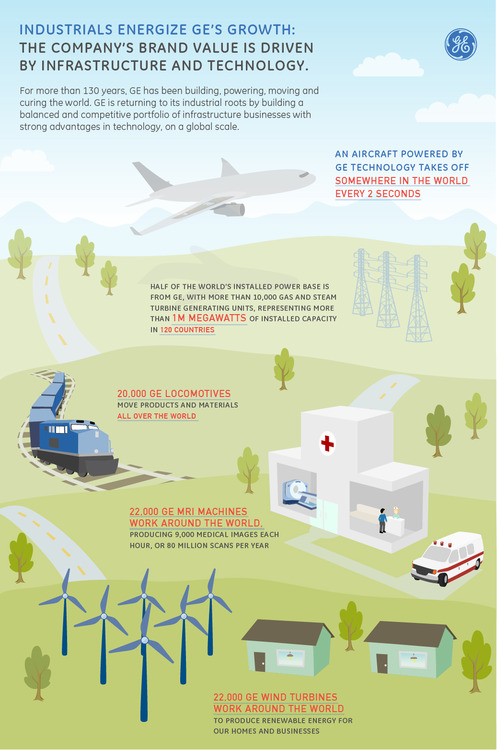 The focus on technology, the Industrial Internet and "brilliant machines" represents return to GE's industrial roots, but one on a global scale. It started out as an U.S. industrial company manufacturing everything from electric elevators, street cars,and power plants capable of producing power for entire neighborhoods to engine superchargers for the nascent aviation industry. It even electrified the Panama Canal, when it first opened for traffic in 1914.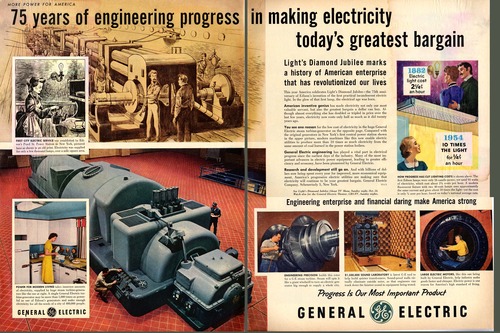 GE's industrial roots reach back more than a century. Top image: The Industrial Internet  has applications across many industries and types of hardware, from jet engines and locomotives to medical scanners.

GE's century old Appliances business evolved in tandem with the spread of electricity and the electrical grid that GE pioneered. For many decades, GE was making both big dynamos for power plants as well as little motors for dishwashers and washing machines.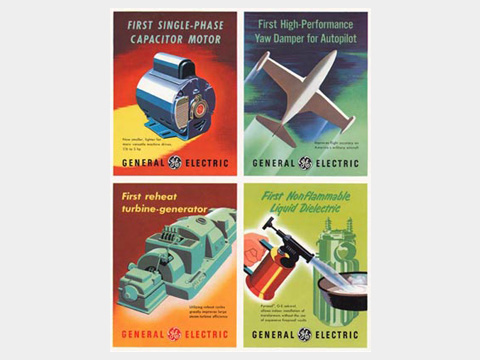 With growing global demand for power, clean water and energy, however, GE is quickly becoming a pure-play infrastructure and technology company with a financial arm focusing on financing big industrial projects.

Jeff Immelt, GE chairman and CEO, says that GE is building a balanced and competitive portfolio of infrastructure businesses with strong advantages in technology and growth markets. They are infused with an entrepreneurial mindset "driven by a culture of simplification." Says Immelt: "We're creating a new type of industrial company."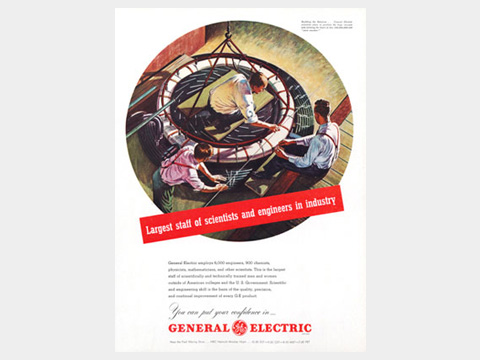 Categories
tags