In the spring of 2016, John Lammas was returning from the opening of a new power plant in Bouchain, about two hours north of Paris. The power station, the first equipped with a new ultra-efficient gas turbine from GE's HA family, was officially certified by Guinness World Records as the most efficient combined-cycle power plant that afternoon.
But Lammas was already talking about the future. Holding court in the front of the bus as it sped through the French countryside, he reeled off a list of technologies and new materials like 3D printing and ceramic matrix composites that he and his engineers planned on using to raise the turbine's efficiency even higher. He said his team was running simulations on some of the world's most powerful supercomputers to better harness the heat inside the turbine and reach temperatures as high as 2,800 degrees Fahrenheit, close to the melting point of steel. "This will really allow us to take the next machine to the limits," Lammas said.
He was right. The turbine keeps hitting higher efficiency numbers. But unfortunately Lammas won't be there to see the next record. He died suddenly on Sunday. "John's impact on our company and the lives of so many was tremendous," said Scott Strazik, CEO of GE Gas Power. "He was an incredible engineer, leader, mentor and friend."
Born in England, Lammas never lost his accent or his dry sense of humor over the course of his 35 years at GE. Most recently he was the vice president for engineering at GE Gas Power — the GE unit's chief technology officer. But his handiwork can be seen at airports around the world, in desert oil fields, and also in the way a new generation of flexible and reliable natural gas power plants is helping bring more efficient energy to homes and businesses.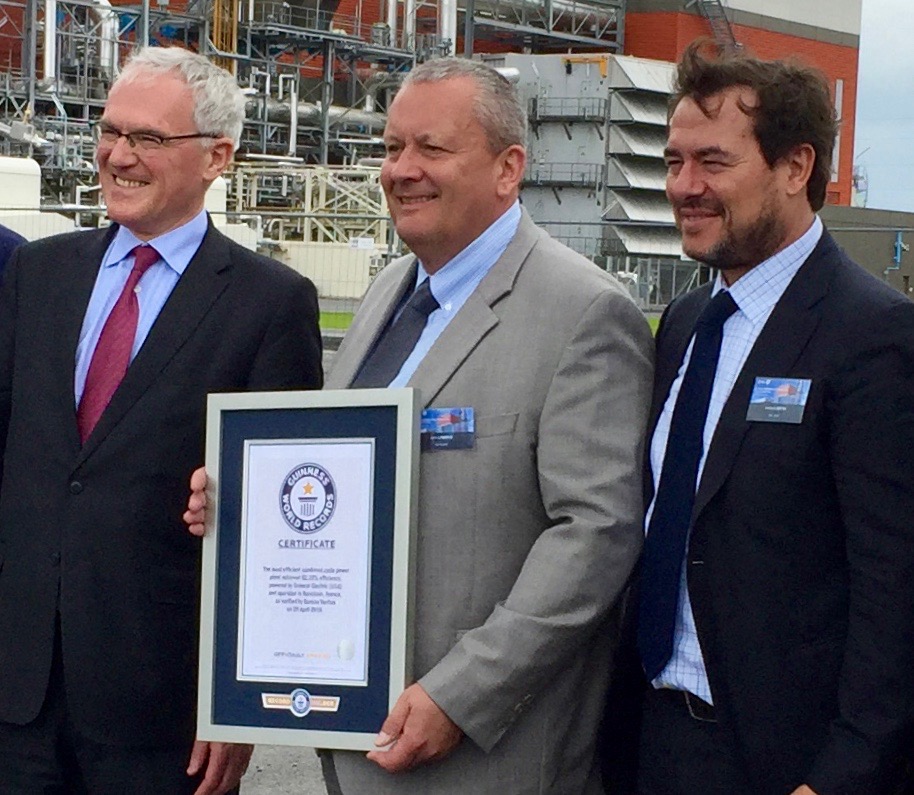 Lammas, center, holding a Guinness World Records certificate in Bouchain in 2016. The power station, the first equipped with a new ultra-efficient gas turbine from GE's HA family that Lammas helped design, was officially certified as the most efficient combined-cycle power plant on the planet that day. Top image credit: GE Gas Power. Above image credit: Tomas Kellner for GE Reports.
Lammas spent more than two decades at GE Aviation, where he built groundbreaking, colossal jet engines. And he also spent a few years at GE Oil & Gas, which merged with Baker Hughes. In fact, the HA turbine wasn't Lammas' first brush with Guinness World Records. In the 1990s, he helped engineer components for the GE90, for many years the world's most powerful jet engine, which was only recently dethroned by its successor, the GE9X.
Lammas studied mechanical engineering at the University of Salford in Manchester, England. From the start, he was smitten by turbines, the beating hearts of powerful rotating machines like jet engines and the electricity-generating gas turbines that set the pulse of the modern world.
In 1985, he landed at GE Aviation headquarters in Cincinnati and took a job as a design engineer working on military jet and civilian jet engines, including the CFM56, the first engine developed by CFM International, a 50-50 joint venture between GE and Safran Aircraft Engines.
By now, the CFM56 has become one of the most successful jet engines ever built; it's the first engine family in aviation history to achieve 1 billion engine flight hours. The fleet of planes powered by the engines has flown more than 200 billion miles, the equivalent of 20 round trips to Pluto. But in the 1980s, the engineers needed to fix a manufacturing bottleneck tied to a piece of technology called variable stator vanes. Invented in the 1950s, the technology allowed military jets to fly at twice the speed of sound. Lammas was working on a later, civilian version of the configuration that made planes more fuel-efficient.
Workers typically adjusted every piece of the stator during assembly, but Lammas brought an outsider's perspective. "I looked at it and wondered: Why were they doing this? I asked if we could simplify and standardize the process," he recalled later in an interview. "Everyone thought I was crazy."
But tests found that using a machine to preset stator vanes actually produced better results and cut assembly costs. For Lammas the lessons were clear: Fresh perspectives facilitate innovation — and challenging the status quo is worthwhile. "GE gave you a great opportunity to see every element of what you engineered and how it operated in machines," he said. "You were left to your own devices to take on as much responsibility as you wanted."
He brought the same attitude to his work on gas turbines at GE Power and, most recently, GE Gas Power. Calculating that a 1,000-megawatt power plant using a pair of HA turbines could save $50 million on fuel over 10 years by raising efficiency by 1%, Lammas and his team set to work. Where the Bouchain power plant clocked in at 62.22% efficiency, the latest machine Lammas worked on, the 7HA.03 turbine, can top 64% in combined-cycle efficiency. The first two will go to a power plant in Florida. The HA gas turbine can also ramp up to full power in just minutes, allowing operators to pick up slack when the wind stops blowing or the sun stops shining and renewable generation drops off.
Lammas wasn't just a great engineer — he was also a brilliant communicator and storyteller, breaking down difficult technical concepts to simple analogies. Talking about the need to manage heat with special 3D-printed channels and coatings inside the turbine, he said that without them, building a turbine would be "like making a fireplace from wax."
Lammas personally knew many of GE's customers around the world and fostered relationships with them during his travels. His reputation for candor, kindness and openness to mentoring other engineers extended to the most junior engineers on the team. Beyond his team, he was also well-known for his involvement and activism in GE activities and the communities in which he lived. Lammas was passionate about the care and welfare of shelter animals and a strong supporter of the Greenville (South Carolina) Humane Society and Greenville Animal Care.
"John was very much a people person and a great supporter of the local community outreach efforts," said Bert Stuck, an engineering executive on Lammas' team at GE Gas Power. "He championed the Greenville site's participation in the American Heart Association's annual walkathon, mentored the Greenville chapter of GE Leaders of Tomorrow (GELOT), and was active in United Way events — John was always willing to participate in activities like karaoke for a good cause."
The technologies John worked on will keep illuminating our lives and helping us create new memories, and leading to a more sustainable planet. It's a world he enjoyed building, a world better for having him in it, and a world who will miss his passions and presence deeply.
In lieu of flowers, the family of John Lammas has requested donations made in his name to any animal shelter/humane society. Below are two organizations that John personally supported in Greenville:
Greenville Humane Society - Click Honorary Gift
Greenville Animal Care - Click Tribute Type
Mark Egan contributed to this story.
Categories