In the late '90s, Serge Muller urged his mother to go to a breast cancer screening just to be safe. It turned out to be a pivotal moment in both their lives.
"Her cancer was discovered because I insisted that she participate in a breast cancer screening she wanted to skip," he reflects. "At that time, I really had the impression it saved her life."
While medical imaging was at first a means to increase his expertise in image processing and applied physics early in his career, he reflects that ultimately "it was a domain where I felt the possibility to impact the community and contribute to something useful to others," including his mother.
Over the course of his 37-year career with GE Healthcare, Serge Muller, chief scientist for women's health and X-ray, has witnessed continued progress and innovation in the fight against breast cancer. From his work on SensorySuite and the award-winning Pristina Dueta to building out GE Healthcare's vision for contrast-enhanced mammography (CEM), which helped bring about the industry's first CEM diagnostic solution, as well as the industry's first contrast-enhanced biopsy solution to help further improve patient outcomes.
Now, in that same spirit, GE Healthcare is set to launch the Contrast-Enhanced Mammography Imaging Screening Trial (CMIST) with the American College of Radiology (ACR) and the Breast Cancer Research Foundation (BCRF) to gain an increased understanding of the effectiveness of CEM in the detection of breast cancer in dense breasts.
One in eight women develop invasive breast cancer in their lifetime, so regular mammograms and early detection can help save lives. Regular screening can also help women determine if they have dense breasts — an independent risk factor that is not as well known but can double one's risk for cancer.
About 43% of women aged 40 to 72 have dense breasts, which means they have a higher proportion of fibroglandular tissue than fatty tissue. The dense tissue can hide signs of breast cancer, making diagnosis more difficult. In fact, standard two-dimensional mammography may miss more than a third of cancers in dense breasts. The CMIST trial could change those numbers.
CEM combines mammography and vascular-based screening methods to highlight areas of unusual blood-flow patterns that may indicate malignancy and present an opportunity to create and implement a more streamlined oncology workflow to help make early detection of breast cancer the new normal in women with dense breasts.
Serge Muller has nearly two decades of work invested in this field, and CMIST marks another exciting chapter for contrast-enhanced mammography.
"Sometimes you can anticipate that technologies and clinical needs will converge, and that was the case for contrast-enhanced mammography," he says, "from new detector technology and the use of contrast agent to reveal blood supply in tumors, to access to mammography equipment and low-cost mammography exams — these were all critical ingredients available as we embarked on this new breast imaging modality years ago that we knew could benefit many women in the early detection of breast cancer."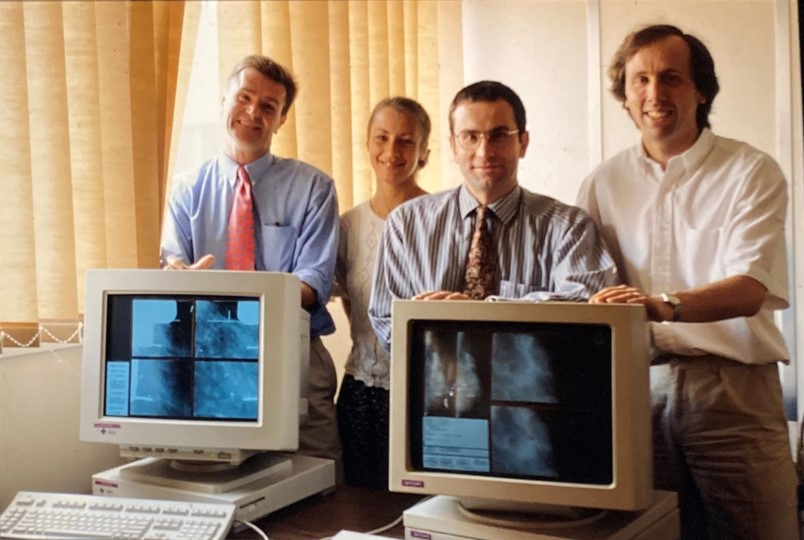 Muller got an early look into the reality of breast cancer because of his mother's diagnosis and understood the importance of early detection and screening. Throughout his life and career, he has seen and been party to a lot of changes — from medical imaging moving from film to digital and 3D imaging, to the introduction of contrast agents and the importance of AI.
As he looks to the future of healthcare, Muller hopes that imaging will become even more integrated into care areas like breast cancer care, cardiac diseases and more.
"It should be seen as one element used by clinicians to predict, detect, diagnose and treat diseases," he says, "and be integrated and ubiquitous so that all the different clinicians — from the radiologist and surgeon to the pathologist and oncologist — can use the information to accomplish the different tasks required to help reduce the anxiety of the patient and the time to diagnosis and treatment, all while also improving clinical outcomes."
Since he embarked on contrast-enhanced mammography in 1998, the practice has advanced exponentially.
"The adoption of new technologies and new approaches to diagnose diseases is long," Muller explains. "Being able to see a real product in use, after 15 years of technology and clinical research with so many clinical partners from around the world, is huge, because you know that this will be used for decades and will help save lives and improve care for millions of women. This is truly a team success, and I am very glad to have contributed."
As the world observes Breast Cancer Awareness Month throughout October, women are encouraged to "Don't Skip" their annual mammogram — where they can learn more about their own risk factors, including breast density, and consider the best care options with the help of their doctor.
Categories
tags