Many patients wait long, anxious days for biopsy results, hoping for good news but bracing for the worst. The problem is especially pronounced for breast cancer patients, who often wait even longer — several weeks — just to schedule an MR-guided biopsy. MRI, or magnetic resonance imaging, enables doctors to take a biopsy — a tissue sample — with a needle from the location of interest within the breast.
"In France, access to MR-guided biopsy may be difficult in some geographic areas," says Dr. Corinne Balleyguier, head of medical imaging at Gustave Roussy, a center for cancer research, education and treatment in Paris. After a biopsy, patients might wait another week or more to hear their test results and a diagnosis.

This isn't a case of bureaucracy run amok. It's that MRI machines and the radiologists who interpret images are scarce and in high demand. And even the best radiologists readily admit that screening for early-stage breast cancer can be challenging. On a mammogram, healthy tissue can look like lesions — irregular abscess, cystic ducts or benign tumors — creating false positives. Or, even more troublingly, healthy tissue can conceal any hidden, potentially cancerous lesions.

For many women (and some men) and their doctors, this may change, thanks to a new industry-first breast imaging tool developed by GE Healthcare called Serena Bright[1], a contrast-enhanced mammography solution for biopsy.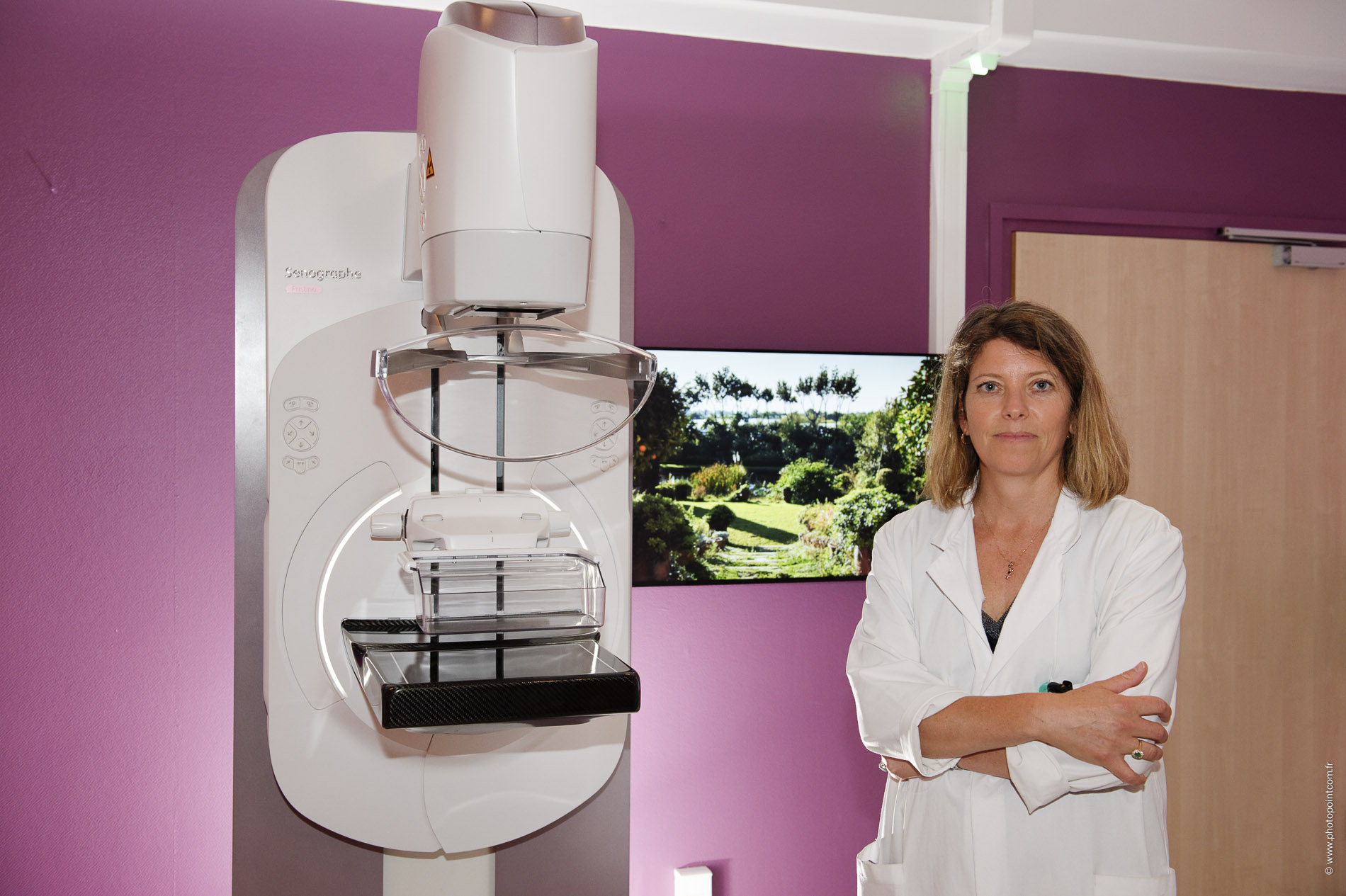 a contrast-enhanced mammogram with SenoBright HD Contrast Enhanced Spectral Mammography from GE Healthcare.

This type of scan begins with a dye — an iodine contrast agent — injected into the patient's bloodstream. Low-radiation X-rays in multiple exposures and energies provide four high-contrast images of blood flow in breast tissue. A breast lesion typically attracts stronger blood flow, which is highlighted by the injected iodine. Breast tissues that do not brighten are subtracted from the images. With this technology, image contrasts between healthy tissues and potential lesions are enhanced. The lesions are easier to see for clinicians, allowing more accurate identifications and biopsies. The scans make the lesions recognizable even to the patient, allowing them to be engaged in the procedure.

The next leap forward comes if an interventional or biopsy procedure is needed. Normally, for lesions not seen on mammography or ultrasound, women get in line for a contrast-enhanced biopsy guided by an MRI scanner. But not Balleyguier's patients. She can now plan and complete a novel biopsy for them in her office within 48 hours — in the same room, with the same mammography equipment. The low-radiation scan that flagged the problematic breast tissue now provides the biopsy technicians with clear, sharp images of the potential lesion to guide their work.

The entire system of scans and procedures that support this biopsy is groundbreaking because it requires so little waiting. And Balleyguier says that Serena Bright may allow many other doctors to identify and biopsy potential cancers faster and more easily than with an MRI-guided biopsy.

Even "in biopsies of complicated lesions," says Balleyguier, "we were able to identify very visible differences between the lesions and other healthy parts of the breast."

On an MRI, some normal tissue — particularly fibrous or glandular tissue — can show up brightly as potential lesions. These false positives, called "background enhancements," can make diagnoses more complex. "On an MRI, background enhancements can impair lesion detection and analysis," says Balleyguier. "The advantage of a biopsy with contrast-enhanced mammography is that we do not have as many background enhancements as we do with MRI."

In France, only 40 medical centers perform an MR-guided biopsy, which typically requires 40 to 45 minutes of machine time. By comparison, a biopsy guided by contrast-enhanced mammography typically takes less than 20 minutes in the radiologist's office, allowing providers to free up MRI time for other procedures. "For a radiologist, it's an easier, quicker and more intuitive process to use the same GE Healthcare contrast-enhanced imaging for both diagnostic purposes and biopsy," says Catherine Lezy, general manager of mammography at GE Healthcare. "If you are diagnosing with contrast-enhanced imaging, you want to be able to biopsy with contrast-enhanced imaging. That way, patients can get a biopsy in the same place where everything is familiar and comfortable for them, saving time and reducing costs. Patients don't have to wait weeks for a biopsy appointment and travel to a new location."

It's too soon to know if the long era of depending exclusively on MRI scans to screen high-risk women for breast cancer is over. But a compelling alternative will now be available — and bringing shorter wait times with it.

[1]  510k pending at FDA. Not available for sale in the United States.
Categories
tags