Inside a vast, 69,000-square-foot engine shop situated on the southern edge of the Cincinnati-Northern Kentucky International Airport (CVG), a small group of GE Aerospace mechanics and college co-op students huddle around a GEnx engine. An engineer is demonstrating how to use a prototype ultrasonic wrench. As the mechanics crane their necks to observe, the engineer deploys the vibrating wrench to loosen a specific type of bolt that can cause damage to a part in the engine's combustion case if not handled properly. It's a valuable part that can cost in the six figures, so "we need to be really careful when breaking those bolts loose," says site leader Nick Yannucci.
The mechanics work for GE Aerospace's On Wing Support (OWS) team just outside Cincinnati, one of eight such facilities across the globe — from London to Dubai to Seoul to Shanghai — that provide maintenance and repair capabilities for customers. At the heart of what they do: attention to safety and quality of service with the capability for rapid deployment. Depending on the urgency and level of repair needed, some team members will work on engines in the shop (off-wing) while others are in the field, servicing engines still installed on aircraft (on-wing).
"There's a lot of pride in what we do and how we do it," says Yannucci, referring to the airframe and powerplant (A&P) mechanics on the OWS team. "And yet a lot of people don't even know we exist!"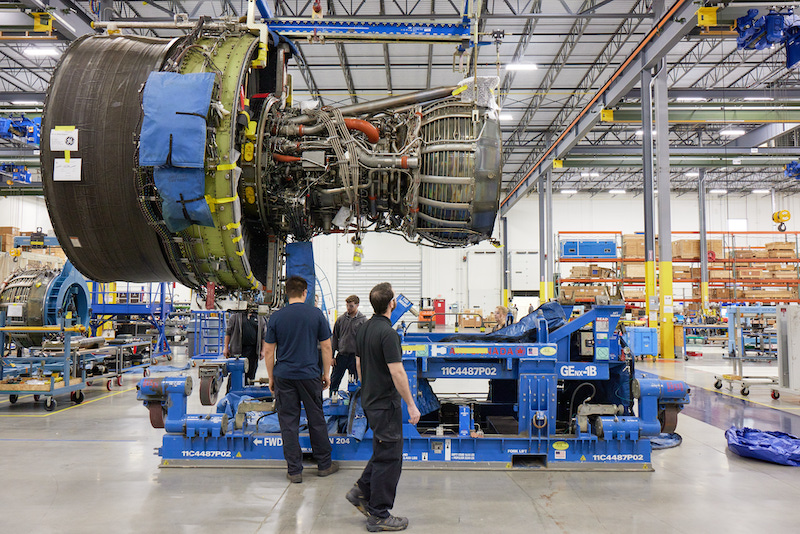 That may be true for everyday air travelers but certainly not for airlines. OWS is often the first call they make when they've got an AOG — aircraft on ground. The previous week, Yannucci had to send one team of mechanics to Paris with a few hours notice, another to work on an airline customer's engine in Chicago, and one to Mexico to do a "drop and swap" (replacing an old engine with a new one) after a jet experienced a bird ingestion. In a couple of weeks, he's got a team headed to Switzerland.
"They call us and say, 'Hey, I need you guys to get this plane off the ground so we can get our passengers to their destination,'" he says. "Often we're changing a lot of the external components — gearboxes, fuel nozzles, ductwork, things like that. We come out and do that when we can on the aircraft. It keeps our customers flying and small workscopes from plugging up our overhaul sites. I think our team's expertise is second to none."
The Cincinnati facility, which is one of the largest in GE's OWS network, has grown tremendously. Four years ago, the 56 technicians and support staff in the CVG crew were working out of a 40,000-square-foot facility equipped with six engine bays and a bridge crane. Their current facility, which opened in January 2020, specializes in wide-body aircraft engines — in particular, the GEnx and GE90, and soon the GE9X, the world's largest commercial jet engine. That means everything is bigger: 10 large engine bays, four small engine bays, four vertical engine lifts, a garage door large enough for an 18-wheeler to pull in and back out, even what they jokingly tout as the "largest forklift in the world."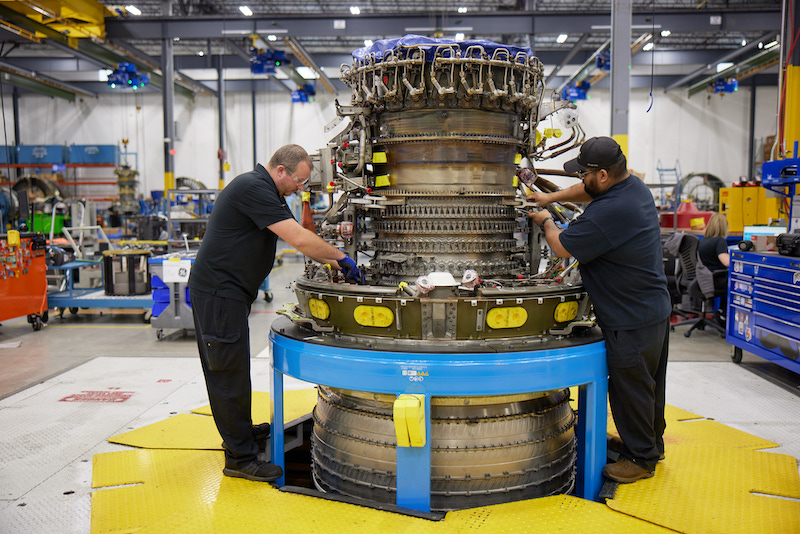 Along with increasing the shop size, managers gave a lot of thought to making sure that the new facility was constructed in ways compatible with lean management principles. Lean, the engine driving GE's transformation, focuses on the idea of continuous improvement to make manufacturing, services, and other operations more efficient. For example, Roth Coleman, the facility's production leader, who also happens to specialize in lean processes, notes that "everything here is ergonomically sound," which has helped to increase efficiency and decrease fatigue among the team.
Case in point: those four vertical engine lifts. At the old shop, when they stood an engine up vertically to work on it, the technicians had to scramble up and down scaffolding. "The fatigue factor was ridiculous," says Coleman. Now the engines are clamped vertically into robust metal holders (dubbed "lobster pots") that can be mechanically raised and lowered into each pit. The techs stay in place while the engine moves. The lobster pots come in different diameters to match the engine size, and plates on the floor are shifted into place to cover the pit opening, which keeps parts and tools from falling in and allows the techs to get as close as possible to the work. "It's a huge advancement," says Coleman.
As the gospel of lean has spread inside the shop, it's helped foster incremental changes that have led to significant improvements. In February, Coleman led his team through a value stream mapping exercise to see where slowdowns were occurring in their repair process and what remedies could be made to reduce the site's overall turnaround time (TAT). They focused on Gate 1 (engine teardown) and Gate 2 (parts ordering and reassembly). What they found was that by reducing teardown time from the former average of 15 (or more) days to less than 10 days, the technicians have more time to order or repair parts and reassemble the engines, greatly reducing the overall TAT. "If we can tear an engine down in seven or eight days, then we're ahead of the curve," says Coleman. "It helps us out immensely."
The improvements they came up with were deceivingly simple: reorganizing the tool crib and employees' workspaces; daily meetings, where techs provide progress updates and flag slowdowns; more transparent communication; clearing up logjams in the parts pipeline where possible. It all had an immediate effect. In the first quarter of 2022, the shop fixed and shipped four engines; this year they were able to fix and ship 10 engines in the same period with roughly the same team.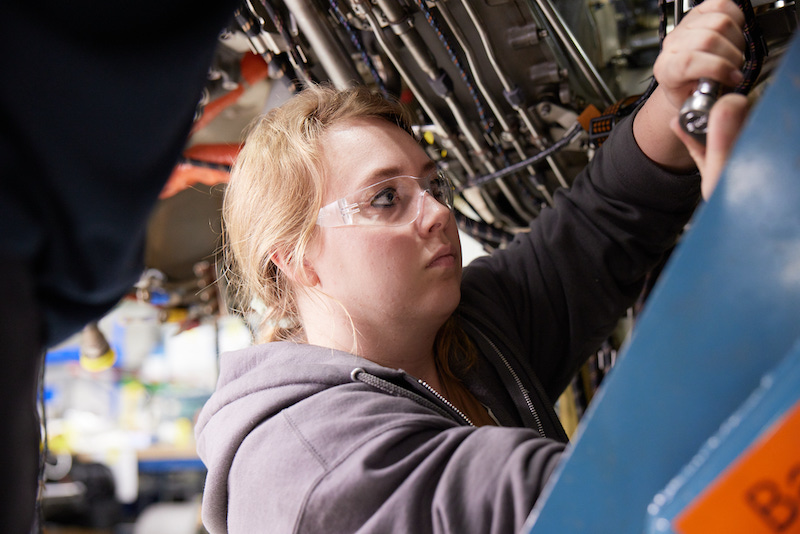 Yannucci and Coleman have worked together to challenge their team members by setting goals and helping them achieve them. "In the true lean mindset, it's that focus on the people," says Yannucci. "Not necessarily always a transformational kaizen, but rather 'How do I assist you as the technician and value creator to get you to that target?'"
"We embrace them as a self-directed workforce," Coleman adds.
That collaborative spirit has boosted the camaraderie inside the shop, too, where more than 50% of the team are veterans. Coleman served 22 years in the U.S. Marine Corps in various positions and is a member of the GE Veterans Network. He organizes activities, such as cleaning and laying wreaths at veterans' gravesites, as well as group golf lessons. (Coleman is an ambassador for PGA Hope, a program run by the Professional Golfers' Association of America that teaches veterans and active-duty military the game of golf.)
The effort to make quick turns even quicker and respond to urgent on-wing service calls with increased urgency is constant, but Yannucci feels they've made real advances at the site. The team has managed to reduce their GEnx TAT by more than 40% since 2022.
"I had a technician the other day who said, 'I want to get this engine out in 35 days, but this is what I need and what parts I need you to chase.' That's the level of maturity that they're driving at and the kind of accountability we are fostering across our organization," he says. "It comes from the fact that they're the face of GE to our customer in the field. Roth gets emails that say, 'Hey, we want you back. You guys are fantastic.' That's the pedigree of this shop and OWS and what we are so proud of."
Categories
tags